Mom, kids hit by falling tree in NYC. Now she's suing for $200M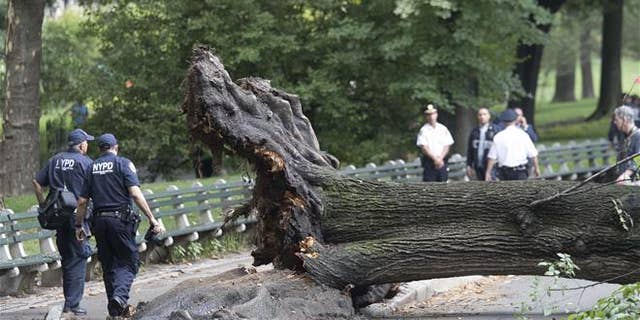 A woman hospitalized after she was hit by a falling tree while protecting her three young sons is suing New York City and the Central Park Conservancy for $200 million, WABC reports.
According to ABC News, 39-year-old Anne Monoky Goldman was pushing two of her children, ages 4 and 2, in a stroller while her 41-day-old infant was strapped to her chest Aug. 15 in Central Park when a 75-foot-tall elm tree fell on them.
Monoky Goldman was pinned under the tree for 10 minutes or so before being rescued. "They had to go take her out with chainsaws," a witness told the New York Daily News at the time.
Her lawyers say she suffered spine and neck injuries and a concussion. Her 2-year-old son was treated for a brain hemorrhage and concussion. In the lawsuit filed this week, lawyers claim the tree fell because it was decayed underground, posed a danger to all park visitors, and hadn't been properly maintained or inspected.
Monoky Goldman was released from the hospital last week, but her lawyers say she has to lay flat in bed for the next two to three months while her neck fractures heal.
They say she may not be able to walk again. "She can't pick up her baby, she can't breast-feed, she can't do her job" doing social media for Tory Burch, one attorney tells the Daily News.
The city is reviewing the lawsuit. (A pregnant woman was killed by a falling tree in an NYC park in 2013.)
This article originally appeared on Newser: Mom, Kids Hit by Falling Tree in NYC. Now She's Suing