Minnesota man reels in shark jawbone from Mississippi River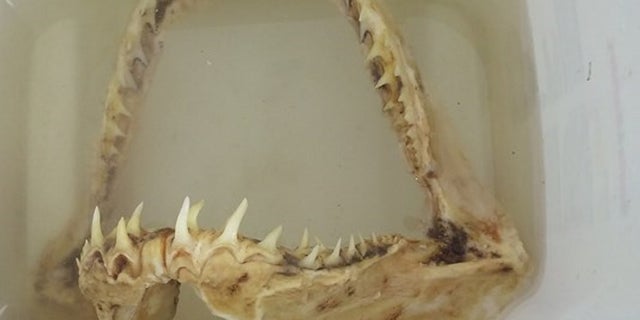 A Minnesota man made a fishy find when he caught a shark jawbone on the Mississippi River.
Joe Piskel, 59, of Grand Rapids, reeled in the jawbone as he fished near the town. He and his 32-year-old son Joey took it to a Department of Natural Resources office, where a fisheries biologist identified it as being from a sand tiger shark, the Minneapolis Star-Tribune reported.
Sand tiger sharks are unable to survive in fresh water, and the origins of the jawbone remain a mystery. The jawbone didn't appear to be a tourist trinket, DNR officials reportedly said.
BEAR IN VIRGINIA LOCKS ITSELF IN CAR, HONKS HORN TO WAKE UP HOMEOWNERS, POLICE SAY
"I couldn't speculate how it got there, but it's doubtful it got there on its own," DNR information officer Cheri Zeppelin was quoted as saying. "The dams that are downstream from this don't allow for that kind of fish passage."
The jawbone, which "had a lot of flesh and was very rotten smelling," is going to be cleaned up and hung on the wall, Joey Piskel said.
The Associated Press contributed to this report.