Minnesota inmate accused in guard's death has violent past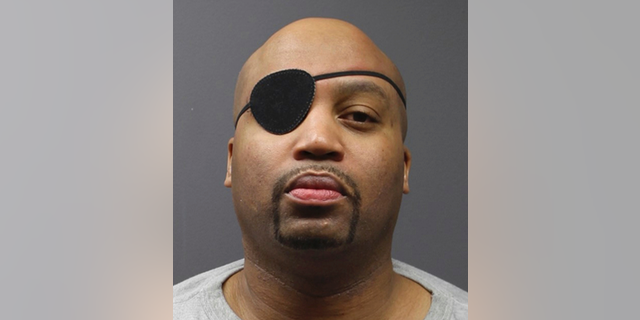 NEWYou can now listen to Fox News articles!
ST. PAUL, Minn. – An inmate accused of killing a Minnesota corrections officer has been disciplined multiple times for violent encounters while incarcerated, including for a fight in which he lost an eye and spent nearly a year and a half separated from the general prison population, authorities said Thursday.
Edward Muhammad Johnson, 42, used a weapon to fatally injure Officer Joseph Gomm at the state's prison in Stillwater, authorities said. Gomm is the first state corrections officer to die while on duty in Minnesota.
Preliminary findings from an autopsy show Gomm died of blunt force trauma, according to the Minnesota Bureau of Criminal Apprehension. It's not clear what weapon was used in the attack. Authorities have not released those details.
Department of Corrections Commissioner Tom Roy said Gomm was killed Wednesday in the prison's industry building, which houses a welding shop and carpentry programs. Johnson had been eligible to work in the industry building because he hadn't been disciplined since 2016, Roy said. But before that, Johnson had a lengthy record of disciplinary problems that included fights, disobeying orders and disorderly conduct.
Roy said Johnson had served about 1,700 days in segregation while in prison, including a 540-day stint there after a 2004 fight. Court documents describing that incident say another inmate entered Johnson's cell and stabbed him in the eye.
"He has not been an exemplary inmate," Roy said of Johnson. He noted, though, that Johnson had been on "relatively good behavior" in recent years.
Johnson is serving a nearly 29-year sentence for second-degree murder, after pleading guilty to fatally stabbing his roommate in 2002 while her 5-year-old daughter was nearby. While that case was pending, he assaulted a sheriff's deputy at the Hennepin County jail.
After Gomm was attacked, Johnson was moved to the maximum security facility in Oak Park Heights. Washington County Attorney Pete Orput said Johnson was placed in segregation at that facility.
Orput said he will review the case for charges once the investigation is complete.
"All I can bring is an aggressive prosecution — and I'm bringing it," Orput said.
Officials believe Johnson acted alone in the attack.
Roy said Gomm had been a corrections officer for 16 years and was known as a hard worker who was respected by his peers.
"We have a very emotional department right now," Roy said. "We have people that are struggling, who worked arm in arm, elbow to elbow with Officer Gomm."
Gomm, like most guards, was armed only with pepper spray and a radio, Roy said. Guns are typically only used by officers stationed in watch towers and assigned to crisis response teams.
About 1,600 inmates are housed at the 104-year-old Stillwater prison, and about a third of them are serving time for homicides.
According to data from the Department of Corrections, there were 682 assaults on staff at the state's adult prisons from fiscal year 2013 through July 26, 2018. That includes 110 assaults with weapons, and 14 assaults with weapons that caused harm.
The Stillwater prison and the Oak Park Heights facility have both seen a jump in assaults on staff in the last year.
Assaults on staff in the Stillwater prison more than doubled in fiscal year 2018. The Stillwater prison saw 59 assaults on staff, including 11 assaults with weapons, from July 1, 2017, to June 26, 2018 — the most current dates for which data is available. That's up from 27 assaults the prior year, including three assaults with weapons.
Roy said the safety of officers is a priority, and he has made several requests for additional staffing. AFSCME Council 5, the union that represents Minnesota state correctional officers, said in a statement it has also made requests for more staffing.
Rogers police Chief Jeff Beahen, president of the Minnesota Law Enforcement Memorial Association, said correctional officers deserve credit for choosing to work among sometimes violent populations with inherent risks while equipped with few tools to protect themselves.
"He paid the ultimate sacrifice doing what he was sworn to do," Beahen said of Gomm. Funeral arrangements for Gomm are pending.
According to a 1988 Chicago Tribune story, Johnson's father and mother were Chicago police officers. His father killed his mother, then himself, in front of Johnson when he was 12 years old.
Johnson's sister, Zakiyyah Johnson, told the Star Tribune in Minneapolis that she and her brother were traumatized by the deaths and moved to Minnesota to be raised by an aunt.
___
Follow Amy Forliti on Twitter: http://www.twitter.com/amyforliti . More of her work at https://apnews.com/search/amy%20forliti .