Million killer bees threaten Texas neighborhood: 'It was like a horror movie'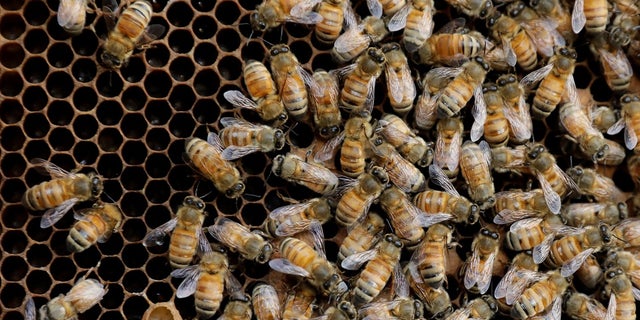 NEWYou can now listen to Fox News articles!
One million aggressive bees have swarmed a Texas neighborhood and residents are unsure of what to do.
The bees have set up shop in an east El Paso home for about three years, but homeowners said the insects have lately become more aggressive. The couple told KFOX14 that they are worried about people who walk by the home and the children who go to school nearby.
Bee specialist Pyong Livingston went to the home to remove the hive but the bees became agitated during extraction. Rudy Reyes, a KFOX14 photographer, reported that he was stung eight times while shooting video of the bees.
NURSE FIRED, ARRESTED AFTER PATIENT DIES AT TEXAS HOSPITAL
"I went on top of the roof. I went there with my camera and he was with his helper," Reyes said. "As soon as they got there and opened the roof, the shingles from the roof, it was, like, believe me, it was like a horror movie -- seeing this swarm of bees just coming out in a black cloud. Within seconds, I started getting stung by bees. I got two in the eye, in the head, and I just went into my unit (vehicle). Even though I went into my unit, I still got bees inside my unit."
Livingston said there were about a million bees in the hive and were mixed, African and European bees. He said the bees were 20 to 30 times more aggressive than normal honeybees.
"We were swarmed. We found that, as soon as we opened up a little area, we thought there were maybe 20,000 bees," Livingston said. "It turns out to be over 100,000 bees. So they swarmed us and they started biting me all over, even with the suits."
TEXAS OKS MEXICAN-AMERICAN STUDIES CURRICULUM UNDER NEW NAME
The city of El Paso said the bees were "not the city's responsibility" and are the homeowner's duty to remove or exterminate them.
Livingston was able to remove some of the beehive but not all of it. In order to remove all the beehive, the walls would need to be opened and then closed after the hive is removed.
Bees become more active in the summer when it's warmer. There have been cases of people being killed by bees. In 2014, an Arizona man was killed after a group of very aggressive bees became angry by the sound of a lawnmower and attacked him, The Telegraph reported. He died of a heart attack following the swarm of bees attacking him.