Mexico making example out of Marine with trumped up charge, says lawyer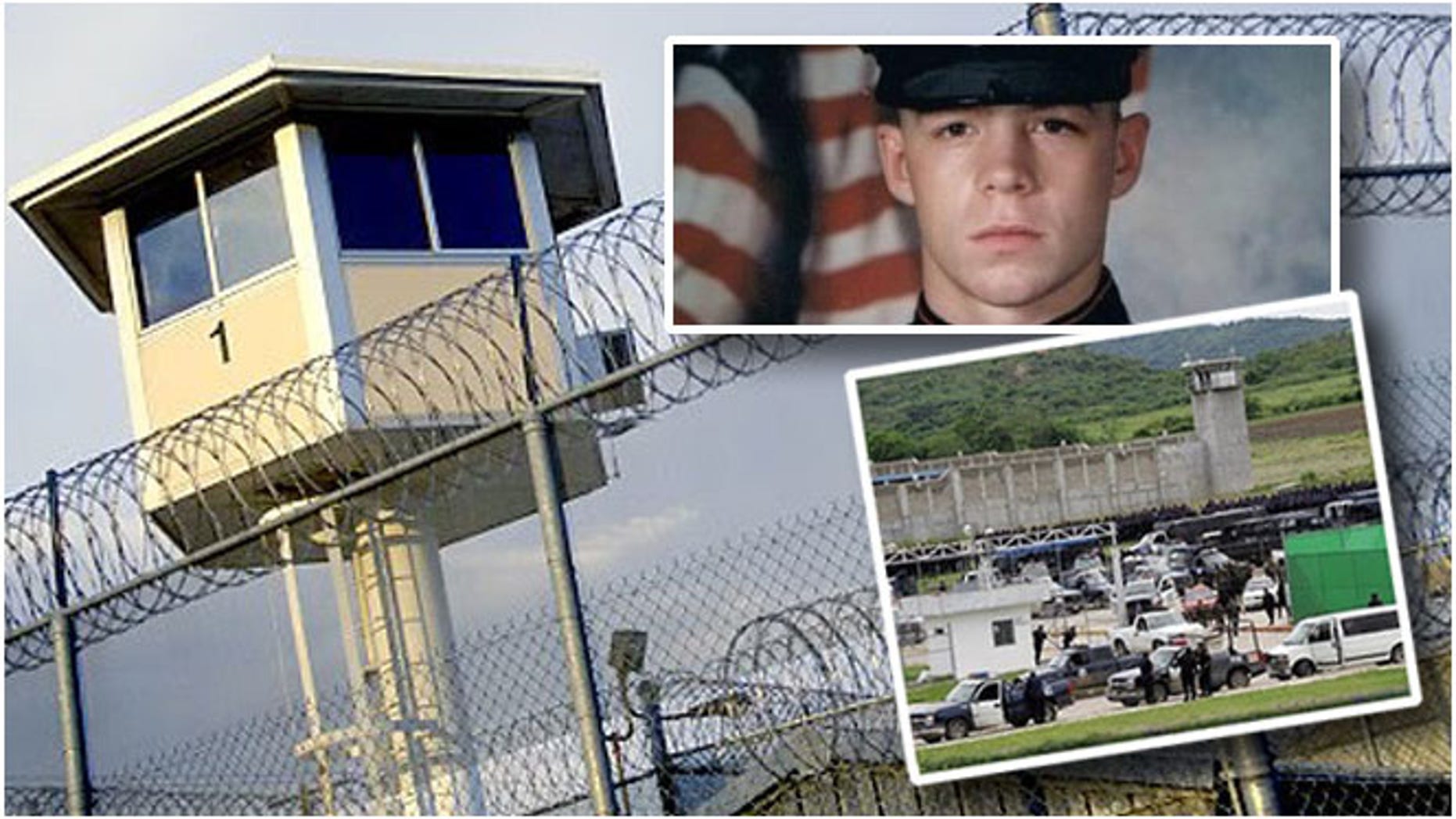 A Marine languishing in a Mexican prison on what his supporters call a trumped up gun charge was made an example by an overzealous prosecutor in a case that begged for discretion, his lawyer said.
Jon Hammar Jr., who was caught just inside Mexico's border with his grandfather's antique, Sears & Roebuck shotgun while on the way to Costa Rica with a pal, should have been scolded and sent on his way minus the family heirloom, said Eddie Varon-Levy. Instead, Hammar has spent the last four months in one of Mexico's most dangerous prisons. Varon-Levy blamed the outgoing administration of President Felipe Calderon and his attorney general, Marisela Morales, who he said took their zero tolerance approach too far.
"The administration of Felipe Calderon and Attorney General Marisela Morales has had the attitude that they have to make examples of people that laws have to be enforced," said Eddie Varon-Levy, 52.
Varon-Levy, who is an international law attorney with offices in Mexico City and Los Angeles, Calif., said the customs agent who nabbed Hammar and the prosecutor who charged him could have used discretion - and common sense - instead of filing the federal weapon charge charge against Hammar.
"They could have just taken the gun and not filed any charge," he said. "This case should not even be tried."
Morales has been lauded for her efforts in the midst of Mexico's violent drug war by Secretary of State Hillary Clinton and First Lady Michelle Obama.
Hammar, a Marine who fought in Iraq during the siege of Fallujah, was arrested at the U.S.-Mexico border between Brownsville, Texas and Matamoros, Mexico Aug. 13, after he thought he legally declared a shotgun an American border agent allegedly gave him permission to take into Mexico.
"With the old administration you were guilty until proven innocent or ran out of money," Varon-Levy said, "but with the new administration I am confident things will change favorably for my client."
Enrique Pena Nieto took office as Calderon's successor as Mexican president Dec. 1. The election of Pena ousted the PAN party's short reign in Mexico and marked a return to the  PRI party which ruled Mexico for 75 years. Varon-Levy said he hopes the new administration will use reason in enforcing the law. In Hammar's case, he was jailed on a technicality that still hasn't been fully explained. There is a conflict in how the officials are measuring Hammar Jr.'s rifle for its legality as well as its caliber and whether it is military grade. When Hammar declared the shotgun to Mexican customs agents, he was arrested because rather than the legally permissible 25-inch barrel, his was 24 inches. Even that is not clear.
"The prosecutor and investigator can't even agree on the length," he said.
Since he was initially detained, Mexican officials have not exactly followed such slavish devotion to the letter of the law, said Varon-Levy. The attorney has filed a motion alleging Hammar's constitutional rights under Mexican law were violated when he was not provided an interpreter at the time of his arrest. Prior to filing the charges with the PGR, Mexico's attorney generals office, the border agent was supposed to explain the charges through an interpreter, which never happened, according to Hammar's father, Jon Hammar Sr.
"Jon signed off on the charges anyway because they told him to do what they say and he'll get out of jail faster," Hammar said.
Prosecutors attempted to try his son on a felony weapons charge without his attorney or the agent who arrested him present in the Matamoros federal courtroom Nov. 23, the distraught father said. Varon-Levy and the Hammars made arrangements to be present, but were then told the proceeding was postponed until January. Then, on the original date and with no one from his team present, Hammar was brought from the prison by police and ordered to plead guilty to the charges that hold a sentence of between 5-15 years, Varon-Levy said.
"They claimed it was an administrative snafu," Hammar Sr. said. "This is the reason why we finally went public about Jon's arrest. Not only have we lost faith in the Mexican judicial system, we fear for our son's safety."
Ricardo Alday , spokesman, Mexican Embassy in Washington D.C., defended prosecutors' actions in the case.    

"The law is very clear, if you enter Mexican territory with a weapon restricted for the exclusive use of the Army, you incur a federal crime, whether you declare it or not," Alday said.
But Hammar's family and legal team say they are trying to battle the charges even as they fight for his life. On the second night he was imprisoned in the notorious CEDES prison in Matamoros, Hammar Sr. received a midnight call from an unknown man threatening his son's life unless he paid $1,800. And Hammar, who suffers from Post Traumatic Stress Disorder from four combat tours in Iraq and Afghanistan remains in the Mexican prison, has also been chained to a bed in a storage-like closet to separate him for his own safety from the general population which includes members of the violent Los Zetas and Gulf drug cartels.
His parents, who live in Palmetto Bay, Fla., say they've gotten little help from the U.S. State Department. They said they appreciate the help the U.S. Consulate provided in getting the message across to Mexican officials to protect their son from other inmates, but said other than that, there doesn't seem much the U.S. government can do.
"According to the consulate they can't get involved in the legal matters of a foreign country but they could provide a list of attorneys which essentially came out of a phone book," Hammar Sr. said. "They told us they couldn't give us any legal advice.
"It makes me feel helpless."
Joseph J. Kolb is a regular contributor to FoxNews.com