Mexican border agency seen as aiding illegal immigration
South of the border, Grupo Beta is seen as a humanitarian organization that steers north-bound migrants through the crossfire of warring drug cartels. But in Texas, many view it as part of a pipeline that sends humans and drugs pouring into the U.S., all with the funding and backing of the Mexican government.
Grupo Beta, supported by Mexico's National Institute of Migration, may be the sole bastion of relief for migrants in Tamaulipas state, across the border from the southeast Texas region which includes such cities as Brownsville, Laredo and McAllen. The 25 year-old agency was created to help Tijuana deal with huge numbers of migrants passing through, but has since expanded its reach across both the northern and southern borders of Mexico. Critics say the agency, whose motto "vocation, humanitarianism and loyalty," is complicit in breaking U.S. laws.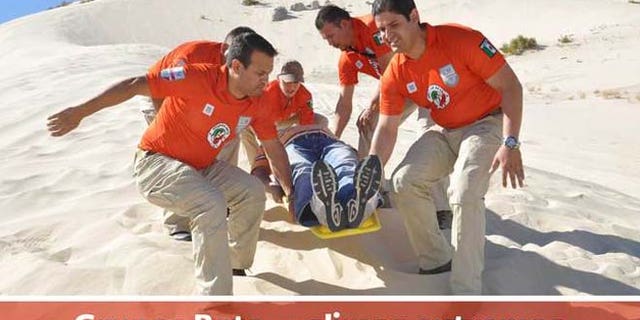 "I've seen so much crazy stuff out here," said Shawn Moran, vice president of the National Border Patrol Council. "Grupo Beta was formed with good intention but there have been members of the organization caught smuggling."
Three-quarters of U.S.-bound Central American migrants pass through Tamaulipas, according to Grupo Beta spokesman Luis Carlos Cano. The trail is blazed by the infamous rail line known as "La Bestia," which regularly chug northward packed with migrants inside and clinging to the roof under an unyielding sun or monsoon rains. Making the trip even more daunting is the ongoing an indiscriminate war between the Gulf and Los Zetas cartels, which most recently resulted in the massacre of 14 in July in the state's capital of Ciudad Victoria. Grupo Beta provides medical care, food and essentials for those in need and in transit.
Supporters of Grupo Beta acknowledge its blemished history, but say in the current climate of mass migration, it serves a vital purpose.
"There was a time early in the organization's development that they appeared to facilitate smuggling of humans and drugs," said Victor Manjarrez, Center for Law & Human Behavior at the University of Texas at El Paso, and a former U.S. Border Patrol sector chief. "I don't think that is the case now with the exception of a few rogue instances."
When the organization was first created in Tijuana, Grupo Beta officers carried guns and had law enforcement authority, though it was later stripped by the Mexican government. That, according to Moran, lends itself to looking away or even facilitating crime.
"They lost whatever backing they had so now they have no incentive to contact law enforcement if they come across smugglers because of how powerful the cartels are," he said, adding that he sympathizes with agents who hesitate to get involved in potentially illegal or violent matters when they have no protection.
Cano said that regardless of whether an individual is a drug or human trafficker, if they are in need of medical care Grupo Beta will provide it and will not report them to Mexican authorities.
"We provide the assistance and warn them, but then allow them to be on their way," Cano said. "We don't ask questions or judge, we just provide care."
The danger from cartels is real. In the 2010 San Fernando, Tamaulipas massacre, 72 Central and South American migrants were slaughtered by members of the Los Zetas cartel. Grupo Beta tries to educate migrants traveling through Mexico, and steer them to safety.
President Obama's bi-national campaign to discourage migrants, especially those from Central America expecting automatic residence status in the U.S. on the grounds they are fleeing gangs such as MS 13 in El Salvador, Guatemala and Honduras, has had little impact.
According to figures from the U.S. Border Patrol there have been no signs the flood of migrants, especially unaccompanied children, will slow. And with the political rhetoric on immigration a focal point of the presidential election, Cano said some may be hoping to make it to the U.S. before policies change.
According to the U.S. Border Patrol, from October to May in 2015 there were 13,239 unaccompanied children apprehended just in the Rio Grande Valley Sector. That number skyrocketed to 23,243 over the same time span this year.
Mexican officials have seen an increase of more than 50 percent in the number of migrants found in distress since the beginning of 2016 compared to the same period last year.
The impact of this increase in migration through Mexico is a mixed blessing. Local economies thrive as peddlers sell supplies to migrants and human traffickers known as "coyotes" spend some of the estimated $5,000 they reap for each client they spirit into the U.S. Mexico has little economic incentive tightening its border, with more than $40 billion coming back into its economy each year from drug sales, remittances sent back to family from individuals in the U.S., and money spent in the local economies by the migrants as they make their way through Mexico.
As in the U.S., it is not illegal to leave Mexico, so once Central and South American migrants enter, the issue is essentially controlled by Grupo Beta, which sees its mission as to ensure safe passage. Efforts have been made by Mexico to control the flow of migrants entering its southern border with little impact. Once they make their way north to the U.S. border, Grupo Beta is ready to help. The do not work with Mexico's own border officials who are technically tasked with deporting the migrants back to Central America unless they request it.
Despite the efforts to mitigate immigration, both the U.S. and Mexico realize they must provide humanitarian help, such as water stations, medical care and shelter when emergencies arise, regardless of the political environment or rhetoric of politicians.
On the American side, the U.S. Border Patrol has a special search and rescue unit known as BORTSAR (Border Patrol Search, Trauma, and Rescue) whose mission is to rescue lost, ill or injured migrants.
In the span of one week from June 13 to June 20, 2016, Laredo Sector Border Patrol alone rescued 87 illegal immigrants.
"The smugglers will leave these immigrants to die," Mario Martinez, chief patrol agent of the Laredo Sector Border Patrol, said in a press release. "Temperatures will only get hotter and they have to understand that it is a dangerous trek to enter this country illegally."
The 1998 Border Safety Initiative encourages the U.S. Border Patrol to prevent deaths and increase rescues of illegal immigrants who fall prey to "callous, unscrupulous human smugglers who place them in dangerous situations to fend for themselves with the proviso that these individuals will be processed upon apprehension."
Moran said the Border Patrol's endorsement of Donald Trump came largely on the strength of his pledge to secure the border and stem the flow of drugs and migrants coming across the U.S. border.
"Mexico does what it wants, when it wants," Moran said. "Maybe that will change."