Medical association pulls convention out of San Francisco due to safety concerns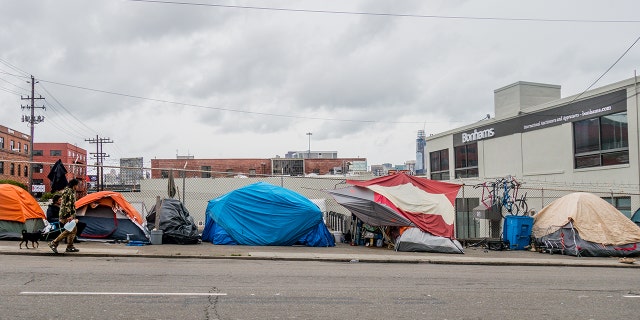 NEWYou can now listen to Fox News articles!
A major medical association has withdrawn its annual convention in San Francisco due to safety concerns -- such as ever-growing menacing interactions with homeless people, vagrants and those with a mental illness.
The unidentified medical group decided to move its convention to a different city, but said it hoped to return in the future, Joe D'Alessandro, the president and CEO of the San Francisco Travel Association, told SF Gate on Tuesday.
"It's the first time that we have had an out-and-out cancellation over the issue, and this is a group that has been coming here every three or four years since the 1980s," D'Alessandro said.
WIND SPREADS CALIFORNIA FIRE AS OTHER STATES BATTLE BLAZES
D'Alessandro and members of S.F. Travel went to the medical association's headquarters in Chicago to ask about the convention and if the group would be hosting it in the future.
"They said that they are committed to this year and to 2023, but nothing in between or nothing thereafter," D'Alessandro said. "After that, they told us they are planning to go elsewhere — I believe it's Los Angeles."
The doctors told the delegation that they "loved" San Francisco but did not feel safe due to open drug use in the city, threatening behavior and mental illness that plague the streets, according to SF Gate. A member of the association was assaulted last year near the Moscone Center in San Francisco.
CALIFORNIA WOMAN DROWNS TRYING TO SAVE 3 KIDS IN OCEAN: REPORT
"There was a time when the biggest obstacle to having a convention here was that it can be expensive, but now we have this new factor," D'Alessandro said.
Conventions have employed off-duty police officers to secure the area in recent years.
Tourism in San Francisco brings in about $9 billion annually.
"You may not know it, but tourists spend more money outside of the hotel than inside the hotel," Kevin Carroll, the executive director of the Hotel Council, told the paper. "Everything from restaurants to shopping to taking taxis."
SF Gate reported industry officials have been meeting with mayor-elect London Breed to discuss increasing law enforcement and mental health services in the city.
D'Alessandro said he heard from other groups holding conventions in the city as well.
"A number of groups are concerned about the streets of San Francisco," D'Alessandro said. "They say 'we don't know if the streets are safe, we don't know if we want to meet here.'"