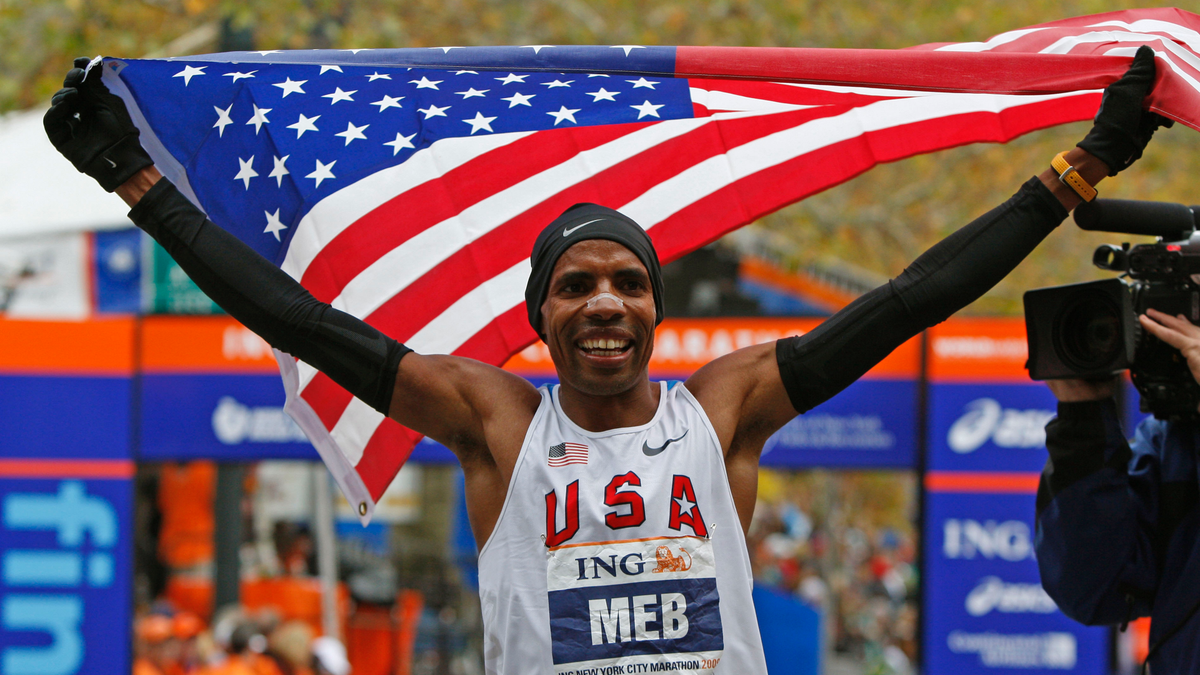 NEW YORK – He'll wear the familiar "MEB" bib one final time at the New York City Marathon.
Meb Keflezighi, the face of American long-distance running, wraps up his marathon career where it began in 2002 on the multicultural streets of New York. An immigrant of war-torn Eritrea who became a U.S. citizen in 1998, he'll be cheered by thousands of spectators and some 70 relatives and friends.
He vowed to never run the grueling 26.2 miles again after going out fast and hitting the wall at mile 21 in his first NYC Marathon. But 26 marathons later, he's retiring at age 42 after Sunday's race, capping a career as the only person to win an Olympic medal and New York and Boston titles.
"It's very emotional coming back," Keflezighi said. "I'm excited, but at the same time it's bittersweet. It will be a sigh of relief when I get to the finish line."
In 2009, Keflezighi became the first American man since Alberto Salazar in 1982 to win the NYC marathon. His most dramatic win came at the 2014 Boston Marathon, crossing the finish line with fist pumps in the air and the names of three victims of the bombings and a slain police officer written on his bib. As a spectator in 2013, he'd stood in Copley Plaza to greet finishers and left only a short time before the bomb attack injured hundreds.
He kissed the pavement after a Boston Strong and personal-best time of 2 hours, 8 minutes, 37 seconds at age 38.
Keflezighi also won silver at the 2004 Athens Olympics, the first U.S. man since Frank Shorter in 1976 to win a medal in the marathon.
"Meb is the premiere American distance runner of this generation," said George Hirsch, who with Fred Lebow started the NYC Marathon in 1976 to celebrate the bicentennial. "We have to really go back a long way to Frank and Bill (Rodgers) and Joanie (Benoit Samuelson) and Alberto.
"That was a golden age of American distance running when we literally had Olympic champions in the marathon and runners ranked No. 1 in the world."
Keflezighi says his parents and siblings could have stayed in Italy after escaping East Africa. But they traveled to the United States, settling in San Diego. Keflezighi arrived at 12 in 1987, trading a future as a child soldier in his native country for good grades, a track scholarship at UCLA and a transformation from miler to Olympic marathoner.
His athletic journey began when junior high school gym teacher Dick Lord suggested students run a mile around the playground, and young Meb gave an eye-opening performance.
"People give you confidence," he said, mentioning college coach Don Larsen. "They kind of see something that you didn't see. At end of the day, I squeezed everything there is to squeeze out of it."
In his NYC Marathon debut 15 years ago, Keflezighi thought he could win and made a move on First Avenue in 39-degree weather. He went from fourth place to ninth.
"My Irish (runner) friend said to be patient," Keflezighi said. "When you hit the wall, it's hard to bounce back. My mom said 'No more marathons for you, just 5K or 10K.' My dad was massaging my legs to keep me warm (after the race).
"I told my coach it's my first and last marathon. I got my Ph.D. that day, what to do and what not to do."
His parents will be in New York again Sunday. He posted two photos on Twitter, showing his parents and several siblings upon their arrival in the U.S. in 1987 and a more recent photo of the group.
The caption reads, "Where did your family immigrate from?"
"This country is built on immigrants, unless you're Native American," Keflezighi said. "Whether it was 30 years ago like myself or 50 years ago or 100 years ago or someone who just came here last week."
His father cleaned floors, drove a taxi and helped them learn English while his mother raised 10 children.
"That's why my parents got here, by hard work and perseverance. We could have been in Italy forever, it was peace and tranquility," he said. "But the land of opportunity lies in the United States.
"All my brothers and sisters graduated from medical school, engineering, MBA or law. All those things because the great United States gave us opportunities. I maxed out my potential in terms of running. But all my siblings also reached great things to be a positive contributor to society."
Up next? He'll spend more time with his wife, Yordanos, and three young daughters, run some half-marathons, coach and work with his MEB Foundation. It stands for "Maintaining Excellent Balance" and promotes healthy living and motivation for youth.
NYC Marathon officials say they'll retire the "MEB" bib, the last time a pro athlete wears a first name. Always an ambassador of the sport, Keflezighi plans to return to the finish line Sunday and greet the last stragglers in the dark at Central Park.
"They're going to have tears in their eyes when he drops a medal around their necks," Hirsch said.