Massachusetts police officer killed after attacked with rock, shot with own gun, officials say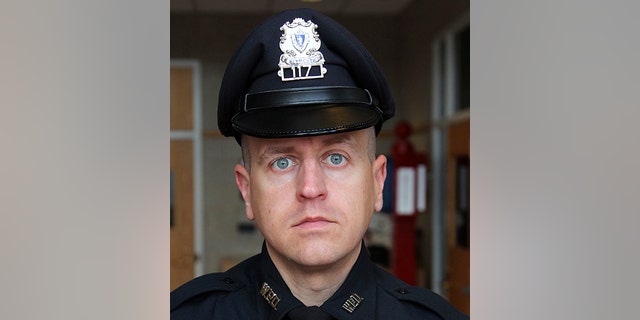 A Massachusetts police officer and an elderly woman were killed Sunday after a suspect attacked the officer with a rock, took his gun and shot him in the head and chest, officials said.
Weymouth police officer Michael Chesna, 42, was pronounced dead at a local hospital shortly before 8 a.m. The unidentified woman was fatally wounded by stray bullets in a nearby home. A suspect, identified as Emanuel Lopes, was in custody and was expected to be arraigned on two counts of homicide Monday.
According to investigators, Lopes crashed a car he was driving and fled the scene on foot at approximately 7:30 a.m. Norfolk County Assistant District Attorney Greg Connor said Chesna discovered Lopes vandalizing a nearby house. When the officer drew his gun and commanded Lopes to stop, the suspect allegedly attacked Chesna with the stone and struck him in the head.
According to Connor, Lopes took Chesna's gun and fired it several times, striking the officer in the head and chest.
OFFICERS KILLED IN THE LINE OF DUTY IN 2018
Weymouth police officers who responded to the scene returned fire, striking Lopes in his leg and knee.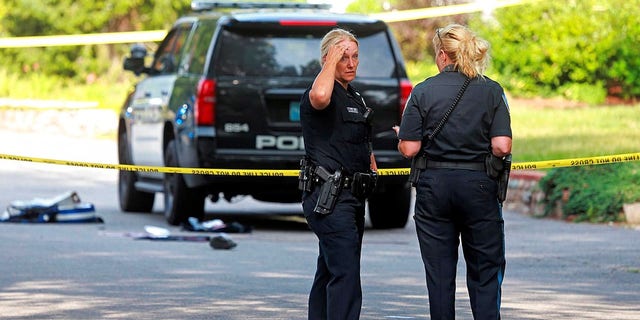 Lopes again tried to escape as officers chased him, investigators said. They added that he fired Chesna's gun three times during the chase, killing the woman in the home.
Lopes was arrested and taken to a hospital with injuries that were not life-threatening.
Weymouth Police Chief Richard Grimes said Chesna was a veteran of the Iraq and Afghanistan wars who leaves behind a wife and two children, aged 4 and 9.
"I hired Mike Chesna six years ago tomorrow," said Grimes, who added that Chesna's mother had told him "he joined the military to help open the doors to get on this job [as a police officer]."
"He was one of those people who truly sought this job and was fortunate enough to get it," Grimes said.
Chesna's body was removed from the hospital, and transported via procession of multiple law enforcement agencies to the state's medical examiner office, where he will be evaluated. Dozens of police saluted the vehicle carrying the officer's body, and mourners placed bouquets by the Weymouth Police Headquarters.
April Visco, 43, told the Boston Globe she heard 10 to 20 shots fired. She said she ran outside and heard someone yell, "get on the ground," three times.
"Everyone says 'it doesn't happen in my neighborhood,'" she told the Globe. "It does happen everywhere."
The Associated Press contributed to this report.
Click for more from Boston25News.com.