Marine Corps orders all of its aircraft grounded following deadly crashes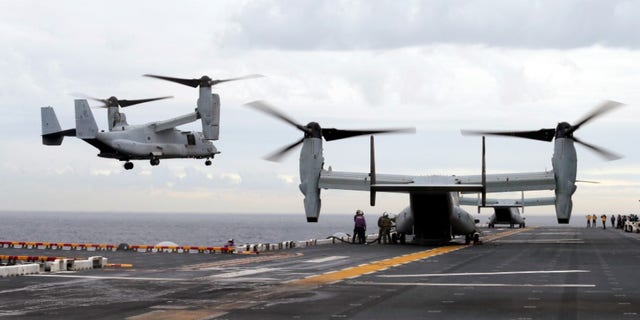 NEWYou can now listen to Fox News articles!
The U.S. Marine Corps has ordered all its aircraft grounded for a 24 hour-period following two deadly recent crashes in which 19 service members were killed.
"General Robert B. Neller, Commandant of the U.S. Marine Corps, directed U.S. Marine Corps aviation units to conduct an operational reset for a 24 hour-period where no flight operations will take place but no operational commitments will be impacted," the USMC said in a statement Friday.
"This operational reset will occur within the next two weeks and will be taken at the discretion of commanders, based on their unit's operational commitments, to focus on the fundamentals of safe flight operations, standardization, and combat readiness," the statement continued.
The move affects about 1,000 aircraft in total, including those currently deployed, a U.S. Marine Corps spokesman confirmed to Fox News. It is up to unit commanders to choose which day during the next two weeks to do the grounding to avoid affecting current operations.
MARINE CORPS LIFTS GROUNDING OF MV-22 OSPREY AND OTHER AIRCRAFT IN DEPLOYED UNIT FOLLOWING CRASH
On Monday, the submerged wreckage of a U.S. military aircraft was found two days after it crashed off the east coast of Australia, killing three U.S. Marines. The MV-22 crashed while on final approach to USS Green Bay, a Navy amphibious ship off the east coast of Australia.
And in July, 15 Marines and one Navy Corpsman were killed when their U.S. military plane spiraled out of the sky and crashed in a Mississippi field.
News of the grounding comes after President Donald Trump tweeted on Friday morning, in response to threats from North Korea, "Military solutions are now fully in place, locked and loaded, should North Korea act unwisely. Hopefully Kim Jong Un will find another path!"
The USMC said that the 24 hour-period grounding is not unusual.
"Pauses in operations are not uncommon and are viewed as a responsible step to refresh and review best practices and procedures so our units remain capable, safe, and ready," the USMC said in their statement.
The last time a fleet-wide aviation operational pause occurred was August 2016.
Fox News' Lucas Tomlinson and The Associated Press contributed to this report.