Man says he pulled over ex-girlfriend, new boyfriend with dad's cop car to 'mess' with them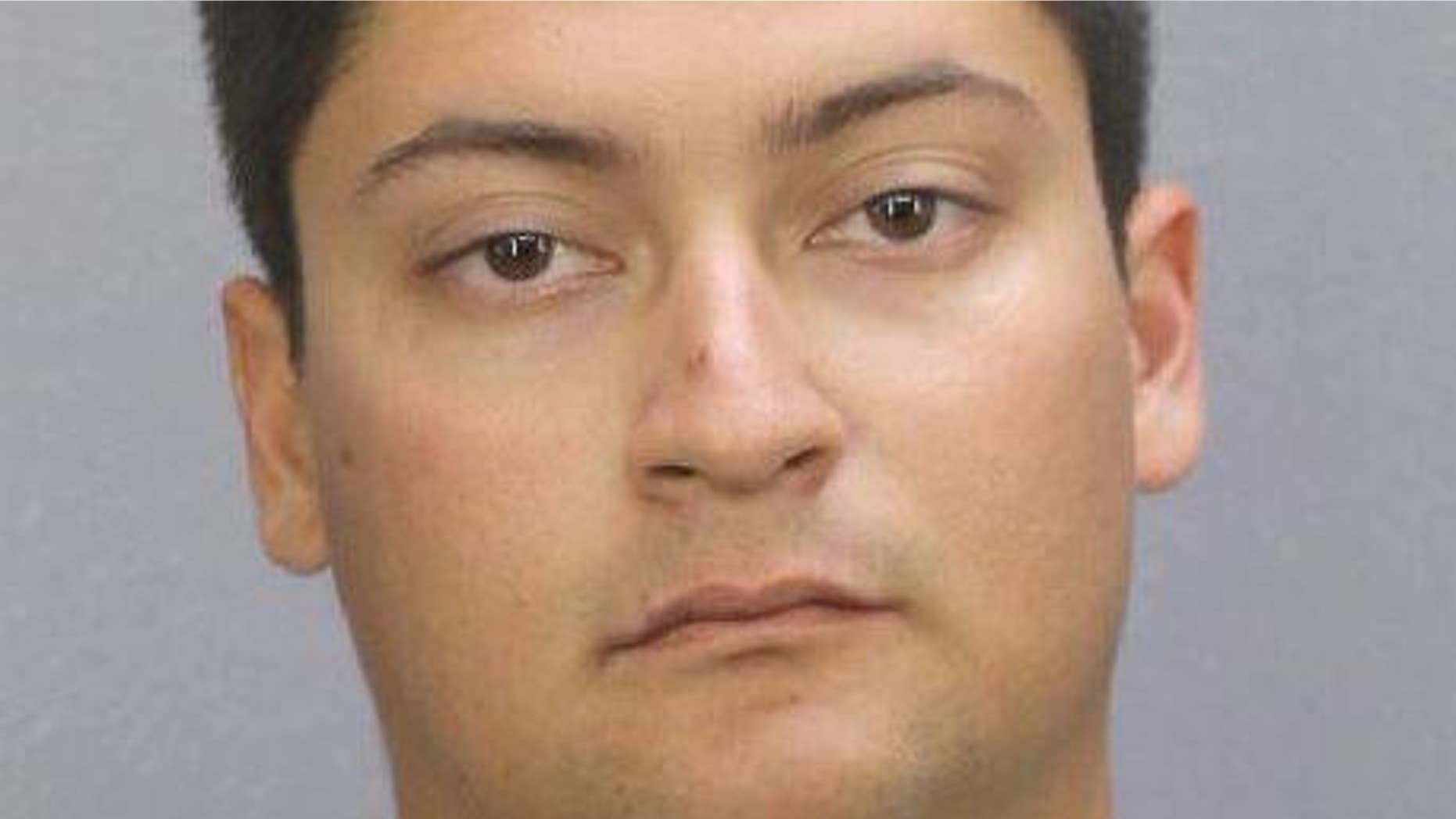 The son of a Florida sheriff's lieutenant said he was just "messing" with his ex-girlfriend when he reportedly borrowed his father's cop car to pull her and her new boyfriend over.
Christopher Combs, a 22-year-old cadet at the Palm Beach Sheriff's department, knew where his ex-girlfriend, Jamie DiCarlo, and her new boyfriend, Robert Roberts, were parked early Saturday morning when he pulled up behind them in his father's unmarked patrol car, the Sun Sentinel reported.
Over the loudspeaker, Combs reportedly ordered Roberts to get out of his car, lay on the ground and empty his pockets.
EX-OKLAHOMA COP IN MURDER TRIAL: 'IT WAS EITHER HIM OR ME'
Roberts alleged he could hear laughing as he got out of the car and laid on the ground. He told police that he felt another person put a "metal object" on the back of his head before they stole his wallet and pocket knife, the Sun Sentinel reported.
DiCarlo reportedly told authorities that she immediately recognized her ex's voice over the speaker and said his father was a sheriff's lieutenant in the area who drove the same type of car. She had recently split up with Combs after dating for five years, she said.
Combs told investigators that he hadn't driven his father's car and it had been sitting at his friend's house all day, the Sun Sentinel reported. When police checked the friend's house, they found that the car was still warm, meaning it had been driven recently.
WOMAN CLAIMS 'AMERICAN HORROR STORY' INSPIRED HER TO MURDER GRANDFATHER
Combs reportedly was upset after he saw his ex with another guy and started "messing" around with them, according to a call overheard by investigators.
Combs was put on house arrest with GPS monitoring and ordered by a judge not to have any contact with DiCarlo or her boyfriend, the Sun Sentinel reported. Combs was charged with armed robbery, impersonating a law enforcement officer and false imprisonment. He was released Monday from Broward County Jail after posting $120,000 bond, the report said.
As far as Comb's future employment on the force is concerned, Palm Beach Sheriff's Office spokeswoman Teri Barbera said in an email to the Sun Sentinel that the "son has been fired, effective right now!"
Comb's father, who was reportedly out of town during the incident, is also under internal review in the department, she said.