Man convicted of savagely killing 8-year-old should face death penalty, jury rules
A California man convicted for torturing and murdering his girlfriend's 8-year-old son could be sentenced to death.
A seven-woman, five-man jury, which deliberated for about seven hours over three days, recommended Wednesday that Isauro Aguirre, 37, be put to death for the May 2013 savage killing of Gabriel Fernandez.
"We were plucked out of our everyday lives and brought together to serve," the jury foreman said, according to the Los Angeles Times. "We came together to bring justice for Gabriel."
The child's mother, Pearl Sinthia Fernandez, 34, is awaiting trial and also faces a possible death sentence.
Gabriel died on May 25, 2013, two days after paramedics arrived at his Palmdale home and found him unconscious with a cracked skull, broken ribs, burned and bruised skin, missing teeth and BB pellets lodged in his groin.
His death triggered widespread reform of the Los Angeles County child-welfare system.
"There is nothing worse in our society than a grown man murdering and torturing an innocent little boy," Deputy District Attorney Jonathan Hatami told jurors during his closing statement earlier this week.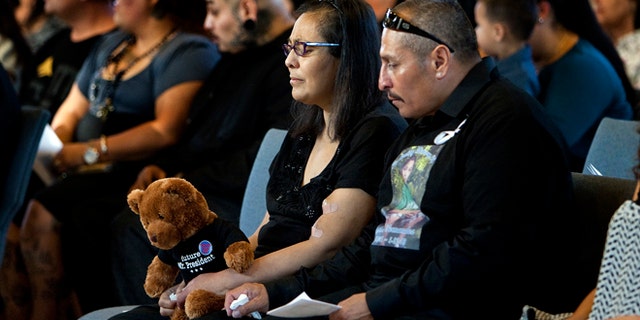 Aguirre "beat Gabriel to death with his fists and his hands … in front of Gabriel's own brother and sister. What type of man would do that?" Hatami said. "Not a man with any goodness in him."
Aguirre's public defender, John Alan, asked for mercy for his client, claiming he was "gentle, kind, patient, [and] respectful."
"The death penalty is not required for even the most heinous crime," he added.
Alan said Aguirre's violent actions were "at least, in part, intersected with Pearl's."
"[Pearl Fernandez was] violent, abusive and neglected her children even before she met Isauro. Even her own family considered her a danger to her children," Alan said.
Aguirre was convicted of first-degree murder on Nov. 15. His sentencing is scheduled for March 8.
Two former Los Angeles County social workers – Stephanie Rodriguez and Patricia Clement – and supervisors Kevin Bom and Gregory Merritt are awaiting trial on one felony count each of child abuse and falsifying public records involving Gabriel.