Man convicted in Texas of laundering drug cartel money through Oklahoma racehorse operation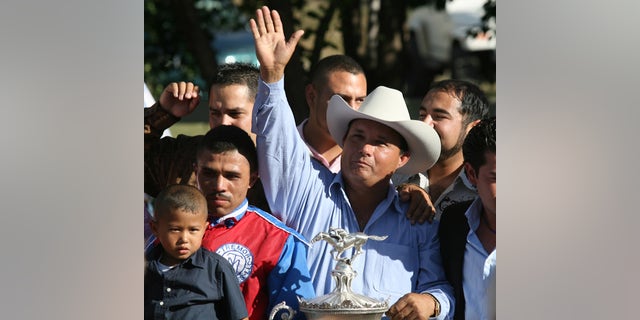 AUSTIN, Texas – A brother of two top leaders for one of the most powerful drug cartels in Mexico was convicted Thursday of buying racehorses to hide illegal drug profits.
A federal jury found Jose Trevino Morales, 46, guilty of conspiracy to commit money laundering. Trevino faces up to 20 years in federal prison.
Prosecutors say his older brothers, Miguel Angel and Oscar Omar Trevino Morales, are the leaders of the Zetas, a Nuevo Leon-based organization that has expanded beyond the drug trade to become the biggest criminal group in Mexico.
Jose Trevino Morales was one of five defendants in the three-week trial, each charged with conspiracy to commit money laundering. Three other defendants also were found guilty. A fifth was found not-guilty.
Several other defendants remain at large, including Trevino's brothers. His wife and daughter have pleaded guilty to lesser charges.
Prosecutor Douglas Gardner told jurors at the start of the proceedings that Trevino went through $16 million in horse-related expenses in 30 months, creating fake companies, buying horses and fixing the outcome of races. Horse owners, trainers and others crafted bank deposits to hide the true source of the funding of the sprawling horse ranch near Lexington, Okla., he said.
The trial is being held in Austin because federal authorities in Central Texas took the lead in prosecuting the case.
The prosecution witnesses included a founder of the Zetas, Jesús Enrique Rejón Aguilar, known as "El Mamito."
Trevino's defense attorney, David Finn, has accused prosecutors of trying to "tar and feather" his client by associating him with his brothers. He declined to call any witnesses.
The horses have been seized and auctioned by the government.