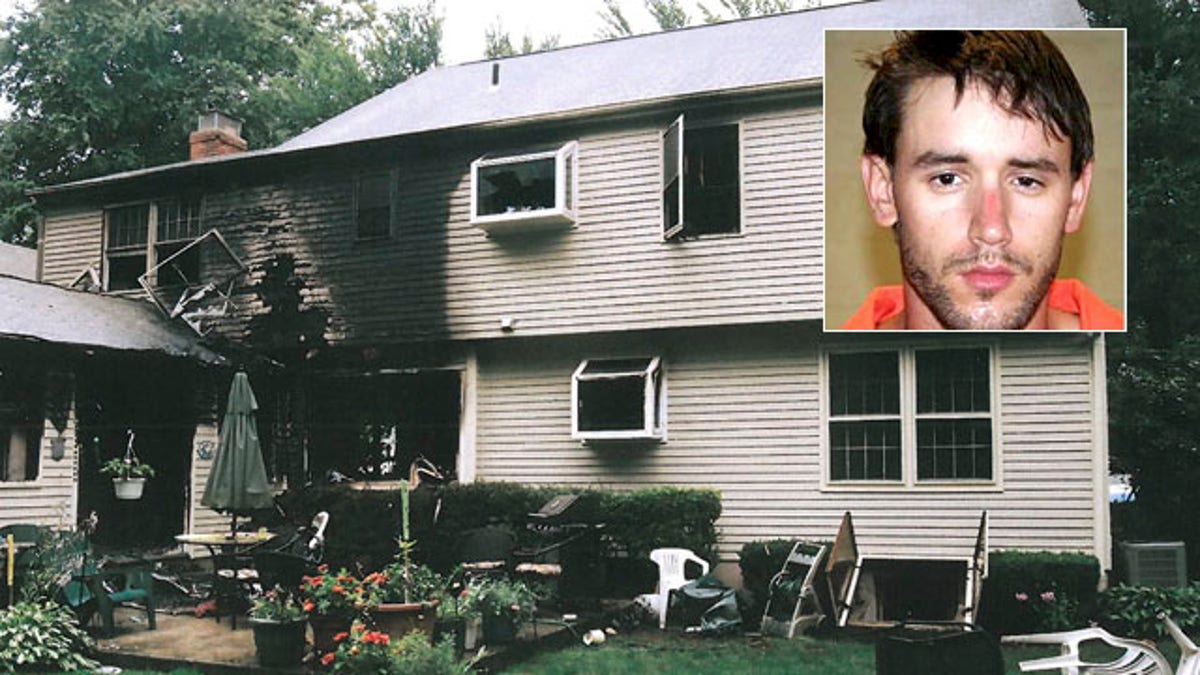 NEW HAVEN, Conn. – A jury condemned a man to death Friday for killing a woman and her two daughters during a night of terror in their suburban home, a gruesome crime that evoked comparisons to Truman Capote's "In Cold Blood" and halted momentum to abolish the death penalty in the state.
The jury took five days to deliberate defense attorneys' request to spare the life of Joshua Komisarjevsky in light of abuse he suffered as a boy. Komisarjevsky, who will join his accomplice, Steven Hayes, on Connecticut's death row, stood rigidly with his arms behind his back and had no visible reaction.
The two paroled burglars tormented a family of four in the affluent New Haven suburb of Cheshire before killing Jennifer Hawke-Petit and leaving her daughters, 17-year-old Hayley and 11-year-old Michaela, to die in a fire.
The only survivor, Dr. William Petit, was beaten with a baseball bat and tied up but escaped. He appeared calm as the verdict was pronounced, his eyes blinking rapidly and his hand clenched in a fist on the seat in front of him. He later bowed his head and closed his eyes.
Petit said outside the courthouse that he found some peace with the verdict, but "there is never complete closure when you lose your wife and your family."
"We think that society will be a little bit safer with he and his co-defendant locked up and facing the death penalty," Petit said. "We certainly have been criticized over the years that this is vengeance and blood lust, but this is really about justice."
One juror, Tashana Milton-Toles, told The Associated Press that all the panelists wept during the deliberations. She said everyone wanted to find a way to avoid sentencing Komisarjevsky to death and the fact he has a 9-year-old daughter weighed on her mind.
"It was very intense. It was very emotional," said Milton-Toles, a 29-year-old state investigator from West Haven. "I walked away feeling like I did the right thing, but it wasn't easy getting there."
Juror Timothy Anderson, a 44-year-old New Haven social worker, said he presented Petit with a Christmas ornament when Petit thanked jurors for their service.
"Dr. Petit was a hero to come down here every single day ... to advocate for his family," Anderson said.
The sentencing verdict concluded two long trials that subjected jurors to grim evidence including charred beds, rope used to tie up the family and autopsy photos. The 2007 attack led to the defeat of a bill to outlaw the death penalty in Connecticut, sparked tougher state laws for repeat offenders and home invasions and drew comparisons the crime described in "In Cold Blood," which documented the brutal murders of a Kansas farmer and his family.
In closing arguments, a prosecutor said the two men created "the ultimate house of horrors" by inflicting extreme psychological and physical pain on the victims that amounted to torture.
Defense attorneys said Komisarjevsky had been prepared for a death sentence.
"Joshua accepted the verdict with dignity and respectfully," attorney Jeremiah Donovan said.
Komisarjevsky will join 10 other men on Connecticut's death row. The state has executed only one man since 1960, and the 31-year-old Komisarjevsky will likely spend years, if not decades, in prison.
The jury of seven women and five men, the same panel that convicted Komisarjevsky, sentenced him to death on each of six capital felony counts and took only slightly longer to reach a decision than Hayes' jury did. One woman clutched a tissue as she was asked to affirm the verdict.
The jurors heard 20 days of testimony from defense witnesses including psychologists, Komisarjevsky's parents and his sister. In arguing for a life sentence, his lawyers said his ultra-religious family never got him proper psychological help after he was repeatedly sexually abused as a child by his foster brother and his problems worsened.
"The only option he ever had was to go through life damaged," defense attorney Walter Bansley said in his closing argument.
Hayes was convicted last year of raping and strangling Hawke-Petit and killing the girls. The girls died of smoke inhalation after they were tied to their beds and doused in gasoline before the house was set ablaze. Komisarjevsky was convicted Oct. 13 of the killings and of sexually assaulting Michaela.
Komisarjevsky admitted in an audiotaped confession played for the jury that he spotted Hawke-Petit and Michaela at a supermarket and followed them to their house.
After going home and putting his own daughter to bed, he and Hayes returned to the Petit house in the middle of the night to rob it.
In the morning, Hayes took Hawke-Petit to a bank to withdraw money, promising her no one would be hurt if she complied. Komisarjevsky took cellphone pictures of Michaela while her mother and Hayes were out.
The men, who blamed each other for escalating the crime, were caught fleeing in the family's car.
Komisarjevsky did not testify during his trial but objected unsuccessfully to an effort by his attorneys to play a videotaped interview of his 9-year-old daughter. Speaking outside the presence of the jury, he said he didn't want his daughter to feel compelled to help "one of the most hated people in America."
His lawyers said they did not believe it was in his best interest to take the stand.
"The severity of his damage would have been obvious and it would have alienated him from the jury," Bansley said.
The defense focused heavily on the family's evangelical Christian religion and on Komisarjevsky's mental health. The family's church believed that the end of the world was near and that outsiders were potential agents of the devil, according to testimony.
Komisarjevsky told a defense psychologist that he was repeatedly sexually abused by his foster brother from ages 4 to 6 and was burned with a cigarette. He also said he was raped as a teenager by someone he trusted.
Prosecutors said those claims emerged years later when he faced prison time for 19 nighttime residential burglaries committed a decade ago.
Komisarjevsky was hospitalized when he was 15 after setting a vacant gas station on fire. He was having homicidal thoughts about his father and had upside-down crosses on his arms and a marking declaring Jesus is dead, according to a hospital evaluation. The hospital wanted to put him on Prozac and other treatment, but his parents were uncomfortable with medication and sent him to a religion-based treatment program in Vermont, where he claimed to hear voices telling him to kill himself.
Komisarjevsky's sister testified that he sexually abused her for years.
He suffered from a mood disorder since he was about 9 that included bouts of profound depression, according to a defense psychiatrist.
Prosecutors emphasized that Komisarjevsky's parents provided him a good home, mentors, vacations, values and mechanical skills he would later use in the construction trade. Komisarjevsky's parents were not in the courtroom for the sentencing.
An uncle, Chris Komisarjevsky, expressed "apologies and sorrow" to the victims' family.
"The crime was monstrous and beyond comprehension. There are no excuses," he said. "As a family, we believe that each individual bears personal responsibility for the decisions he makes."
The defense tried to show that Joshua Komisarjevsky has redeeming qualities, noting he won custody of his daughter when he was briefly out of prison, did well at a construction job and was known to volunteer to help others as a teen who toured with a Christian singing group.
His family and other witnesses described him as remorseful and in shock over his role in the crime. Prosecutors tried to raise doubts about his remorse, noting he blamed Petit for not doing more to help his family even though Komisarjevsky had beaten him with a bat and tied him up.