Man charged in 3 killings wanted by immigration authorities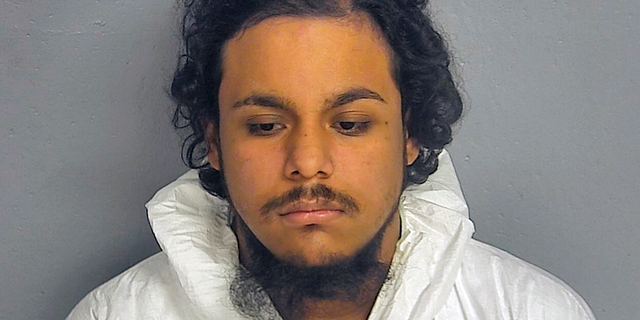 SPRINGFIELD, Mo. – A man who federal authorities believe is in the U.S. illegally has been charged in the fatal shooting of two former roommates and a woman whose home he moved into after his first victims threw him out, police in southwestern Missouri said. A second man has been charged as an accomplice.
Police said in charging documents that Luis Perez opened fire on Steven Marler, 38, and Aaron Hampton, 23, at their home in Springfield on Nov. 1. Two other people were wounded but survived. Perez then shot and killed Sabrina Starr, 21, a day later at her house, the documents say. The 23-year-old suspect faces eight other felony counts in the shootings.
Aaron Anderson, 19, told investigators that he was waiting with Starr in an SUV outside Hampton and Marler's home when Perez shot them. Anderson said he was on the phone with Perez at the time and that he could hear the victims "begging for their lives."
Anderson was charged as an accomplice with two counts of first-degree murder in those killings and three other felonies.
After the first shootings, Anderson, Perez and Starr drove to Starr's home, and police said she was shot six times there on Friday. A relative found her body the following day. No other details of that killing have been revealed.
The probable cause statement doesn't list a motive in any of the shootings, although Perez and Anderson had recently been kicked out of Hampton and Marler's home. A witness identified by the initials K.M. told police Perez said after the shootings that "they had to go" because "they knew too much," court documents say.
Springfield police homicide detective Scott Hill said in charging documents that Perez had recently arrived in Springfield from New Jersey, and that his immigration status was in question.
"I checked Luis Perez criminal history and it showed he had active warrants out of the state of New Jersey. The criminal history also showed Perez was not a U.S. citizen. Contact was made with federal authorities who confirmed they would detain Perez if contacted due to him being illegal," Hill said.
U.S. Immigration and Customs Enforcement spokesman Shawn Neudauer said in an email that the agency is reviewing its records and plans to issue a statement once that review is complete.
Police obtained a warrant to search several Facebook accounts and found messages from Perez after the killings indicating he was trying to trade a handgun. Perez called it a "dirty" handgun because it "Got bodies," the charging documents said.
Anderson told police a stolen gun was used in the killings. Charging documents say Starr had recently given Perez a stolen gun in exchange for a tattoo, but police haven't said that gun was used in any of the killings.
Two Glock 9mm magazines were found in a detached garage of the home where Starr's body was found. Shell casings at her home matched the 9mm shell casings from the home where the men were killed.
Perez and Anderson are jailed without bond in Greene County. No attorneys are listed for them in online court records.
Police also said Perez's girlfriend, Dalia Garcia, arrived on a bus from New Jersey on Friday and helped to burn evidence. She was charged with tampering with evidence and jailed on $75,000 bond.