Louisiana tanker explosion on highway kills driver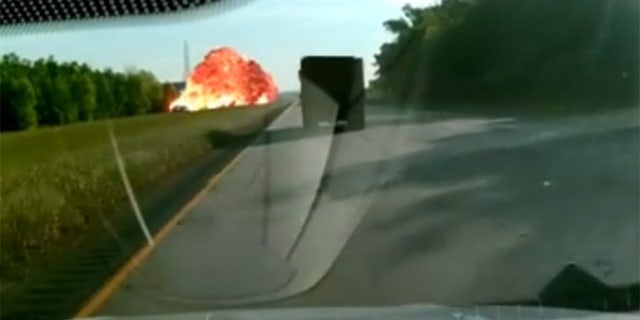 An 18-wheel tanker carrying about 8,000 gallons of gasoline exploded after it rear-ended a dump truck killing one person in Louisiana on Thursday.
WARNING: GRAPHIC VIDEO BELOW
Police said preliminary investigation revealed that a 2008 Sterling dump truck driven by 44-year-old Chalanta Brown was traveling on I-310 South near Luling, Louisiana.
Brown was driving slowly for unknown reasons and was rear-ended by the Kenworth 18-wheeler, driven by Glen Robichaux Jr., 31, Fox 8 reported.
NYC BUS CATCHES FIRE IN MIDTOWN MANHATTAN
The tanker exploded before fulling engulfing in flames.
A Louisiana Department of Transportation dashcam captured the intense explosion.
Police said Robichauz, who was able to escape the cab of the tractor, was taken to a local hospital with injuries. Brown died at the scene.
The crash remains under investigation and impairment is not suspected, Fox 8 reported.
Click here for more from Fox 8.