Lightning strikes just feet away from police officer in Florida
A police officer in central Florida had a close encounter on Tuesday night when lighting struck near him in the department's parking lot.
In surveillance video released by the Apopka Police Department, the canine officer can be seen placing equipment in his police SUV when the bolt struck nearby.
The startled officer then jumps into his vehicle and shuts the door.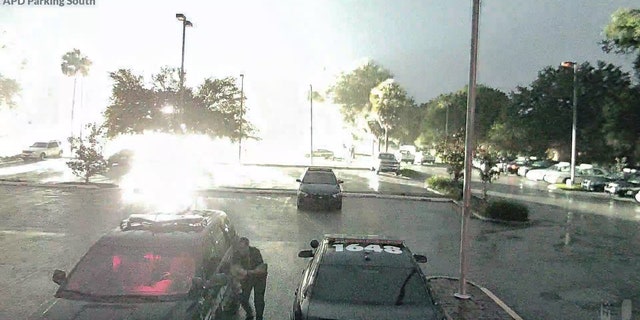 The lightning strike appeared to be so powerful that it turned on the lights on another cruiser in the parking lot. No injuries were reported, but the Apopka Fire Department responded due to a haze in the building.
The police department lost power in its building, and the strike damaged multiple electrical transformers, according to FOX35.
TWO WOMEN TAKING SELFIES SERIOUSLY INJURED AFTER BEING STRUCK BY LIGHTNING
On Monday, the National Weather Service office in Melbourne, Fla. shared the dangers of lighting in a Twitter post.
"June 25 | 16 people died in 2017 due to lightning. 6 people have already been killed by lightning in 2018," the NWS said. "Don't become a statistic!  When Thunder Roars, Go Indoors!"