Lawyer Avenatti is a cable news fixture -- but in this case, he wants privacy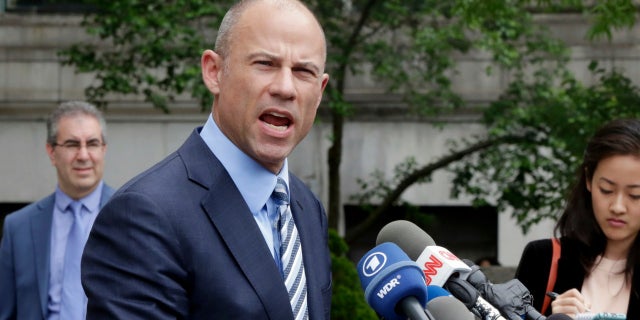 Michael Avenatti, the lawyer who represents adult film star Stormy Daniels and has become a highly visible figure on cable news, is trying to go silent on the matter of his firm's bankruptcy.
The Los Angeles Times reported that Avenatti, who represents Daniels in a lawsuit against President Trump and his personal attorney, was allowed to testify Wednesday in secret, arguing that his firm's finances and its client roster should not be exposed to the news media.
Avenatti asked that the transcript of his testimony be sealed, The Times reported, and media outlets plan to voice their objections before another bankruptcy judge.
As Fox News previously reported, Avenatti, who has made numerous appearances on CNN and MSNBC, has been seen partying in the Hamptons with the media elite of New York City, where the city's wealthiest residents have multi-million dollar weekend homes.
In May, Avenatti's firm was ordered to pay $10 million to an attorney who claimed that the firm had misstated its profits and that he was owed millions. Attorney Jason Frank, who worked at Eagan Avenatti under an independent contractor agreement, alleged in court papers that the law firm failed to pay a $4.85 million settlement he had reached in December.
He added that Avenatti had personally guaranteed the settlement.
Under his agreement, Frank was supposed to collect 25 percent of the firm's annual profits, along with 20 percent of fees his clients paid, according to court documents. He resigned in May 2016 after alleging that the firm didn't pay him millions of dollars that he was owed, misstated the firm's profits and wouldn't provide copies of tax returns and other financial documents.
After he resigned, Frank brought the case to a panel of arbitrators, who found that the firm "acted with malice, fraud, and oppression by hiding its revenue numbers," according to a copy of the arbitration report included in court documents.
The December settlement was supposed to include an initial $2 million payment and then a second payment for $2.85 million. The $2 million payment was supposed to be made by May 14, but Avenatti and his firm never paid, Frank said in court papers.
The settlement agreement included a clause that the firm couldn't oppose a request for a $10 million judgment if the settlement payments weren't made within three days of the due date.