Late Soldier's Family Awarded Silver Star in Honor of Courage, Sacrifice, and Service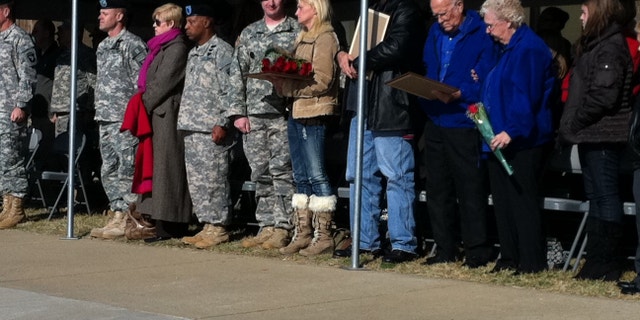 NEWYou can now listen to Fox News articles!
In bright sunlight and through a cold Autumn breeze, Tina Jarvis lowered her head and wept as she was handed the silver star awarded to her late husband at Fort Campbell, Ky. It is the Army's 3rd highest award for gallantry in action.
Sergeant First Class Barry Jarvis was a platoon Sergeant in Nangarhar province Afghanistan on November 29, 2010. His platoon was working with the Afghan Border Police when one of the nearby Afghan Policemen opened fire on the US Troops. Five U.S. soldiers were instantly killed.
SFC Jarvis and his platoon leader moved toward the sound of the combat. As soon as they reached a position where they could see the gunman, they came into his line of fire. SFC Jarvis pushed his platoon leader out of the way saving his life. SFC Jarvis was shot and fatally wounded.
The citation from the president reads "Sergeant First Class Jarvis' courage under fire, sacrifice and service reflect great credit upon himself, Bravo Troop, 1st Squadron, 61st Calvary Regiment, 506th regimental Combat Team, 101st Airborne Division (Air Assault) and the United States Army."
"He could have dived for cover. He put others before himself," said Major General James McConville, commander of the 101st Airborne Division. "He wasn't a professional football hero…He was a hero. He was a screaming eagle. He was a curahee" referencing the nicknames for both his division and regiment.