Las Vegas shooter Paddock had child porn on computer, FBI investigating person of interest: sheriff
Investigators scanning computers belonging to Las Vegas shooter Stephen Paddock found "numerous" child pornography photos, the city's sheriff revealed Friday, adding that the FBI is looking into a person of interest in the case.

Sheriff Joe Lombardo, in his first press conference since Oct. 13, 2017, released an 81-page preliminary investigative report on the shooting Friday that contains new photographs of Paddock's hotel suite and online searches he conducted before the attack, such as for SWAT tactics and other potential public venue targets.
Lombardo said the unnamed person of interest the FBI is looking into is not Paddock's girlfriend, Marilou Danley, and he reiterated that authorities believe Paddock was a lone shooter.
"I realize it's been three months since you have received an update on the 1 Oct. shooting," Lombardo told reporters Friday. "We have done a lot of work trying to piece together what happened."
The sheriff said investigators "have gone over 2,000 leads and looked at 21,560 hours of video."
"This report won't answer every question, or even the biggest question as to why he did what he did," Lombardo said. "We are all going to have to be patient and let the investigation run its course."
Paddock gunned down 58 people in the Oct. 1, 2017, massacre, firing at a music festival crowd from the confines of his Mandalay Bay Resort and Casino suite.
Bruce, his brother, was arrested last year by Los Angeles police and accused of possessing child pornography, as part of a separate investigation that began months before the Vegas attack.
Friday's report said Stephen Paddock bought nearly double the number of firearms in the year leading up to the attack that he'd bought in the 24 years after his first gun purchase in 1982.
"From 1982 through September of 2016, Paddock purchased 29 firearms. These purchases consisted of handguns, shotguns and one rifle," it read. "From October 2016 through September 2017, Paddock purchased over 55 firearms."
It continued: "Most of the firearms purchased from 2016 through 2017 were rifles in various calibers along with over 100 firearm related items through numerous retailers. The firearm-related items included scopes, cases, bump stocks and ammunition."
Police said all the weapons were purchased legally, in-store and online.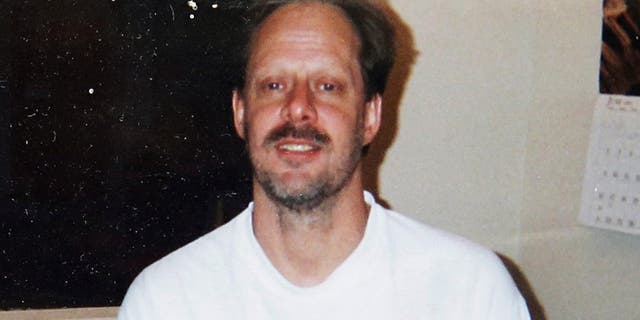 "Paddock did not commit a crime until he fired the first round into the crowd at the Las Vegas Village," the report said.
A timeline in the report also said that on Sept. 26, 2017, "Paddock completed a wire transfer in Mesquite, Nevada, of $50,000 from his Wells Fargo account to an account in the Philippines."
Two days later, he "made a $14,000 deposit at Wells Fargo and transferred $50,000 to a bank in the Philippines," the report added.
During his stay at Mandalay Bay, Paddock was "seen" and "observed" numerous times entering and exiting the property with suitcases and bags, on different days.
"Paddock was described as 'germaphobic' and had strong reactions to smells."
On one trip away from the resort, the gunman stopped at a Walmart in Mesquite and "purchased luggage, razor blades, fake flowers, a vase, and a Styrofoam ball," the report stated.
His girlfriend, Danley, who was in the Philippines at the time of the attack, told investigators that Paddock's behavior started to change in the year leading up to the shooting.
"Paddock had become 'distant' and their relationship was no longer intimate," the report stated. "Paddock was described as 'germaphobic' and had strong reactions to smells."
Danley said the pair stayed at Mandalay Bay in September 2017, and he was "behaving strangely."
"The two were staying in room 60-235 and she observed Paddock constantly looking out the windows of the room which overlooked the Las Vegas Village venue," the report stated.
The village was the site of the Route 91 Harvest music festival, which Paddock targeted.
"Paddock would move from window to window looking at the site from different angles," the report said, describing the visit.