Jury convicts man in slaying of University of Texas student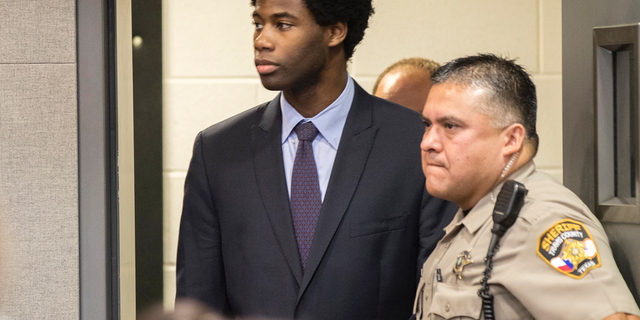 AUSTIN, Texas – A jury on Friday convicted a 20-year-old man in the 2016 slaying of a University of Texas freshman on campus.
Meechaiel Criner was found guilty of capital murder in the death of 18-year-old Haruka Weiser. Criner, a foster care runaway at the time of the killing, received an automatic life sentence. Because he was 17 at the time of the incident, he was ineligible for the death penalty.
He will be eligible for parole after 40 years.
Weiser, a dance major from Portland, Oregon, was walking to her dormitory after a rehearsal when she was strangled and sexually assaulted.
In a victim's impact statement Weiser's father, Dr. Thomas Weiser, said he believed that Weiser would have killed others had he not been arrested and charged in his daughter's death.
"She was the first victim in what you hoped to be a long run of unsolved murders," he said.
Weiner said the clues Criner left behind about the killing kept that from happening.
"I think you messed with the wrong girl that night," Weiser said.
Shortly before Weiser's death, a man wearing a bandanna around his neck is seen on surveillance video following her on a bicycle. The next morning, detectives found an orange bandanna and Weiser's belongings in a trash can at the vacant building. Prosecutors also showed the jury a selfie of Criner wearing an orange bandanna.
Eyeglasses found at the crime scene match the model, style and prescription of glasses worn by Criner, according to testimony from two eye experts.
In his own testimony, Criner denied killing the woman, further denying that he had ever seen her. He said the night Weiser died, he'd gone to a hospital to charge his cellphone and tablet and then slept in a vacant building.
Criner admitted it looked bad that police found him at the vacant building with items belonging to Weiser, including a boot he was burning in a makeshift fire pit. He also had her schoolwork and phone, prosecutors said. Criner said he found the items at a trash bin.
Defense attorney Ariel Payan said evidence shows Criner was using his computer tablet around the time of Weiser's death. The device's operating system was running from 8:43 to 9:33 p.m., according to testimony. Weiser was killed about 9:40 p.m. Prosecutors say no one was using the tablet at the time it was operating, noting the absence of internet searches or files accessed during that window of time.