Jurors in trial of Baltimore police officer get an up-close look at Freddie Gray van
BALTIMORE – Jurors in the trial for a police officer charged in the death of Freddie Gray got an up-close look Thursday at the police transport van where he broke his neck.
Jurors did not ask any questions about the van when they inspected it, and were not given any information about it during the viewing, Baltimore Circuit Judge Barry Williams said. Reporters and members of the public were not allowed to witness the jurors' viewing.
Prosecutors say Officer William Porter is partially responsible for Gray's death because he didn't buckle the man in a seatbelt in the back of the van after Gray's arrest and failed to call a medic despite Gray's repeated requests.
Defense attorneys say Porter helped Gray to a bench inside the van when he asked for assistance and offered to get him a medic. But they say the officer did not call an ambulance because Gray wasn't exhibiting any outward signs of injury.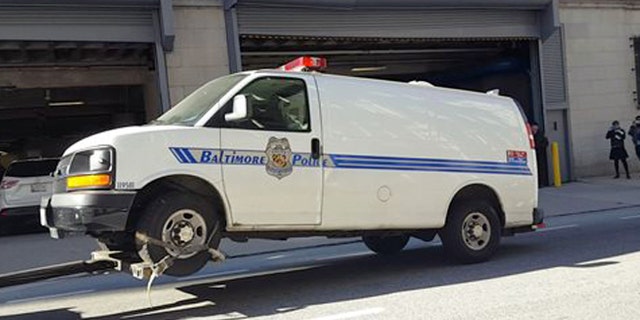 Jurors were also shown two cellphone videos of Gray's arrest April 12 and a subsequent stop of the police van.
Both videos were shown during testimony by Brandon Ross, a friend of Gray's who was with him on the morning of his arrest and shot the second video.
"We were like brothers," Ross said early in his 90 minutes on the stand.
The first video, about two minutes long and labeled "Kevin Moore Video," included the widely seen footage of Gray being dragged, screaming, by uniformed officers and lifted into the back of the prisoner transport van.
The second video, about four minutes long, showed officers working on Gray outside the van at a location where prosecutors say wrist and ankle restraints were applied before Gray was placed on the floor of the van instead of being belted in, as department policy requires.
During the second video, a voice can be heard repeatedly shouting, "That ain't cool, yo!" Just before the end of the video, a voice yells, "You could hear him screaming."
After the videos were shown, Gray's mother Gloria Darden, seated in the gallery, began sobbing loudly and was escorted out by a supporter, followed by other family members.
Ross turned sullen on cross-examination. He sometimes responded to defense attorney Gary Proctor's questions reluctantly, and gave mostly brief answers.
At one point, the defense attorney showed him a fuzzy photograph purportedly showing Ross standing beside Porter at one of the van stops. Ross said he couldn't make out who the officer was.
"If I told you that was Officer Porter, would you disagree?" Proctor said.
"I can't believe what you say," Ross retorted.