Judge: Ex-Nurse Guilty of Encouraging Suicides Online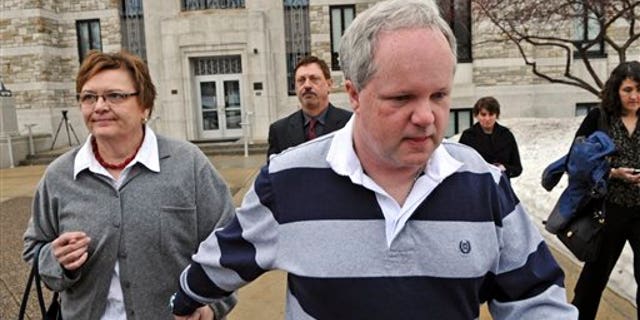 NEWYou can now listen to Fox News articles!
FARIBAULT, Minn. -- A former nurse accused of seeking out depressed people online and encouraging two to kill themselves was found guilty Tuesday of aiding the suicides of an English man and Canadian woman.
William Melchert-Dinkel, 48, was charged in April with two counts of aiding suicide for allegedly advising and encouraging two people to take their own lives. Mark Drybrough, 32, of Coventry, England, hanged himself in 2005, and 18-year-old Nadia Kajouji of Brampton, Ontario, jumped into a frozen river in 2008. Melchert-Dinkel declined a jury trial and left his fate to a judge, who issued his verdict Tuesday.
Rice County District Judge Thomas Neuville rejected Melchert-Dinkel's argument that his actions amounted to free speech. Melchert-Dinkel was not merely advocating ideas about suicide, Neuville said, but engaging in "lethal advocacy."
Prosecutors said Melchert-Dinkel, of Faribault, Minn., was obsessed with suicide and hanging and sought out potential victims on the Internet. When he found them, prosecutors said, he posed as a female nurse, feigned compassion and offered step-by-step instructions on how they could kill themselves.
Rice County Attorney Paul Beaumaster said Melchert-Dinkel told police he did it for the "thrill of the chase." Prosecutors said he acknowledged participating in online chats about suicide with up to 20 people and entering into fake suicide pacts with about 10 people, five of whom he believed killed themselves.
"I think justice was served," Beaumaster said after learning of the verdict. "I think it was a just verdict based on the facts of the case, and convictions were earned on both counts."
Defense attorney Terry Watkins had argued the victims were predisposed to committing suicide and his client didn't sway them by making statements online.
Watkins was in court Tuesday afternoon, his assistant said, and did not immediately return phone messages seeking comment.
Drybrough's mother, Elaine Drybrough, said she was glad the judge agreed Melchert-Dinkel was guilty. If he had been cleared, she said, it would have sent a signal to other people contemplating similar actions that encouraging suicides is permissible.
"He's been told it's not all right," she said.
Kajouji's mother, Deborah Chevalier, also welcomed the ruling.
"I was always confident of a guilty verdict, but it is a great relief to have this finalized and have any nagging doubts quieted," she said in an e-mail. "I've said all along that a crime is just as vile and offensive whether it be committed in our own homes or over the Internet. This verdict today substantiates my belief that the Internet cannot be allowed to become a safe haven for criminals."
In his ruling Tuesday, Neuville affirmed his earlier rulings against Melchert-Dinkel, saying any predisposition of the victims to commit suicide was not a valid defense.
"The court finds that defendant's speech imminently incited the victims to commit suicide, and can be described as 'lethal advocacy,' which is analogous to the category of unprotected speech known as 'fighting words" and 'imminent incitement of lawlessness," the judge wrote.
Neuville scheduled his sentencing for May 4. Melchert-Dinkel has been allowed to remain free under certain conditions. Among them, he is not allowed to use the Internet without approval.
During oral arguments in February, Watkins called his client's behavior "sick" and "abhorrent" but said it wasn't a crime because Melchert-Dinkel didn't directly incite the victims to kill themselves.
He said Drybrough had been ill for years and went online seeking drugs to overdose, while Kajouji was going through a rough time in her life, had a miscarriage after drinking heavily and was depressed. Watkins said they were both intelligent people who wouldn't be swayed by his client's online "babbling."
Beaumaster said during his oral arguments that Melchert-Dinkel's intent was to see them die, and the law is designed to protect vulnerable people.
"That's the point. That's who he looked for," he said. "He targeted individuals he knew he could have an influence on. Were they predisposed? Absolutely!"
Melchert-Dinkel agreed in February to accept the facts against him, but maintained his not guilty plea. He waived his right to a jury trial and agreed that the judge would issue a verdict based on the evidence. That allowed Melchert-Dinkel to keep his right to appeal.
Minnesota authorities began investigating in March 2008 when an anti-suicide activist in Britain claimed someone in the state was using the Internet to manipulate people into killing themselves.
Authorities found e-mails in which Melchert-Dinkel gave Drybrough technical advice on how to hang himself; and they found online chats in which Melchert-Dinkel tried to talk Kajouji out of her plans to jump into the river and instead hang herself with him.
Melchert-Dinkel posed as a woman in both cases.
Minnesota's aiding suicide law carries a maximum penalty of 15 years in prison and a $30,000 fine. But the law has been rarely used. Data from the Minnesota Sentencing Guidelines Commission showed that since 1994, there have been only six people sentenced on the charge: one person was sent to prison for four years, while the rest received either local jail time, probation or both.
Chevalier said she fears the penalty won't be in line with the crime and that Melchert-Dinkel will appeal, causing more delays for any final resolution.