Jodi Arias to answer juror questions in Arizona murder trial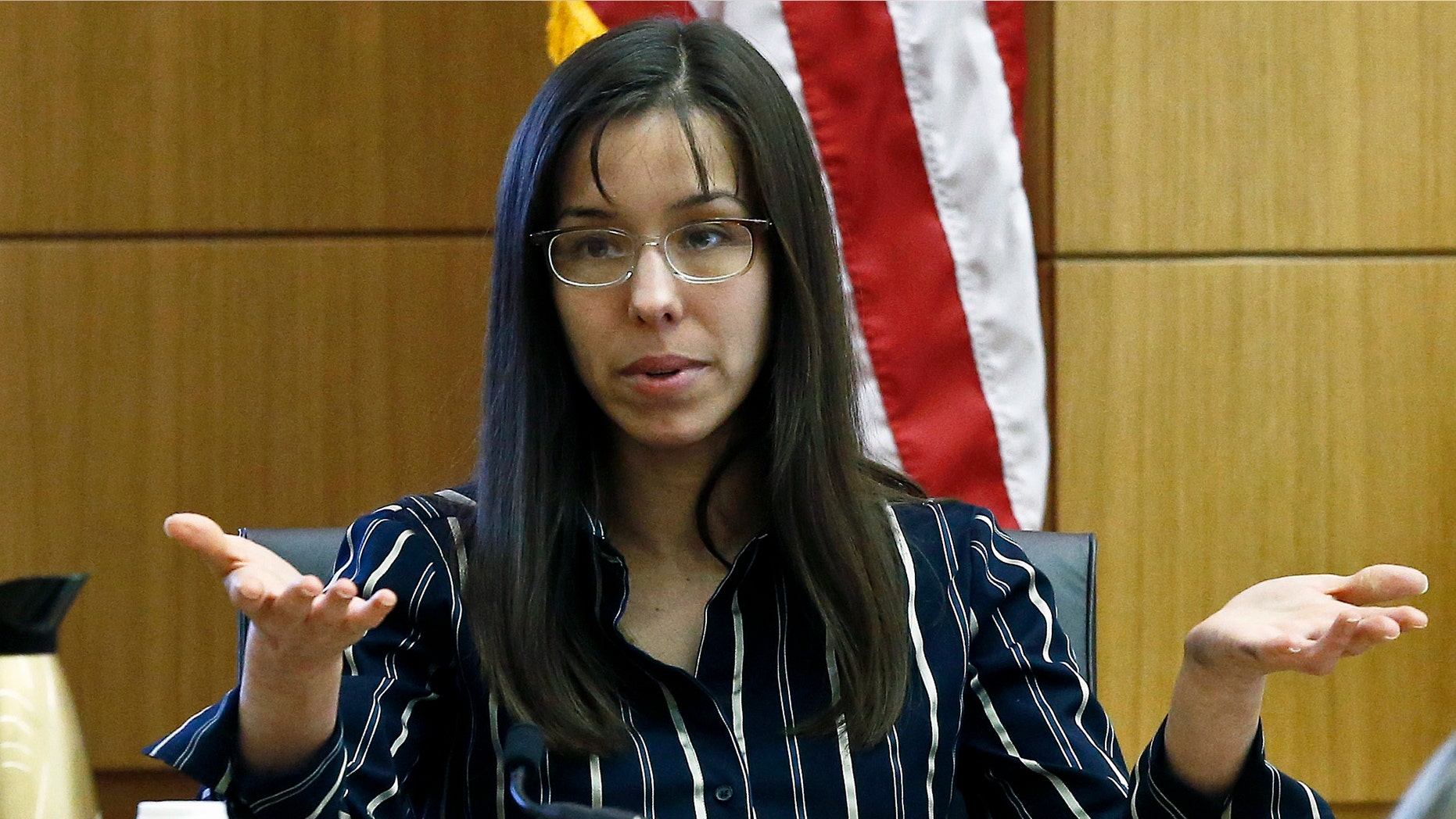 PHOENIX – Jodi Arias has spent two weeks on the witness stand answering detailed questions from attorneys about practically every aspect of her life including the day she killed her lover and the painstaking steps she took to cover her tracks. Now it's the jury's turn.
Arias is charged with first-degree murder in the June 2008 killing of Travis Alexander in his suburban Phoenix home. She says it was self-defense when he attacked her after a day of raunchy sex, but police say she planned it in a jealous rage.
Arias initially told authorities she had nothing to do with Alexander's death then blamed it on masked intruders before settling on self-defense. Her repeated lies to authorities, friends and family in the days after his death, and her methodical efforts to create an alibi and avoid suspicion have been center stage throughout the weekslong trial as she explained how she remembers little from the day of the killing.
Alexander had been shot in the head, stabbed and slashed nearly 30 times and had his throat slit.
After a withering cross-examination last week, and her attorneys' efforts to portray the victim as an abusive womanizer, in part, hoping to spare Arias the death penalty, jurors on Wednesday will pose their own questions to the defendant, something allowed in Arizona criminal cases.
Judge Sherry Stephens told attorneys Tuesday the panel has about 100 questions for Arias. The prosecutor and her attorneys will gather Wednesday morning to review the written queries and submit any objections, then Stephens will pose them to Arias directly.
Throughout her testimony, Arias has described an abusive childhood at the hands of her parents, a past littered with cheating boyfriends and dead-end jobs, and the minutia of car problems, cooking and converting to Mormonism. She has also detailed for jurors how Alexander grew physically abusive in the months leading up to his death, once choking her into unconsciousness, and how he had sexual desires for young boys.
However, none of her allegations have been corroborated by witnesses or evidence during the trial, and she has admitted to lying repeatedly prior to and after her arrest, but Arias insists she is telling the truth now.
She has acknowledged she dumped the gun in the desert, got rid of her bloody clothes, tried to clean the scene at Alexander's home, and even left the victim a voicemail on his mobile phone within hours of killing him and dragging his body into the shower. She said she was too scared and ashamed to tell the truth.
Arias' grandparents had reported a .25 caliber handgun stolen from their Northern California home about a week before the killing -- the same caliber used to shoot Alexander -- but Arias says she never knew her grandfather had the weapon. Authorities believe she brought it with her, though she has testified she shot Alexander with his own gun as he chased her into his closet after body-slamming her and threatening to kill her.
"I was very, very scared," Arias told jurors.
"Did you want to kill Mr. Alexander on June 4?" defense attorney Kirk Nurmi asked.
"No, that was not a goal of mine," Arias replied, sobbing. "I considered myself a nice person."