Iraq War veteran reunited with bomb-sniffing military dog in Chicago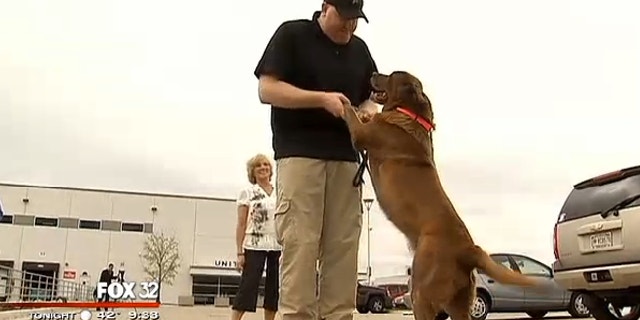 After nearly two years apart, an Iraq War veteran and his retired bomb-sniffing military dog have been reunited.
Army Sgt. Jason Bos and Cila M389, a Labrador Retriever, searched for roadside bombs and hidden weapons caches during nearly 100 missions in Iraq, and screened sites for presidential visits across the U.S., the Chicago Tribune reported.
After learning that Cila was about to be retired, Bos reached out to the American Humane Association and Mission K9 Rescue for help with the cost of flying Cila from Germany to Chicago O'Hare International Airport.
"A lot of these dogs aren't able to go back to their handler, and I'm one of the lucky ones," Bos told MyFoxChicago.com after Wednesday's airport reunion.
Bos said he and Cila connected instantly during training at Lackland Air Force Base.
"No one could work with this dog, and yet, she listened to me," Bos said. "I don't know why she listened to me. Maybe it's my inflection, maybe it's my personality."
The Lab leapt into her old partner's arms as she stepped out of a travel carrier. She rolled on her back and Bos gave her a belly rub, according to the report.
"She looked at me, she started smelling me, she knew me," Bos told the Tribune.
The two served multiple overseas deployments starting in 2008. Cila was trained to sniff out explosives and would respond to Bos's commands and hand signals.
A back injury forced Bos to leave the Army in 2012, ending their partnership.
He told the Tribune his mother's boyfriend has built Cila a dog house and that she will sleep on his couch. Cila was already due for a bath and grooming Wednesday night.
"Her whole life has been about working. Now it's time for her to worry about just relaxing," he said.
Click here for more from MyFoxChicago.com.