Inmate gets key at courthouse where murder suspect escaped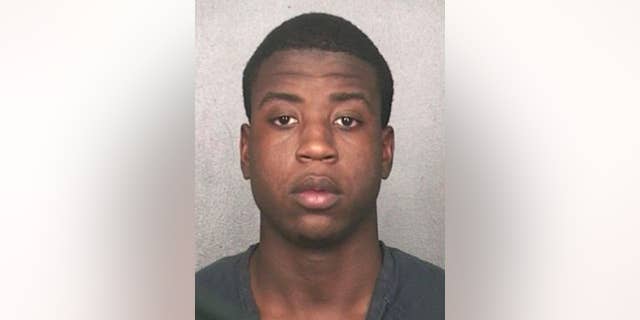 NEWYou can now listen to Fox News articles!
Less than a week after a murder suspect bolted from a Florida courthouse, officials said another inmate managed to snatch a handcuff key from a jail deputy there, as a fifth person was charged in the murder suspect's escape Wednesday.
The guard realized his key was missing in a courtroom Tuesday, just one day after Sheriff Scott Israel promised to tighten security at the Broward County Courthouse, the Sun Sentinel reported.
A sheriff's office report says the deputy had placed the key in his shirt pocket while dealing with a prisoner in a wheelchair and soon noticed the key was missing. A search of inmates followed, and deputies retrieved the key from an 18-year-old inmate after another inmate told guards he had it.
Authorities say 21-year-old Dayonte Resiles escaped Friday after slipping out of his handcuffs while awaiting a death penalty hearing. He is still at large.
A fifth person was charged Wednesday with helping in the escape as authorities boosted the reward for the fugitive's capture to $50,000.
An arrest report released by the Broward Sheriff's Office said fellow jail inmate Walter M. Hart III, 22, was seen on surveillance video assisting Resiles in getting out of his shackles.
Resiles bolted out of a courtroom, ran down several flights of stairs and got away with the help of four other accomplices, all of whom have been arrested. A car was waiting near the courthouse with a change of clothes, authorities say.
Hart, who is awaiting trial in a separate 2014 murder case, is now charged with escape and, by helping Resiles escape, with being an accessory to Resiles' murder charge, according to the arrest report. It says the video from a courthouse holding area shows Hart "work in concert with Resiles to begin to defeat the shackling system used to secure inmates."
With his back to the camera, the report says Hart "holds up the waist chain, which allows Resiles to begin manipulating the restraints," leading to his escape moments later. Sheriff Scott Israel earlier said armed deputies, rather than unarmed bailiffs, will now accompany maximum-security inmates in the courtroom.
Resiles is accused in the 2014 stabbing death of Jill Halliburton Su, 59, during an attempted robbery at her home in Davie, Florida. Su's family founded the Halliburton oil services company.
The sheriff's office also more than doubled the reward to $50,000 for information leading to Resiles' capture after receiving contributions from a lobbyist and his daughter, and a local casino.
Investigators say the escape was carefully planned by Resiles and his accomplices. Resiles' 18-year-old girlfriend, LaQuay Stern, was waiting in a car outside the courthouse with 22-year-old Winston Russell, the sheriff said previously.
Two 17-year-old twin brothers were in the courtroom when Resiles broke for the door. The sheriff said one of the brothers coughed into a cellphone to signal the pair outside that Resiles was on his way.
Israel said there will be a full investigation into the circumstances of the escape.
The Associated Press contributed to this report.