In Asia, Mattis to face allies seeking answers on NKorea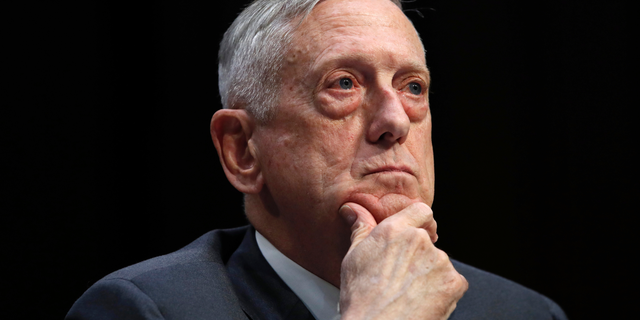 SINGAPORE – As international defense chiefs gather at a conference in Singapore this week, U.S. officials will face a barrage of questions from allies struggling to unravel the chaotic fits and starts of American and North Korean diplomacy.
Will there actually be a summit? Is North Korea really willing to give up its nuclear program? Will America pull troops out of South Korea? What does the on-again, off-again summit confusion say about the stability of broader U.S. policy-making? And, is it all just doomed to fail?
At this point, the visiting Americans may have very few answers as high-level diplomacy plays out back at home.
Speaking to reporters traveling with him to the annual Shangri-La Dialogue, U.S. Defense Secretary Jim Mattis batted away questions about the North Koreans and the summit.
State Department diplomats are handling it, he said, suggesting they would be able to answer questions better than "those of us on the outside of that."
But his message behind the scenes to counterparts from across the Asia-Pacific region may be more expansive.
"I think there's going to be a lot of back-channel diplomacy and conversations going on," said Sue Mi Terry, a senior fellow at the Center for Strategic and International Studies. "I think it's really hard to have a message. There are all kinds of mixed signals coming out."
President Donald Trump, who unexpectedly agreed to the planned June 12 meeting then abruptly canceled it last week, has since signaled increasing optimism that the summit will go on. This week, teams from the U.S. and North Korea are meeting in the Korean village of Panmunjom, which straddles the border inside the Demilitarized Zone, or DMZ. Another team is meeting in Singapore to go over logistics for the summit, which would take place there. And Secretary of State Mike Pompeo was meeting Thursday with an aide to leader Kim Jong Un in New York, who could travel to Washington on Friday.
The message to North Korea, said Asia experts and former U.S. defense and diplomatic officials, is that the United States is interested in negotiations, but also is not afraid to walk away.
But to other nations it may appear confusing and cobbled together with no clear plan of engagement. And Terry said Mattis will have to calm South Korean and Japanese allies impacted by Trump's rapid-fire decision-making.
Mattis and others, said Terry, will need to pick up the pieces and do a lot of "alliance management." Allies will need assurances that while the U.S. wants to work for peace on the divided Korean Peninsula, it also remains committed to militarily defending South Korea, Japan and others in the region if needed.
And the U.S. will also need to calm broader worries from allies troubled about uncertainty and mixed messages coming from the administration and what that could mean for their own relations with America down the road.
Mattis told reporters what his message to allies will be: "We're unwavering in our focus out here. We're unapologetic about standing with our allies and our partners and ensuring freedoms -- from freedom of navigation and use of airspace to countries making their own sovereign decisions."
The national security conference, sponsored by the International Institute for Strategic Studies think tank, draws defense ministers, security experts and business people. It has often been a platform for U.S. criticism of China -- and strong reactions from Chinese representatives in the audience.
American defense chiefs have repeatedly anchored their annual speeches with warnings to China about its development of manmade islands in the disputed South China Sea, and its use of intimidation to assert territorial claims.
Two years in a row then-Defense Secretary Chuck Hagel used the podium to call out Beijing for cyberspying against the U.S. And then-Pentagon Chief Leon Panetta chose that speech in 2012 to provide the first details of America's shift of troops and ships to the Pacific, which was largely aimed at countering China's growing influence in the region.
Last year, Mattis was sharply critical of what he called Beijing's disregard for international law by its "indisputable militarization" of the artificial islands. And his speech on Saturday will likely sound some similar notes.
The U.S. last week publicly disinvited the Chinese navy from a large, multinational military exercise later this summer in retaliation for Beijing's move to put weapons systems on some of the islands.
While many allies applaud the U.S. taking a tough stance on the South China Sea, they also know that Beijing can play a key role influencing North Korea in the nuclear negotiations.
In addition to attending the conference, Mattis expects to meet with counterparts from a number of allied nations including South Korea, Japan, Singapore, Australia and India.