Immigration officials holding two fellow students of Boston bombing suspect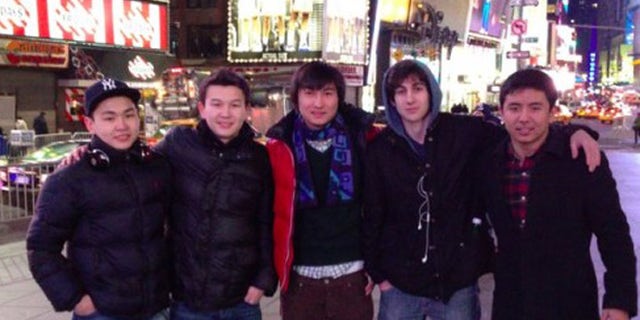 Two people seen in a photo with suspected Boston Marathon bomber Dzhokhar Tsarnaev in New York's famed Times Square are being held by authorities on administrative immigration violations, Fox News has confirmed.
The two men were identified to Fox News as Dias Kadyrbayev and Azamat Tazhayakov, both citizens of Kazakhstan. They can be seen standing next to Tsarnaev in a photo believed to have been taken in April 2012 in Times Square, which authorities suspect was another of the bombers' intended targets.
Kadyrbayev and Tazhayakov were arrested April 20 -- five days after the attack at the marathon -- at the Hidden Brook apartments by the FBI and Homeland Security in New Bedford Mass., and they are being detained by Immigrations and Customs Enforcement at the Suffolk County House of Corrections in Boston because of problems relating to their student visas, sources told Fox News.
New York City officials held a news conference Thursday confirming that the city was another target following the bombings in Boston, which killed three and wounded more than 200 near the finish line of the Boston race.
"We learned through the Joint Terrorist Task Force that the Boston Marathon bombers had planned to travel to Manhattan to detonate remaining bombs in Times Square," New York City Police Commissioner Ray Kelly said, though it is unclear when this information was relayed to New York City officials.
A law enforcement source also confirmed that task force investigators will be questioning Kadyrbayev and Tazhayakov about their activity last week immediately after a surveillance video of the suspected Boston bombers was released. They also want to know whether the two young men took any action to help Tsarnaev.
The source said a "variety of techniques" led investigators to question Kadyrbayev and Tazhayakov, with the goal of seeing "what's there" -- though they are not charged with any crimes at this time.
Kadyrbayev is a former student and Tazhayakov is a current student of UMass Dartmouth, a university spokesman said. Tsarnaev, 19, is registered as a sophomore at the university.
Tsarnaev, an ethnic Chechen and U.S. citizen, is being held on a federal charge of using a weapon of mass destruction. Authorities think he was recruited to help carry out the bombings by his older brother, Tamerlan Tsarnaev, who was killed days later in a shootout with police.
Kadyrbayev's father, Murat Kadyrbayev, told Kazak news website Tengri News that Kadyrbayev and Tazhayakov were in Tsarnaev's social circle but nothing more. The father also said a "TERRORISTA #1" vanity plate on a BMW jointly owned by the two young men was just a joke.
Yerlan Kubashev with the Consulate General for Kazakhstan in New York confirmed in a statement to Fox News that the consulate is helping the young men with legal representation.
Kubashev said the two men are "shocked at the bombings," and "they express sorrow to the bombing victims and their families."
Attorney Robert G. Stahl confirmed to Fox News he is representing Kadyrbayev in an upcoming immigration hearing.
"He's a 19-year-old with student visa problems, and he may or may not be returned to Kazakhstan," Stahl said.
Fox News' Catherine Herridge contributed to this report.