Hurricane Maria victims never received huge stockpile of water bottles, viral photos show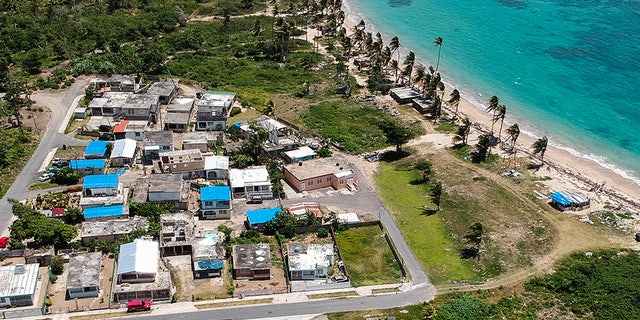 As Hurricane Florence barrels towards the Carolina coast, photos purportedly showing millions of undistributed water bottles meant for Hurricane Maria victims that have been sitting on an airstrip in Puerto Rico for over a year have gone viral on social media.
A CBS News journalist reported that he was told by the Federal Emergency Management Agency on Wednesday that the bottles were brought by FEMA to the island in 2017 after it was battered by the hurricane, but were then turned over to the Puerto Rican government.
"The question is what happened after that. Where was the breakdown?" David Begnaud asked in a video posted to his Twitter account.
'STORM OF A LIFETIME', HURRICANE FLORENCE GENERATING 83-FOOT HIGH WAVES AS IT BARRELS TOWARDS CAROLINA COAST
The bottles were discovered by a photographer working for a Puerto Rican police agency, Abdiel Santana, who first noticed them about a year ago and saw the water again when he returned to the airport this week. They have sat in Ceiba, Puerto Rico, one of the areas hardest hit by Hurricane Maria, ever since, he said in a Facebook post.
"Is there anyone who can explain this?" he wrote.
The discovery comes as an independent study by George Washington University recently found that nearly 3,000 people died as a result of Hurricane Maria, a dramatic increase from the initial estimate of 64.
Puerto Rico Gov. Ricardo Rosselló also updated the official death count of Hurricane Maria in late August.
HURRICANE FLORENCE'S PATH: TRACK THE STORM HERE
While this is not the first time emergency relief and supplies were left undistributed, the lack of oversight of the water bottles raises questions about the government's response to hurricanes. It also led to criticism of FEMA, which is currently preparing for Hurricane Florence set to hit the Carolinas and Virginia later this week.
Brock Long, administrator of FEMA, said the best way to focus relief efforts going forward is to build a culture of preparedness within America's citizens.
"So what FEMA is doing is pre-positioning the federal government's assets to support each one of those governors that are about to be impacted with achieving their response and recovery goals. And that's the way emergency management and disaster response works best," Brock told reporters Tuesday.
"This is a partnership, and it takes anything from neighbor helping neighbor all the way to the federal government when it comes to correctly responding and recovering," he added.