Hurricane Florence volunteers suit up for helicopter rescues in ravaged North Carolina
RALEIGH, N.C. – As a new work day begins, helicopter search and rescue technician Trey Young walks into the North Carolina National Guard Base in Raleigh armed in a black flight suit adorned with colorful patches, eager to help with post-Hurricane Florence air rescue missions.
He is here on loan from his usual day job, firefighting in Asheville, to be part of the North Carolina Helicopter and Aquatic Rescue Team, also known as NCHART, a highly specialized program combining the National Guard, State Highway Patrol and North Carolina Emergency Management with local rescue technicians to conduct helicopter rescues. Young is among a cadre of highly trained local civilians helping in the aftermath of the storm, assisting local and state authorities as they rescue those trapped by rising waters.
"The best part of this job is the opportunity to help people who can't be otherwise helped," Young said. "If we're there, it's because there is no other way to get to those people—walking has failed, boats have failed, we're sort of the last resort to get people to safety."
Brandon King, lead pilot for the state's HART team, said having local civilians incorporated into rescue missions gives the state a "special skill set" and is a "huge asset."
"This is our home…we know this state like the back of our hand, like you know your backyard," said King. "We know where the rivers are, we know where the waters are going to flood at."
North Carolina was the first state to institute the HART program 14 years ago, with South Carolina and Texas soon following. Today, several other states are in talks to start recruiting.
"Initial training is a week-long class…then about three days of flying in a helicopter, then we do monthly training after that year-round," said fellow HART rescuer Bobby Cooper, whose full-time job is EMS Director for Transylvania County. "We have to practice with all the different equipment and scenarios we may run into…we train in anything from flat ground to cars that are simulated into moving water…going into windows of buildings…getting someone who is stuck in a tree…"
"We find that on these missions, the things that we do in training on a monthly basis are often more difficult than what we actually encounter in the field and that's just a credit to a very strong training program," said Young.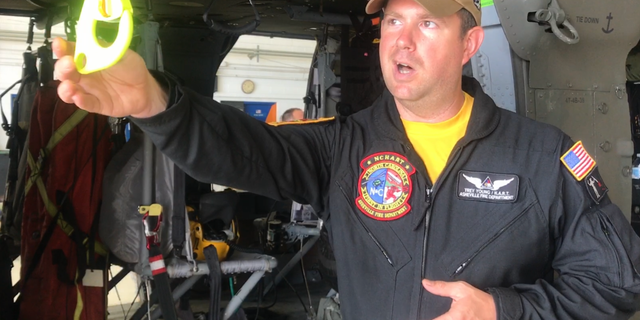 Cooper said that the people he rescues are sometimes surprised to learn that a fellow civilian saved them.
"They get a little nervous at first, but once they realize that you're there to help them…they know they're in good hands at that point," he said.
About 120 rescues have been performed by the National Guard in coordination with HART since Hurricane Florence hit North Carolina on Sept. 14, with a total of 225 people and five animals rescued from dangerous floodwaters.
Teams go out on these challenging rescues using UH-60 Blackhawks or UH-72 Lakotas from the Guard or the Highway Patrol's Bell-407. Rescuers are sent down, one to two at a time, by way of a cable and hoist, but they say even with top-of-the-line equipment, planning the logistics of a rescue can be difficult.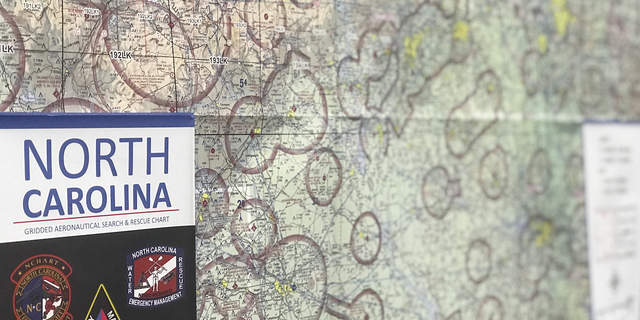 "Our biggest challenge is moving into a rescue without the complete picture," said Young, as he prepared the hoisting basket in the back of the helicopter for his next rescue. "We're often left with the responsibility of determining what the rescue problem is from the air, often without communication with the ground."
Young said even with decades of rescue experience shared among the HART team, the widespread scale of natural disasters still surprises and humbles them.
The team is dispatched not only to rescue in North Carolina, but all over the country, depending on demand. Several were sent to help when Hurricane Harvey hit Houston last August.
"It's incredibly difficult to describe just the widespread nature of the destruction there," said Young. "Certainly, we're seeing similar things here with Florence, but Harvey was to a scale that I certainly had never seen before and so it was very eye-opening."
As the state's rivers prepare to crest, or reach their highest point, late this week, HART team members are preparing for what likely will be more rescues.
"Florence has gone and moved on, but the effects are still here and they're still growing," said Young. "In this state, it's one team and one mission. The Guard may be doing the aviating and we might be doing the rescue technician work, but it's one team and one mission."