Historian requests death certificate to end Billy the Kid dispute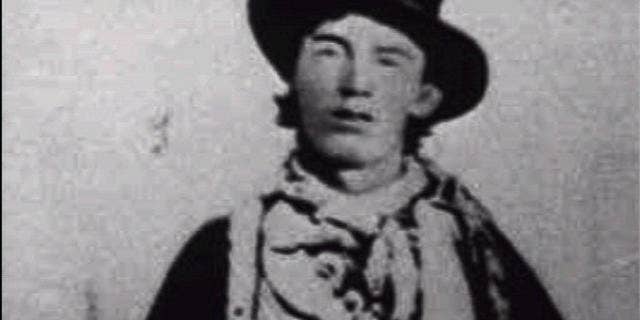 An Arizona historian is trying to finally put an end to a dispute that's lasted more than 130 years, over how the infamous outlaw Billy the Kid met his death.
As the legend has been told, the gun-slinging murderer Billy the Kid escaped from jail before Lincoln County, New Mexico Sheriff Pat Garrett shot him on July 14,1881 in landowner Peter Maxwell's bedroom in Fort Sumner, New Mexico.
But there are doubters who claim the Kid did not die that night. Some say he was shot and killed in Mexico, others believe he married a woman in New Mexico, adopted a Navajo boy, and became a rancher.
Arizona State University professor Robert J. Stahl--a longtime member of the nonprofit Billy the Kid Outlaw Gang—wants to quiet the naysayers once and for all by convincing the state of New Mexico to issue a death certificate for the storied criminal, the Santa Fe New Mexican reports.
Stahl, like most historians, believes Billy— also known as Henry Antrim and William Bonney-- died of a massive hemorrhage after Garrett shot him. Garrett later collected a $500 reward, confirming that territorial officials accepted the lawman's account.
Stahl has written a 29-page petition containing a detailed account of the documentary record and parts of the testimony of eyewitnesses that he believes are proof beyond a doubt that Garrett shot Billy. He went to the New Mexico Division of Vital Records and Health Statistics in Santa Fe Wednesday and was told he would have to get a court order for a death certificate to be issued.
Stahl then drove to the state District Court in Fort Sumner, where a clerk accepted his document and forwarded it to District Judge Albert Mitchell. Mitchell has not yet had time to act on the request, according to clerk Kerri Webb.
In an interview, Stahl said an official death certificate would "relieve a lot of doubt as to whether Billy the Kid died that night and was buried the next day."
Another theory Stahl is trying to disprove involves Ollie "Brushy Bill" Roberts of Hico, Texas, who claimed he was the real Billy and sought a pardon from New Mexico governor at the time, Thomas Mabry, in 1950. Roberts was denied and died the same year.
An official death certificate would "end a lot of people's doubts," Stahl told the Santa Fe New Mexican, and "undermine supporters of Brushy Bill and other imposters."
Stahl's petition says that within hours of Billy's death, a coroner's jury determined that the dead man was indeed William H. Bonney and that he died by a bullet from Garrett's gun. The report was handwritten in Spanish and signed by the men, all of whom knew the Kid. Garrett had the document translated into English and signed by the same jurors in order to collect his reward.