Gunman identified in shooting at Oregon college that left 10 dead
NEWYou can now listen to Fox News articles!
DEVELOPING -- The gunman who killed nine people and injured seven at Umpqua Community College in Roseburg, Ore. Thursday before being killed by police has been identified as Chris Harper Mercer, two law enforcement sources confirmed to Fox News.
No background on Mercer - or details about any possible motive - were released. However, Fox was told that as a precaution, counterterrorism officials were running his name against watchlists and checking his e-mail history, phone logs, social media profiles and online history to rule out any links to terrorism.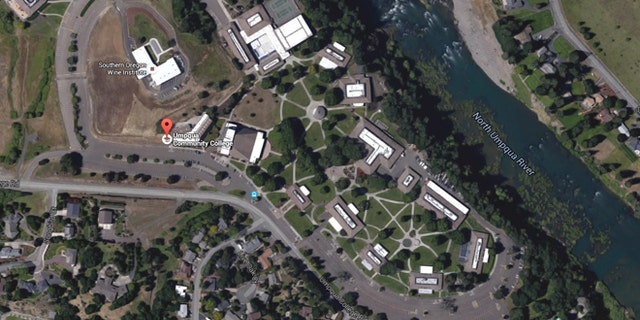 Douglas County Sheriff John Hanlin said that as of Thursday night, "we are reporting 10 fatalities in the shooting (and) seven injuries" who were transported to a local hospital and to a hospital in Eugene. Mercer was included in the death count.
Hanlin said he did not anticipate naming any of the victims for another 24 to 48 hours.
President Obama gave a brief address from the White House Thursday night, calling for a change in gun laws and warning, "we've become numb to this..it cannot be this easy for someone who wants to inflict harm on other people to get (their) hands on a gun."
Kortney Moore, 18, told the News-Review she was in her Writing 115 class in Snyder Hall when a shot came through the window. Moore said she saw her teacher get shot in the head. The shooter then reportedly told the students to get on the ground before asking people to stand up and state their religion. He then began firing. Moore said she was lying on the ground with people who had been shot.
Hanlin said officers located the shooters upon arriving at the college.
"They located the shooter in one of the buildings," he said. "Officers engaged that suspect. There was an exchange of gunfire. The shooter threat was neutralized."
There were initial conflicting reports about the number of casualties. "It's my understanding, it's been reported there are 13 deceased, more than 20 injured," Oregon Attorney General Ellen Rosenblum said on a cable news network.
A Douglas County Board Assistant said preliminary reports indicated at least 15 people were dead, according to Reuters. Oregon State Police Lt. Bill Fugate told KATU-TV at least seven are dead and 20 are injured.
Audio reportedly of responding officers radioing in to dispatch provides a glimpse into the tense moments when cops first arrived at the college Thursday morning.
"We're exchanging shots with him," an officer says. "He's in a classroom on the southeast side of Snider Hall. Unconfirmed report he has a long gun."
A few minutes later the officer adds: "The suspect is down."
President Obama was briefed on the shooting by Lisa Monaco, his homeland security adviser, a White House official said.
A photographer for the Roseburg News-Review newspaper said he saw people being loaded into multiple ambulances and taken to the local hospital.
"They've currently had four buses absolutely packed to the gills, full of students and teachers who have come out of the campus driveway," Marilyn Kittelman told Fox News. Kittelman is the mother of a student at the school and a former Douglas County Commissioner.
She added: "I also got to talk to one young lady who was in a classroom, and she literally ran from the campus. We talked to her at the end of the road, which is probably three-quarters of a mile long. She was crying, and said she wasn't waiting around to be rescued. She was leaving."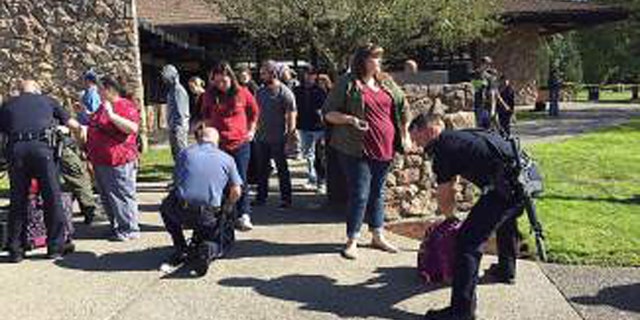 Kendra Gordon told Fox News she was in the room next door to where the shooting occurred. Gordon said her friend was shot.
"I was sitting in class when we had first heard the shot," she said. "And we didn't think it was a gunshot, we thought it was a firecracker. And then we heard another one.
"And so, one of the students in my class, she went out and checked it. She got shot twice, one in the arm, and in the stomach. And she came back and told us to lock the door, shut the lights off. And we sat there for 20 minutes waiting for police to show up."
Roseburg is a city of about 22,000 people located about 70 miles south of Eugene and about 180 miles south of Portland.
Umpqua Community College has about 3,000 students. Its website was down Thursday, and a phone message left at the school wasn't immediately returned.
"Today's shooting in Roseburg is a heartbreaking tragedy, and my thoughts and prayers are with the victims and their families," Rep. Peter DeFazio, D-OR, said in a statement. "I want to extend my deepest gratitude to Roseburg's first responders for their work in responding to the event. Once we know more about what happened today, I plan to work with my colleagues in Congress to find ways to prevent tragedies such as these."
Oregon Sen. Jeff Merkley also released a statement on the shooting.

"I am absolutely heartbroken by today's news," Merkley said. "I have been in touch with local officials to express my deepest condolences and offer my assistance in any way possible and I will continue to monitor this tragedy and its response.

"The hearts and thoughts of all Oregonians are with the victims, their families and the entire UCC and Roseburg communities."
The rural town of Roseburg lies west of the Cascade Mountains. The timber industry has struggled there, and authorities in recent years have tried to promote the area as a tourist destination for wine growing and outdoor activities.
"It's extremely concerning and sad," said Endi Hartigan, spokeswoman for the Oregon Higher Education Coordinating Commission.
Fox News' Catherine Herridge and Matthew Dean and The Associated Press contributed to this report.