Gun parts found concealed in stuffed animals at Rhode Island airport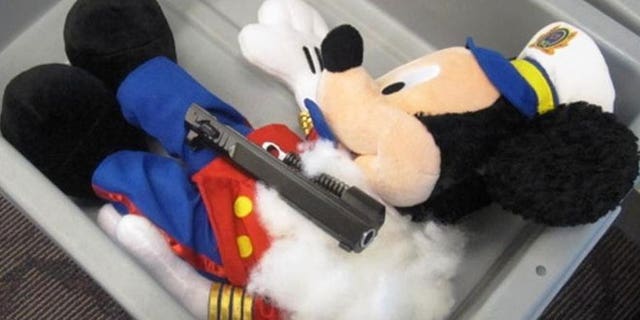 WARWICK, R.I. – Federal transportation officials have found gun components and ammunition hidden inside a few stuffed animals carried by a passenger at Rhode Island's T.F. Green Airport.
The Transportation Security Administration said Tuesday that a man traveling to Detroit with his 4-year-old son on Monday was stopped when a TSA officer noticed the disassembled gun components "artfully concealed" inside three stuffed animals. The stuffed animals were inside a carry-on bag that was put through an x-ray machine as part of normal security screening.
The parts included the main frame of a .40-caliber gun and a loaded magazine.
TSA says the man told authorities he didn't know the parts were inside the stuffed bear, rabbit and Mickey Mouse.
The items were confiscated. The man and his son were allowed to continue their travel.