Grim details emerge in Chiefs linebacker Jovan Belcher's murder-suicide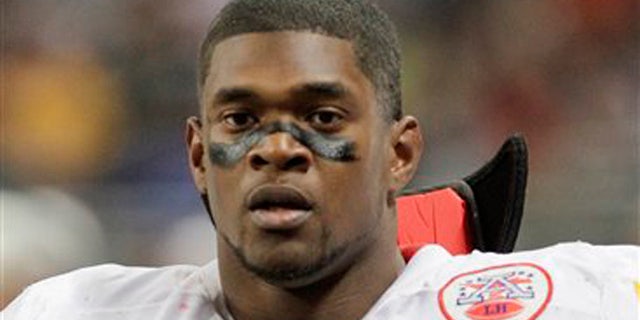 More grim details are emerging in the wake of a murder-suicide committed by Kansas City Chiefs' linebacker Jovan Belcher, including his kiss on the lips of the dead mother of his child and a wild night of partying hours before the bloodshed.
The Kansas City Star, which obtained bizarre details in Saturday's murder-suicide, reports that NFL player Jovan Belcher kissed girlfriend Kasandra Perkins on the forehead and said he was sorry after fatally shooting the 22-year-old woman in the head.
Belcher's mother, who was staying with the couple at the time, said the two were arguing at the home before gunfire rang out.
Just before 8 a.m. on Saturday, the mother reported hearing her 25-year-old son say something like, "You can't talk to me like that!" according to the newspaper.
After hearing gunshots, the mother ran to her son's bedroom and saw him kiss Perkins on the forehead. He then apologized to his mother and kissed the couple's 3-month-old daughter before fleeing the home, the newspaper reports.
Authorities said Belcher then shot himself in the head in the Arrowhead Stadium parking lot in front of team officials who were trying to stop him, including general manager Scott Pioli and head coach Romeo Crennel.
When Belcher emerged from his vehicle with a gun to his head, he reportedly said, "I did it ... I killed her."
Kansas City Chiefs officials knew that Belcher and his girlfriend were having relationship problems, and the team provided the couple with counseling in an effort to help, according to a police official.
Police Sgt. Richard Sharp told the newspaper that the couple had been arguing over relationship and financial issues for months and that the team had been "bending over backward" trying to help them.
Sharp says Belcher reportedly thanked the men for their help but said "it was too late" before he killed himself.
The New York Post reports that Belcher spent the night before the shooting with another woman, whom the newspaper identified as Brittni Glass.
When Belcher arrived home at around 7 a.m., he and Perkins began arguing. Perkins was reportedly upset that Belcher had stayed out so late.