Grave robbing? NJ's cemetery grab leaves church without a prayer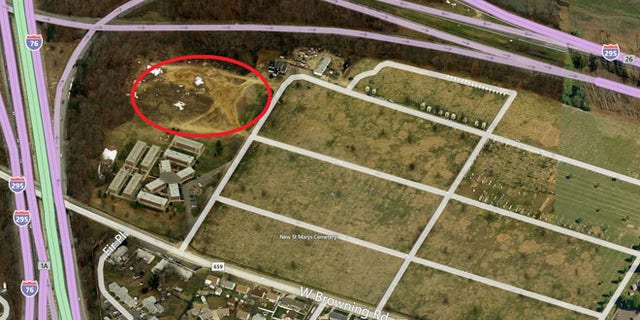 When it comes to the value of a piece of land in New Jersey, there's a big separation of church and state.
New Jersey invoked eminent domain to grab the land for a highway project, and offered the Catholic diocese in Camden $1.9 million, even though church officials say the 6-acre parcel is worth ten times that figure. The land, part of a cemetery but containing no graves, will go to an extensive road-widening project after the state's Supreme Court declined to hear the church's appeal. Diocese officials claim the state low-balled them.
"We are disappointed by the state's approach," Diocese of Camden spokesman Peter Feuerherd told FoxNews.com.
Church officials had asked for $19.4 million for the tract at New St. Mary's Cemetery in Bellmawr, basing its estimate on the value of the land and the cost of relocating graves whose "tranquility" might be disturbed by the roadwork. But the state Department of Transportation used a 2007 appraisal of the land, even ignoring a subsequent valuation of $3.5 million, Feuerherd said.
[pullquote]
The state moved to condemn the parcel in June 2010, and an appellate court sided with the state last October. Earlier this week, the state's top court refused to hear the case, leaving the diocese without a prayer.
The state wants the land for its project to improve traffic flow at a junction near Philadelphia where three major highways converge. The NJDOT's "Direct Connection" project is intended to reduce congestion in the area where Route 42 and Interstates 76 and 295 come together by widening and redirection of lanes.
Church officials say they understand the state has power to condemn property for the public good, but say the fair value must take into account an up-to-date appraisal and the logistical problems of moving tombs and markers. In 2010, the church offered to sell the land for $19.8 million, but the state responded by moving to condemn it.
The parcel in question is close enough to a cluster of eleven communal mausoleums that hold more than 7,000 crypts and another 768 niches for storing ashes, all of which must be moved away from the proposed roadway.
"It is anticipated that mausolea and niche space will become unsalable in the future once construction on the property begins," Feuerherd said. "And the state's offer does not include any damages resulting from the direct connection project, the most significant of which will be the need to construct replacement mausolea."
A spokesman for the NJDOT told FoxNews.com that he was unable to immediately comment on the matter pending research on the recent court decision.