Goodwill flag center: People with disabilities make flags for veterans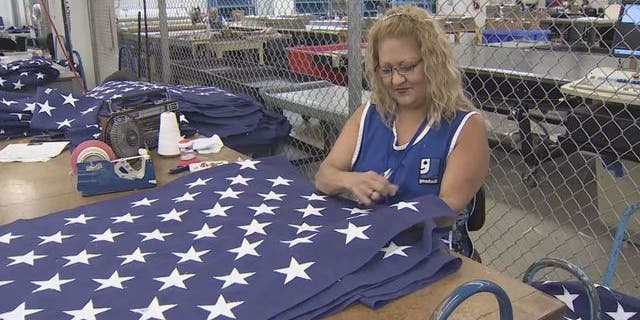 NEWYou can now listen to Fox News articles!
In South Florida, the employees at Goodwill take pride in their work and make sure every American Flag is stitched to perfection.
Every day the crew of 900 employees – 96% of whom have disabilities – create 600 flags for the US Department of Veteran Affairs and commercial use. Making the flags each day helps employees build skills and gain independence.
"Goodwill's mission is to train employees, people with disabilities, and so it's interesting that we make this country's symbol of independence when people who seek Goodwill and seek their services are, in their own way, seeking their own independence," Lourdes de la Mata-Little, Goodwill's VP of Marketing Development told WSVN.
The Alapattah center makes every star and stripe on hundred-year-old embroidery machines. Every flag is handmade and inspected before being sent out.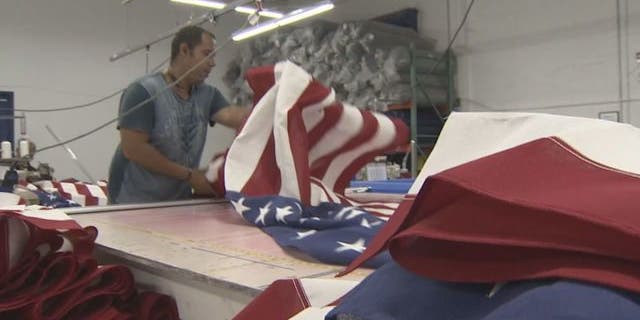 GEORGIA MAN CREATES AMERICAN FLAG OUT OF PLASTIC ARMY MEN
"They have to be perfect because we're talking about the American Flag. It's important for soldiers, and it's a flag that we respect," Goodwill flag maker Iris Perez said to WSVN. "No matter where I see the flag, I say, 'did I make that flag? Did I put my hands on it?'"
For flag makers, the Fourth of July is especially significant. They are always proud of their craft, but even more so on Independence Day.
USS ARIZONA SURVIVOR WANTS HERO SAILOR WHO SAVED HIS LIFE RECOGNIZED
De la Mata-Little says "on the Fourth of July, where we celebrate this country's independence, they are particularly proud. That even though it's a small part behind the scenes, they were part of making that story come alive."