Girl killed in gang shooting that targeted wrong house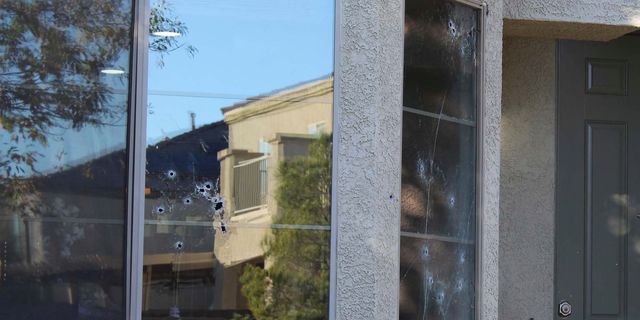 LAS VEGAS – Shooters intent on gang-related retaliation opened fire on the wrong house in suburban Las Vegas, killing an innocent 11-year-old girl in the kitchen, police said Friday.
A neighbor on his way to work saw the gunfire late Thursday on a quiet residential street and shot with his legally owned handgun at the car as it pulled away, wounding a 19-year-old passenger, North Las Vegas Assistant Police Chief Pamela Ojeda said.
The girl's father and mother, 33 and 30, and two sisters, 14 and 6, escaped physical injury as their house was raked with gunfire, Ojeda said as she asked for the public's help finding the shooters.
"No parent should have to deal with a tragedy like this," the police official said.
The 17-year-old driver of the getaway car — a silver Nissan Altima — called police when it broke down a few blocks away, saying the car had been hit with random gunfire and he was trying to get his friend to a hospital.
The 19-year-old was hospitalized in grave condition with a head wound, police Officer Eric Leavitt said.
Witnesses reported the vehicle stopped in front of the girl's house before three people stepped from the backseat and opened fire with shotguns and handguns at the two-story stucco home.
The girl was struck by at least one bullet that Leavitt said entered through a window or wall. She died at a hospital in Las Vegas.
The 53-year-old neighbor who Leavitt said fired at the car from his open garage was interviewed by police. Ojeda said he was a cooperating witness and was not charged with a crime.
The shooting occurred in a neighborhood of large four- and five-bedroom single-family homes, some with swimming pools, built about a decade ago some 15 miles (24 kilometers) north of the Las Vegas Strip.
Police believe the shooters intended to target another house in the area in retaliation for a gang dispute. Officers did not immediately find anyone at that house and were seeking the residents for questioning.
Ojeda declined to answer questions about them, saying the investigation is active.
The driver was being held as a juvenile and was expected to face felony murder, attempted murder and conspiracy charges, Ojeda said.
The wounded suspect will face the same charges if he survives, she said.
.