Georgia police officer buys stranger's groceries, toy for child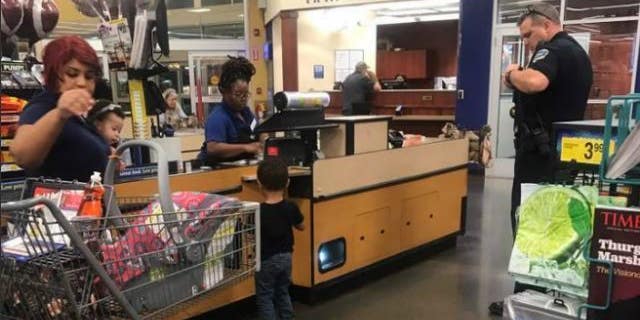 A Kennesaw police officer went above and beyond his duty last weekend, voluntarily buying groceries for a local mom in need.
Madison Obrien, who witnessed the officer's act of kindness in Kennesaw's local Kroger, posted the story to social media in hopes of "spreading the love."
Obrien and her roommate first noticed the mother in the parking lot when she got out of her car with a screaming toddler and a crying baby.
"She definitely had her hands full," Obrien told FOX5.
The two roommates then noticed an officer, later identified as 10-year veteran Matt Wilson, approach the woman and offer to help. He grabbed a buggy for the woman and held the toddler's hand. then the two parted ways -- or so it seemed.
MASSACHUSETTS COPS STOP DRIVER WHO MADE LICENSE PLATE FROM PIZZA BOX
After about 30 minutes of shopping, Obrien saw the same mother in the checkout line.
"We watched as the toddler picked up a small toy and asked his mom if he could have it," Obrien said. "The mom replied, trying to smile but with sadness in her face, 'I'm sorry baby, we can't get that today.'"
Obrien said the moment was heartbreaking -- until the same officer returned to save the day.
"The cop proceeded not only to buy the toy, but also this mom's entire grocery cart of food as well," Obrien said. "We watched in amazement at this superhero cop and his giving heart!"
She took a photo of the kind officer and posted the story on Facebook. The post has has gone viral, garnering thousands of likes and shares.
"He was just a good person trying to do something good," Obrien said. "I hope this encourages you as much as is has encouraged me to, when you can, lend a helping hand, bless somebody else's day, or just be kind. God put us all here for the same purpose, to be a light in the darkness!"
DRUNK FLORIDA MAN ARRESTED FOR DRIVING LAWN MOWER ON HIGHWAY
The Kennesaw Police Department also shared the story, identifying Wilson as the hero.
"Another Kennesaw Police hero at work helping a family in need." The Kennesaw Police Department wrote in its Facebook post. "This officer went way above and beyond police duties and responsibilities to make a difference in the life of this mom, son, and all that witnessed this selfless act."