Georgia cop recalls brawl with pastor and his family: 'I was choked so hard I couldn't breathe'
A Georgia police officer said that a pastor and his family attacked and choked him so hard he couldn't breathe.
Sgt. Ryan Long of the Lilburn Police Department recalled the brawl while testifying in court Tuesday. Long and a few other officers confronted minister Wilmer Cruz, 38, his wife Cristina, 37, and their sons Wilmer Jr., 17, and a 16-year-old who has not been identified in the parking lot of the church Iglesia Cristiana Evangelica last month regarding a missing person, AJC reported.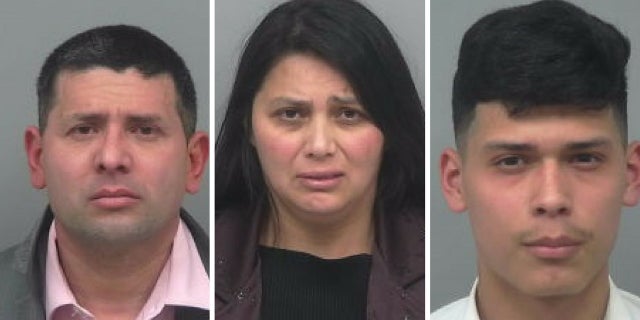 Authorities received a call regarding a missing girl that may have been in the custody of the family. Ana Cardenas Robles, the girl's mother, filed an order against Cristina on March 19, alleging the pastor's wife "stalked her and threatened her with deportation and refused to let her have contact with her teenage daughter." The girl is believed to be pregnant with Wilmer Jr.'s baby.
TRAIN SMASHES INTO SEMI-TRUCK IN GEORGIA IN DRAMATIC VIDEO
The officers were tipped off that the girl was at the church and went to free her from an SUV but the Cruz family would not let the officers through.
Long said he placed his Taser on the pastor's back but his wife snatched it from his hand and directed it toward the officer.
"I grabbed Mrs. Cruz by the arm and told her she was under arrest for grabbing my Taser," Long said. "She refused and would only say: 'Jesus love(s) me.'"
Officers were able to arrest Cristina but the pastor and Wilmer Jr. were captured on video tackling Long to a glass door. One of the pastor's sons was also seen taking the officer's radio. The incident was caught on bodycam.
TAMPA POLICE KILL GEORGIA MURDER SUSPECT AFTER GUN BATTLE, CHASE
"The officer was grabbed by his throat and slammed into the glass, pinned up to the glass door and was unable to move at that point," Lt. Tim Allen told WSB-TV following the incident.
Long said the family "fought back" because they believed "officers were not allowed to fight back against them." The officer claimed the family threatened to murder his mother as well.
The missing girl was reunited with her family, police said in a statement. The Cruz family was denied bond.