Gang member who stole guns from Chicago train gets 10 years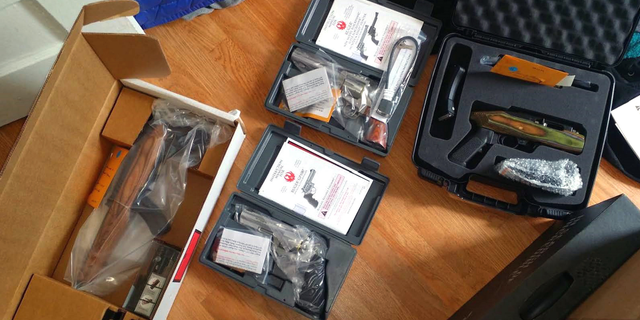 CHICAGO – A federal judge on Tuesday sentenced a Chicago street gang member to 10 years behind bars for stealing more than 100 newly minted guns from a Norfolk Southern yard, saying such thefts have contributed to "an epidemic of violence" in the city.
Before sentencing, a prosecutor also described what he said was a little known but active criminal "subculture" where thieves, such as Andrew Shelton, regularly target trains in Chicago, the nation's No. 1 rail hub.
Shelton and seven other gang members slipped with relative ease into the South Side yard on April 12, 2015, to steal the guns, which were en route from New Hampshire's Sturm, Ruger & Co. weapons maker to Gunarama Wholesale in Spokane.
Shelton, 43, and the father of ten children, should have known better than anyone how guns shatter lives because he lost his dad to gun violence and has been shot 12 times himself, Judge John Tharp told the hearing in Chicago. Some of Shelton's fellow thieves had also been shot and their relatives killed.
"But they only looked at the guns and saw dollar signs" when they came across them, the judge said. "They just didn't care what those guns would be used for."
Standing in orange jail clothes and his legs shackled, Shelton told the judge in a brief statement before the sentencing that he was sorry for what he'd done and added, "I want to renovate my life." Shelton looked down, unmoving, when Tharp imposed the sentence.
Shelton, who Tharp called "a serial train robber," has been convicted six times before for stealing bikes, shoes and other items from trains. But Tharp said pilfering and selling new guns, which are coveted by criminals because they're harder to trace, was in a different league.
"It's different than selling sneakers out of the back of a truck," Tharp said. "This crime ... is part of what has created an epidemic of violence in this city."
Shelton and the other alleged gang members used bolt cutters to snap the locks of a box car with the .45-caliber revolvers, pistol-grip rifles and other guns. The weapons fell within days into the hands of gangs and drug dealers in nearby neighborhoods, court filings say.
Of the 104 Ruger guns stolen, just 34 have been recovered, according to prosecutors. One was linked to a January 2016 shooting, according to court filings. Another was in a dealer's home amid 429 heroin bags.
Prosecutors had asked for an 11-year sentence, while the defense argued five was fair.
Assistant U.S. Attorney Christopher Parente argued earlier that a sentence closer to 11 years would emphasize to would-be train thieves who, like Shelton, stumble across a box car with guns that they face way too much potential prison time by stealing them.
"So, shut the door ... and move on to sneakers," he said.
Shelton's lawyer, Gregory Mitchell, said prosecutors were exaggerating the extent of a supposed subculture of train thieves and were unfairly trying to tie gun violence to the relatively few thefts of guns from Chicago trains.
There have been three such thefts from the same yard from 2014 to 2016. This year, as details about the break-ins emerged, several Illinois leaders demanded the railway do more to secure gun cargo. It said it would.
Shelton was the first of the eight train thieves to be sentenced. One of the gun traffickers who received the stolen guns, Nate Driggers, was given an eight-year sentence earlier this year. Driggers played basketball briefly for the Boston Celtics in 1996.
.