From the Gridiron to Good Works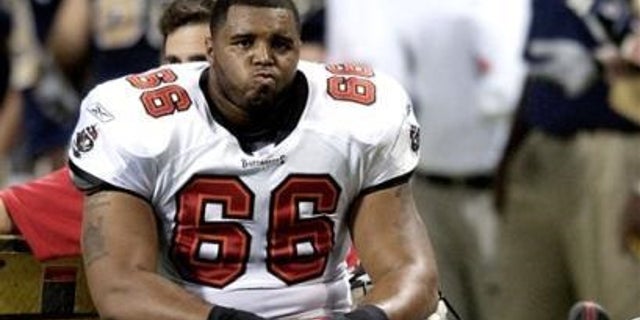 NEWYou can now listen to Fox News articles!
A former NFL football player is making good on a great promise — and enriching the lives of young people.
Damian Gregory, 39, credits his grandparents, his tight-knit community and Magic Johnson in shaping his life. And he promised himself that as soon as he became successful, he would pay it forward.
That success first came on the football field. He played for Illinois State as well as Indiana University, where he was a three-year starter — then went pro as a defensive tackle. He signed first with the Miami Dolphins, then the Cleveland Browns, the Oakland Raiders, the Tampa Bay Buccaneers and finally the Detroit Lions. He still serves on the executive board of the NFL Alumni Detroit Chapter.
But all of that was just a warm-up, it turned out, to his life's work: helping others, and especially children, who need a little assistance. After his football career, he founded Gridiron G.A.N.G. (Giving Adolescents New Goals), a 501(c)(3) nonprofit that hosts free football day camps with an educational component.
"The educational part teaches kids about healthy alternatives," he said. "We talk to them about the importance of exercise and eating right."
In the past three years, more than 3,000 underserved children and teens have taken part in these free workshops at schools and community centers throughout the country.
Gregory got the idea for Gridiron G.A.N.G. from Magic Johnson.
"As a child, I took part in his 2+2+2 sports camps. I watched Magic Johnson give back to his community," he said. "I told myself that when I become successful, I will do the same."
He called on a few of his football buddies, namely Clarence Love, Ben Kelly and Mark Word, to be part of the Gridiron G.A.N.G.
"They didn't hesitate," he said.
In a couple of months, Gregory will release a Gridiron Institute Game app that will alert kids as to where to sign up for free day camps in their areas.
Gregory recognizes the importance of helping kids early. Growing up in Lansing, Michigan, with his grandparents, Bernice and Theodore Davenport Sr., he shared a home with 12 kids.
"Thirteen including me," he said. "Ten out of (those) 12 kids went to college. We have a lot of doctors and lawyers and other professionals in our family."
His grandmother still lives in Lansing. His grandfather passed away a few years ago.
"Family is everything to me," he said. "My wife's family, too."
His wife, Shayla, and their two children, Damian Jr., age 5, and Genevive, 18 months, are often seen participating in various Gridiron G.A.N.G. events.
Gregory has an affinity for kids with special needs.
"Being a kid with a stuttering problem meant I got teased a lot," he said. "Speech teachers and my family helped me. I also saw how my aunt dealt with her son, who has Asperger's. She was his advocate. I learned a lot from my aunt's strength and how she fought to make sure her child would be successful. Many people didn't think he would make it in high school. He went on to college and is successful today."
When he is not coaching kids, Gregory volunteers as president of the board for The Calais Foundation, a 501(c)(3) non­profit that empowers families and children with special needs. The foundation supports the Whippany, New Jersey-based Calais School, which serves kindergarten through grade 12-plus students with special needs. Gregory has homes in the area.
"Seeing The Calais School for the first time gave me a new-found passion," he said. "(It) has so many cutting edge programs. Their Animal Adaptive Therapy program (where an on-staff cortisol detection therapy dog helps children manage their stress levels) is the only one of its kind. I would love to see this school as a model for other special needs schools all over the world."
David F. Leitner, executive director of The Calais School, calls Gregory a "true champion."
"During the past three years, Damian spearheaded multiple board initiatives to provide programs and resources to benefit children with special needs in the Calais School community," Leitner said.
The initiatives have included funding for animal assisted service dogs, science and technology resources, and NFL Football Gridiron events with students and former NFL players.
When Gregory is not volunteering his time, he runs Gridiron Marketing Group, "a company I started that allows me to give back to the community," he said.
"I buy and renovate foreclosed homes from top to bottom. Ninety-five percent of the people who purchase my homes come from shelters or battered homes," he said.
Football is a running theme throughout his work — whether it's about earning a living or volunteering.
"My grandfather played football in high school," he said. "His friends would come over and they would talk to me about him, about how well he played, and about the game. His friends were our extended family."
More from LifeZette.com:
A Father Who Never Fails: Strong, caring dads provide a God-filled example for their sons and daughters
Hillary Stops in for Takeout - and Pandering
Igniting the Faith of Millennials