From obscurity to notoriety, the six officers accused in the death of Freddie Gray
The charges in the Freddie Gray's death have catapulted six police officers with a mix of experience patrolling Baltimore's hard streets from obscurity to notoriety.
Prosecutors charged the officers with a litany of offenses Friday, including murder, involuntary manslaughter, assault and false imprisonment. They say Gray suffered a severe neck injury in the custody of the six cops and was ignored when he pleaded for medical treatment.
The officers-- three white, three black--range in age from 25 to 45. Four are officers and two are supervisors. They have been members of the Baltimore police force from three to 17 years.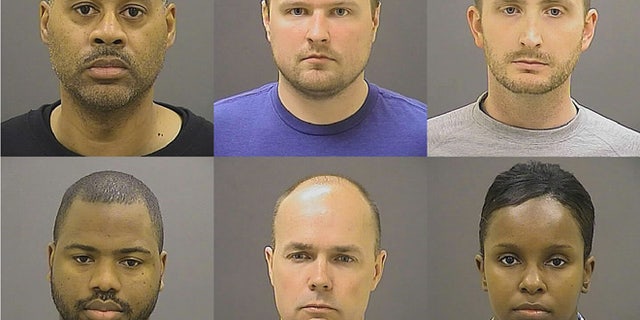 All were taken into custody Friday and released on bail.
A police union lawyer Michael Davey said the officers have done nothing wrong.
The officers were identified as:
Officer Caesar Goodson Jr., 45, drove the van that transported Gray to jail. Goodson faces six charges, including "second-degree depraved heart murder." He is the only officer accused of murder.
Goodson has been a cop since 1999. He is also reportedly the subject of a departmental disciplinary proceeding in an unrelated case for allowing a prison to escape from a hospital.
WBAL-TV said Goodson is the grandson of a police officer. Friends told the station Goodson was a family man who likes watching football and is a part time auto mechanic at a shop specializing in Saabs.
Former Florida Judge Alex Ferrer told Fox & Friends Saturday that prosecutors may have a hard time convicting Goodson of murder, based on the prosecution's affidavit laying out the charges.
"I didn't hear anything that would support depraved heart murder," he said.
Lt. Brian Rice, 41, was on bike patrol on a Baltimore street April 12 when he made eye contact with Gray who ran away, prosecutors say. He is the highest-ranking officer to be charged. He is the most experienced of the six. He joined the police force in 1997. He was promoted to lieutenant in 2011.
WBAL said records obtained by the Associated Press show Rice was hospitalized in April 2012 following concerns about his mental health. Those concerns led sheriff deputies to confiscate his police and personal guns.
The Washington Post reported Saturday that deputies visited Rice's home in response to a call from Rice's girlfriend, the mother of his child. She claimed Rice made statements that alarmed her, the paper said.
Officer William Porter, 25, checked on Gray in the back of the van, prosecutors say. Porter joined the force in 2012.
Officer Edward Nero, 29 was on bike patrol with Lt. Rice and another officer. He handcuffed Gray and held him down until the police wagon arrived, prosecutors say.
Nero has been a police officer for three years. The Post said the cop lives in a Baltimore suburb. A neighbor told the paper Nero is married and has a young child.
The New York Times interviewed Nero's father who said his son had been a New Jersey volunteer firefighter in high school.
"He was certified EMT with the state of New Jersey, and that's why I know for a fact that my son did not hurt this kid," the dad, Edward Nero, of Florida, told the paper. "And if this kid needed medical attention my son would have been the first one to give it to him."
Nero said his son's arrest may have derailed a dream to become a politician.
"Myself and my family really believe he'll be exonerated, but in the meantime, he'll have to go through hell to do so," Nero told the paper. "It'll probably destroy his life, his career and his motivation to help other people."
Officer Garrett Miller, 26, was on bike patrol with Lt. Rice and Nero. He helped load Gray in the police wagon, according to prosecutors.
Miller joined the force in 2012. The Post said the officer lives in a stone-and frame house outside Baltimore. A woman who answered the door told the paper the family did not want to talk.
Sgt. Alicia White, 30, was dispatched to investigate two citizens' complaints about Gray's arrest.
She became a cop in 2010 and has been a sergeant for three months.
A man who said he was White's uncle told the Post the day of the promotion was a day of celebration for White and the family.
He described White as a "very good person, a very religious person" who was engaged to be married.
The uncle said White worked in education before becoming a cop.
"She wanted to be a police officer because she is a Christian and wants to be a good role model for young black women," a friend Dana Neal told the New York Times. "And she wanted to be a good cop in the community and bridge the gap between the police and the neighborhoods.