Fresno State prof blasts farmers as 'stupid' Trump supporters in video rife with F-bombs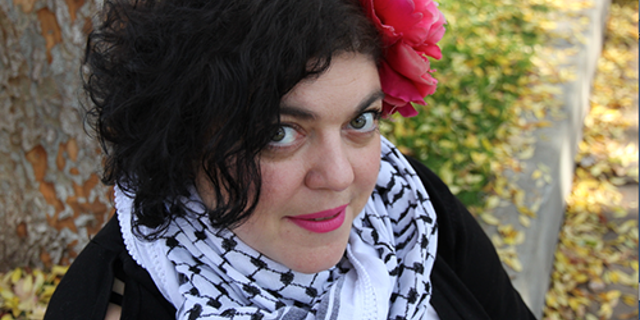 A video posted online this week includes profanity-laced clips from past interviews and speeches by embattled, Bush-bashing Fresno State professor Randa Jarrar, in which she says farmers who support President Donald Trump are "just f---ing stupid."
The nearly 4-minute YouTube video, published Wednesday under the username Vigilante Goose, was emailed Friday to university officials -- including university President Joseph Castro, the Fresno Bee reported.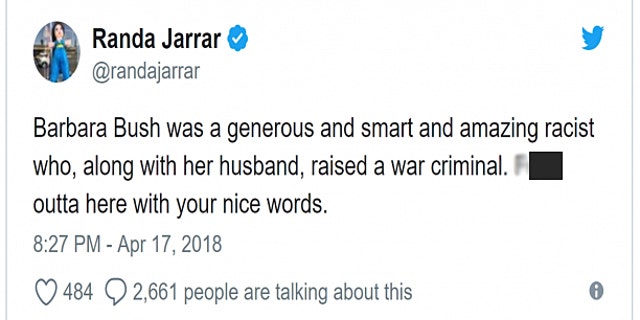 Jarrar, an English professor at the school, also known as California State University, Fresno, ignited a firestorm Tuesday, just after news broke about the death of Barbara Bush, whose funeral is scheduled for Saturday in Texas.
In Twitter posts Tuesday, Jarrar called the late first lady an "amazing racist," and said she was "happy the witch is dead."
WARNING: VIDEO CONTAINS GRAPHIC LANGUAGE
Outrage over the posts has had Castro and other university officials worried about alienating key donors -- and sparked debate among the faculty over the professor's free speech rights.
As part of the fallout, the university also has been dealing with reports that Jarrar listed the phone number of a student crisis line in Arizona as being her own number, resulting in a flood of calls to the crisis line.
'The bigger person'
The video posted this week opens with Jarrar commenting about the agriculture industry, which is vital to the Fresno area.
"A lot of the farmers now are Trump supporters and just f---ing stupid," she says, adding that she "can't f---ing stand the white, hetero-patriarchy."
"A lot of the farmers now are Trump supporters and just f---ing stupid."
At another point, Jarrar talks about guns, and criticizes "the left" for being too "gentle" in dealing with "the other side."
"I don't give a f---. I'm buying guns. I'm an American, I'm buying guns," Jarrar says. "You know what, the other side is doing some stupid s—t. I'm going to do some stupid s—t. I'm tired of, like, being the bigger person — literally am, usually — but, like, I'm also just tired of the left being, like, f---ing stupid and being like, 'No we have to, like, be gentle' … no, don't be f---ing gentle.'"
To some, the video may appear to be intended to embarrass the professor by recycling her most controversial comments, but the professor herself appears to view it differently, calling the compilation "iconic."
"A troll made a beautiful clip of all my recent greatest hits," Jarrar wrote on Twitter this week, and included a link to the video, the Bee reported.
Jarrar has since made her Twitter account private following the slew of tweets about Bush, in which she also said she "can't wait for the rest of her family to fall to their demise the way 1.5 million Iraqis have."
As for the fallout her posts have generated, Jarrar taunted that she "will never be fired" as she is a tenured professor making $100,000 per year, and "will always have people wanting to hear what I have to say."
University president responds
Castro took to Twitter himself Thursday to address Jarrar's comments that sparked national outrage, saying that he too was "upset" and believes it is "important for us to condemn that part of what was done and said," while stressing the need to "continue to role-model leadership" while upholding the First Amendment rights.
"A single set of tweets does not define the success of our university," he said.
The video shows Jarrar's profanity-laced comments eliciting different reactions from audience members who heard her speak. But at one point it shows people walking during an appearance in Indiana, the Bee reported.
What was Jarrar's reaction?
"I'm so proud when people walk out of my talks," she says.