French train hero now in 'good spirits' after stabbing outside bar
NEWYou can now listen to Fox News articles!
Spencer Stone, one of the three Americans hailed a hero in the French train attack in August, was "in good spirits" as he recovered from a stabbing outside a Sacramento bar, hospital officials said Friday.
The UC Davis Medical Center upgraded Airman Spencer Stone's condition from serious to fair. Doctors say he was awake, and could get out of bed Friday.
"We know it's not related to what occurred in France," Sacramento Deputy Police Chief Ken Bernard said.
Stone was out with four friends when they got into a fight near a bar with another group of people, Bernard said.
VIDEO: Spencer Stone recalls tackling train gunman
The deputy chief would not disclose what sparked the argument but said there was no evidence the assailants knew who Stone was.
Stone, 23, was knifed three times in the upper body and expected to survive after about two hours of surgery, said Dr. J. Douglas Kirk, chief medical officer at UC Davis Medical Center.
A grainy surveillance video from a camera outside a liquor store shows a large man who appears to be Stone fighting against a half-dozen people at an intersection as cars as onlookers pass by.
The group spills into the street as people take swings at each other, and the man who appears to be Stone knocks one person down before another man strikes at his back.
Police said two assailants fled in a car. No immediate arrests were made.
Bernard said he did not know whether Stone was drinking but noted that others in his group were.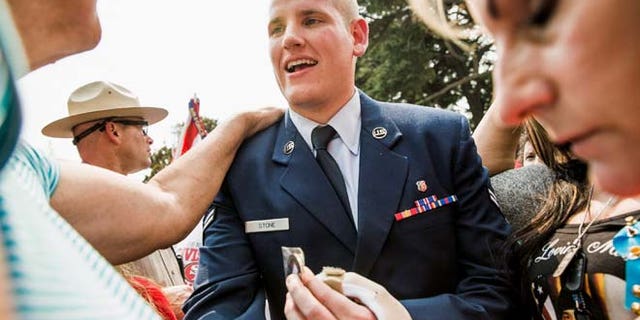 Kirk said Stone remained heavily sedated in the intensive care unit. He declined to discuss any details about the surgery or whether any vital organs were damaged in the stabbing, beyond saying Stone had "significant injuries."
The airman was conscious when he arrived at the hospital.
"I suspect given his history of recent events he is quite a fighter," Kirk said.
Doctors expect Stone to fully recover. Stone's family asked Kirk to convey their gratitude for all the expressions of concern they had received.
In August, Stone and two of his childhood friends from Sacramento, National Guardsman Alek Skarlatos and college student Anthony Sadler, were vacationing in Europe when they sprang into action aboard a Paris-bound passenger train and tackled Ayoub El-Khazzani, a man with ties to radical Islam. He had boarded the train with a Kalashnikov rifle, pistol and box cutter.
Stone, who is assigned to Travis Air Force Base in California, suffered a severely cut thumb and a knife wound to his neck during the struggle with the gunman.
President Barack Obama met with the three Americans last month, and they have been awarded France's highest honor.
Stone is the second of the three Americans to be shaken by violence at home since their return.
Last week, Skarlatos left rehearsals for TV's "Dancing With the Stars" to rush back to Roseburg, Oregon, after a gunman killed nine people at the community college that Skarlatos attends.
Fox News' Lucas Tomlinson and the Associated Press contributed to this report.