French and US volunteers tend to graves, honor lives of fallen WWII heroes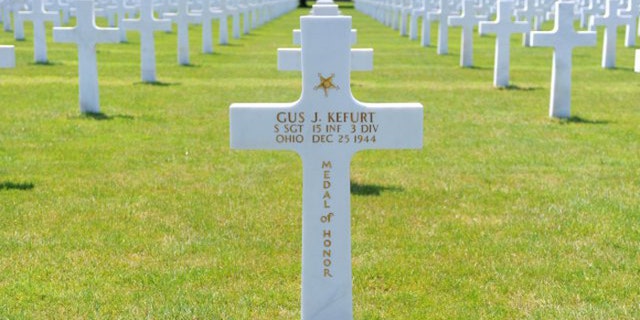 A group of volunteers on both sides of the Atlantic has found a way to bring back to life dozens of Wisconsin men who died fighting Nazis in World War II.
Some 5,000 Americans are buried in Epinal American Military Cemetery in France's northeastern town of Dinozé. Their names might have been lost to history if not for dozens of volunteers, who call themselves "godfathers," and have adopted the gravesites of the U.S. soldiers, according to the Milwaukee Journal Sentinel.
But placing wreaths and flowers and tending to the crosses that mark each grave was not enough for one so-called godfather, who last year reached out to a University of Wisconsin history professor to try to learn more about a soldier named Robert Kellett.
UW-Madison Prof. Mary Louise Roberts thought the request could be a good project for her students, so she brought it to class and gauged interest.
"I said, 'Who wants to work on this?'" Roberts told the paper. "Literally every hand in the room went up."
Kellett, the students discovered, was a pole vaulter and hurdler at Fond du Lac High School who had been married less than a year when he was killed in 1944 in hand-to-hand combat with enemy soldiers. He was just 22.
But learning who Kellett was wasn't enough to keep all 43 of her students occupied, so Roberts wrote back asking for more names. Soon, the director of the Epinal grave adoption program sent a list of 30 fallen Wisconsin soldiers.
By researching Army documents, checking census records and going through old newspaper clippings, the students have rediscovered the stories behind the names on the grave markers in France, and shared them with their godfathers. Sgt. Leonard Marshall grew up in Richland County and loved to box. He was engaged to marry when he was killed.
Kellett's 86-year-old sister, Audrey Fink, was thrilled to learn her big brother's grave is being cared for, and his story is being told. She has become friends with the man who looks after her brother's grave, according to the paper.
"What a neat thing to do," Fink told the Journal Sentinel. "My brother was killed 70 years ago and he's only had two visitors — my husband and I in 1974 and my niece two years ago. This gives me such a good feeling that this man is willing to do this."