FOX NEWS FIRST: Small group reportedly breaks from caravan, within 500 feet of US border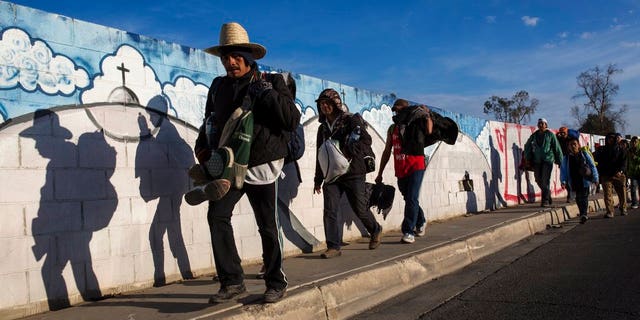 NEWYou can now listen to Fox News articles!
Developing now, Friday, Nov. 23, 2018
Small group breaks from caravan, within 500 feet of US border
Trump contradicts CIA assessment on Khashoggi killing, report says
Thanksgiving Day on pace for record $3.7B in online sales
Trump warns 'whole border' will shut if immigration becomes 'uncontrollable'
Leaning Tower of Pisa may have to change its name. It's not leaning like it once did
THE LEAD STORY: A group of about 150 migrants carrying white flags that read, "La paz y Dios," or "Peace and God are With Us," separated from the larger caravan near Southern California and inched within 500 feet of the U.S., a report Thursday said.
The migrants said they are carrying the white flags to show that they are peaceful, and will attempt to present themselves as asylum seekers near Baja, Calif.
President Trump on Thursday appeared to contradict the CIA's assessment of the killing of The Washington Post writer, saying the crown prince denies it "vehemently" and the intelligence agency only has "feelings" and there is no smoking gun in the death.
The Washington Post reported that Trump was vague with who he blamed for the killing. He said, "Maybe the world should be held accountable because the world is a very, very vicious place." By Edmund DeMarche
- VIDEO: A look at Saudi Arabia's role as a strategic ally to the US
- Dual Saudi-American citizen imprisoned by Crown Prince remains detained By Lukas Mikelionis
- VIDEO: Saudi Arabia says calls for leadership change are 'red line'
Thanksgiving day is tracking toward one of the fastest growing retail days in online shopping history.
By late Thursday afternoon, online sales reached $1.75 billion representing growth of 28.6 percent year-over-year, according to Adobe Analytics data. By Ken Martin
-VIDEO: Volunteers bring Thanksgiving comfort to Camp Fire survivors
Speaking to reporters while in Florida for the holiday, President Trump threatened to close the U.S. border with Mexico for an undisclosed period of time if his administration determines that its southern ally has lost "control" on its side.
The Leaning Tower of Pisa is continuing its long path towards vertical.
After more than two decades of efforts to straighten it, engineers say the famed Tuscan bell tower has recovered 1.57 inches more and is in better structural health than predicted. –Associated Press
AS SEEN ON FOX NEWS
TRUMP THANKS THOSE WHO SERVE: "Melania and I want to profess our profound gratitude for the extraordinary sacrifices that you make to defend our nation," President Trump says in a phone call to troops. WATCH
THE SWAMP
VA blames aging computers on delayed payments
Potential candidates eye presidential run
MINDING YOUR BUSINESS
Nissan board fires Ghosn as chairman following arrest
Oil hits 2018 lows on emerging supply glut
FOX NEWS OPINION
Goodwin: 'Trump Imitation Syndrome' is afflicting the president's liberal enemies
Gutfeld on Trump's response to Khashoggi
Abraham Lincoln's Thanksgiving Day Proclamation
STAY TUNED
FOX Nation is coming! - Sign up now and find out more about its exciting launch on Nov. 27!
On Facebook:
Check out 'FOX News Update,' our Facebook-exclusive news program!
On FOX News:
FOX & Friends, 6 a.m. ET: Holly Turner, a Republican strategist, talks about key decisions Trump faces after Thanksgiving. Diamond and Silk talk about their Thanksgiving. Tom Homan, the former acting ICE director, talks about the situation at the border.
On FOX Business:
Mornings with Maria, 6 a.m. ET: Special guests include: Sarah Hollenbeck, shopping and retail expert at Blackfriday.com; Tom Kloza, chief oil analyst at Opis; Ed Rensi, former CEO of McDonald's USA.
Varney & Co., 9 a.m. ET: U.S. Rep. Sean Duffy, R-Wis.; Sean Spicer, former White House press secretary.
Cavuto: Coast to Coast, Noon ET: Steve Sadove, former CEO and chairman of Saks Incorporated; Scott Cutler, senior vice president of the Americas at eBay.
On FOX News Radio:
The FOX News Rundown podcast: After the confrontation between President Trump and CNN's Jim Acosta, White House press secretary Sarah Sanders announced a series of rules for White House press conferences. Jon Decker, FOX News Radio White House correspondent, discusses the rule changes. The biggest shopping day of the year, Black Friday, may not be worth all the hype. Suzanne Kapner, Wall Street Journal business reporter, reveals the real deals behind Black Friday. Don't miss some good news with Tonya J. Powers. Plus, commentary by Deroy Murdock, FOX News contributor and contributing editor with National Review Online.
Want the FOX News Rundown sent straight to your mobile device? Subscribe through Apple Podcasts, Google Play, and Stitcher.
On FOX News Weekend:
Cavuto Live, Saturday, 10 a.m. ET: Brandon Judd, National Border Patrol Council president, on more caravan migrants amassing at the southern border as the White House fights a judge's ruling against its new asylum policy. Ken Starr, former Whitewater special counsel, on President Trump's written answers to Robert Mueller's questions. Bill Simon, former Walmart CEO, on holiday sales and Sen. Bernie Sanders' "Stop Walmart" act.
FOX News Sunday, Sunday, 2 p.m. and 7 p.m. ET on FNC: Corey Lewandowski, the former Trump campaign manager; David Bossie, the former Trump deputy campaign manager, talk current events.
#OnThisDay
2013: President Obama touted the nuclear deal struck with Iran, calling it an "important first step" toward addressing the world's concerns over the Islamic republic's disputed nuclear program.
2008: The US unveiled a plan to rescue Citigroup, injecting a fresh $20 billion into the troubled firm as well as guaranteeing hundreds of billions of dollars in risky assets.
2004: Dan Rather announced he would step down as principal anchorman of "The CBS Evening News" in March 2005.
2000: The Florida Supreme Court refused to order Miami-Dade County officials to resume hand-counting its election-day ballots in what was seen as a setback for Al Gore. Gore's lawyers argued in a brief filed with the U.S. Supreme Court that the high court should stay out of the Florida election controversy.
FOX News First is compiled by FOX News' Bryan Robinson. Thank you for joining us! Enjoy your day and weekend! We'll see you in your inbox first thing Monday morning.