FOX NEWS FIRST: Sessions defends DOJ lawsuit against California; Trump tariffs plan rollout may be delayed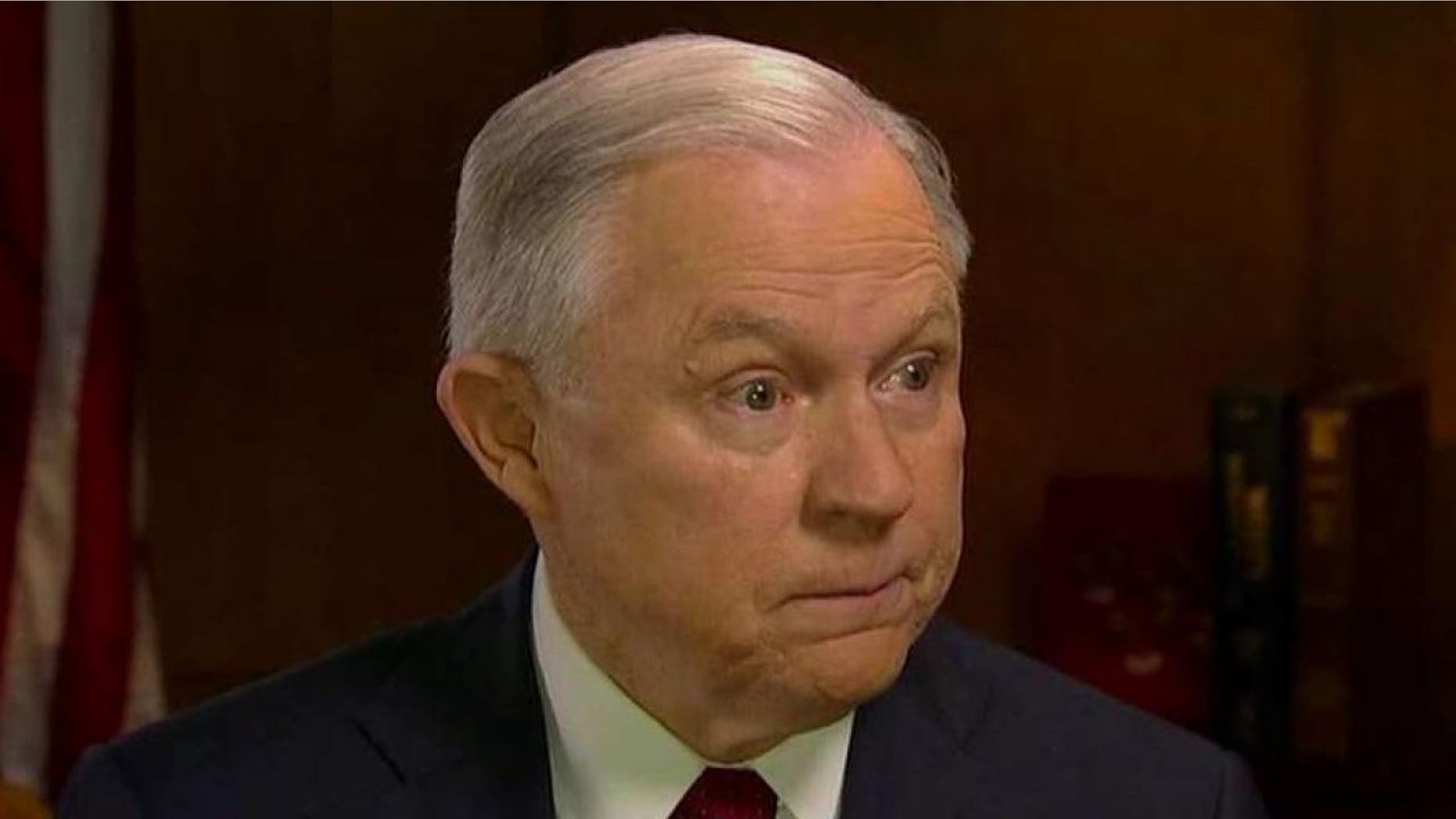 Welcome to Fox News First. Not signed up yet? Click here.
Developing now, Thursday, March 8, 2018
FOX NEWS EXCLUSIVE: Attorney General Jeff Sessions defends DOJ's lawsuit against California, telling Fox News, 'We're going to defend our ICE officers.' 
FBI connected some dots on Florida massacre suspect Nikolas Cruz, but still closed the case, agency officials tell Congress
President Trump questioned former Chief of Staff Reince Priebus about his treatment by Robert Mueller's team, Fox News confirms.
Trump's rollout of tariffs on imported aluminum and steel may face delays over its language and the departure of chief economic adviser Gary Cohn.
THE LEAD STORY - FOX NEWS EXCLUSIVE: JEFF SESSIONS: SOMEBODY NEEDS TO STAND UP TO 'RADICAL' CALIFORNIA: U.S. Attorney General Jeff Sessions told Fox News that California is "not entitled" to block Immigration and Customs Enforcement raids and vowed that the federal government will not allow the Golden State to flout immigration laws ... "We wanted a healthy and good relationship with [California], but federal law determines immigration policy," Sessions told "Fox News @ Night" host Shannon Bream. "The state of California is not entitled to block that activity. Somebody needs to stand up and say no, you've gone too far, you cannot do this, this is not reasonable. It's radical, really." Sessions was defending the Justice Department's lawsuit against California for alleged "immigration interference." He reminded other sanctuary cities and states that "federal law determines immigration policy," not states. He said he was not happy with comments by House Minority Leader Nancy Pelosi, D-Calif., who on Wednesday slammed the ICE raids in the state last week as "unjust and cruel."
TRAGIC FBI MISSTEPS IN PARKLAND MASSACRE DETAILED: The FBI this week detailed to Congress a series of mistakes and missed opportunities to intervene before a gunman killed 17 people at Marjory Stoneman Douglas High School in Parkland, Fla. -- including a revelation that staffers knew two warnings about suspect Nikolas Cruz were related, but still closed the case ... FBI Deputy Director David Bowdich made the comments in a closed briefing Tuesday with members of the House Judiciary and Oversight Committees. In a summary released Wednesday to Fox News, Bowdich cited two tips that the FBI received about Cruz in September 2017 and January 2018 that were mishandled.
A CONVERSATION ABOUT 'NOTHING': President Trump asked Reince Priebus about the former White House chief of staff's testimony in Special Counsel Robert Mueller's investigation, sources confirmed to Fox News on Wednesday -- but they said the talk included "nothing" of substance ... A source with knowledge of the investigation said the conversation was limited to questions like "How did it go?" and "Were you treated fairly?"  A second source said the president simply asked Priebus how he was treated and whether investigators were "nice" to him. The source summed up the conversation as "nothing," saying Trump felt bad that Priebus was forced to sit for hours with Mueller and his staff. Both sources said the conversation did not go into the substance of Priebus's testimony.
TRUMP TARIFFS PLAN READY FOR PRIMETIME? ... MAYBE: President Trump was expected to formally unveil his plan to slap tariffs on imported aluminum and steel at a White House ceremony Thursday. But the event's absence from the White House schedule has sparked reports of its cancellation ... Fox News' Ed Henry reported that the resignation of White House chief economic adviser Gary Cohn, resistance from GOP lawmakers worried about a potential trade war and stock market jitters may fuel a possible delay in the rollout of the plan. The developments came after the White House said Wednesday that Mexico, Canada and other countries may be spared the tariffs under national security "carve-outs." White House press secretary Sarah Sanders told reporters the exemptions would be made on a "case by case" and "country by country" basis, a reversal from the policy articulated days ago.
AS SEEN ON FOX NEWS
CALIFORNIA ON THIN ICE: "Why do we have ICE officers? Are they just going to sit in their offices and do nothing?"– U.S. Attorney General Jeff Sessions, on Fox News @ Night, defending ICE raids in sanctuary state California. WATCH
CALLING OUT LIBERAL HYPOCRISY ON RACISTS: "Where is their disavowal? Where are their statements [condemning Farrakhan]?"  –  Kimberly Guilfoyle, co-host of "The Five," sounding off on the revelation that at least seven House Democrats have ties to Nation of Islam leader Louis Farrakhan. WATCH
THE TRUMP WHITE HOUSE
Hope Hicks tells House Intel one of her email accounts was hacked, source says.
Stormy Daniels ordered by arbitration judge not to sue, Michael Cohen's lawyer says.
Inside the meeting that may have ended Gary Cohn's tenure in the Trump administration.
THE SWAMP
Democratic Rep. Kihuen reconsidering retirement decision amid sexual harassment allegations.
Trump administration to turn over documents related to Obama-era Operation Fast and Furious.
Inside the Pennsylvania special House election pitting Conor Lamb against Rick Saccone.
ACROSS THE NATION
Nor'easter brings heavy snow, creates travel headaches across Northeast.
Explosive threat on passenger jets goes beyond laptops and tablets, TSA boss says.
Convicted California sex offender could face longest punishment in state history.
MINDING YOUR BUSINESS
Cigna nears deal to buy Express Scripts.
Target raises minimum wage to $12, with hopes of hitting $15 by 2020.
Coca-Cola to launch first alcoholic drink.
FOX NEWS OPINION
International Women's Day: Is #MeToo yesterday's hashtag, or will it bring true change?
International Women's Day: Here's what business leaders and parents should know about the value of girls.
United Steelworkers president: Trump tariffs needed to preserve America's steel and aluminum industries.
HOLLYWOOD SQUARED
'Shark Tank' star Mark Cuban denies 2011 sex assault claims; with Seacrest already under fire, ABC stays mum.
NYPD reportedly ready to arrest Harvey Weinstein.
Terry Crews' groping case rejected.
DID YOU HEAR ABOUT THIS?
Amelia Earhart mystery solved? Scientist '99 percent' sure bones found belong to aviator.
Prehistoric cave believed to be 10 million years old found in Texas.
Cecil the lion 'suffered incredible cruelty' for up to 12 hours before dying, researcher claims.
STAY TUNED
On Fox News:
Fox & Friends, 6 a.m. ET: Acting ICE Director Thomas Homan on the Justice Department's lawsuit against California; NRA spokeswoman Dana Loesch on the latest revelations in the Parkland massacre investigation; and meet the Walmart employee who wowed shoppers with her rendition of the national anthem.
Tucker Carlson Tonight, 8 p.m. ET: Former CIA officer Bryan Dean Wright explains why he's trying to convince his fellow Democrats that open borders are not sustainable.
Hannity, 9 p.m. ET: Tomi Lahren sounds off on the legal showdown between California and the DOJ.
Fox News @ Night, 11 p.m. ET: Mike Huckabee on the Justice Department's lawsuit against California, the debate over sanctuary cities and more.
On Fox Business:
Mornings with Maria, 6 a.m. ET: Guests include: John Hayes, Ball Corporation CEO; Caleb Barlow, IBM Security vice president; Joe Kaeser, Siemens CEO; Mack McLarty, former White House chief of staff under Bill Clinton; Lara Trump.
Varney & Co., 9 a.m. ET: Rep. Jim Renacci; La. Sen. John Kennedy; Rep. Louie Gohmert; Rick Saccone, Pennsylvania congressional candidate.
Cavuto: Coast to Coast, Noon ET: Rep. Mike Bost, Congressional Steel Caucus co-chairman; Mitch Daniels, former governor of Indiana.
Lou Dobbs Tonight, 7 p.m. ET: Rep Sean Duffy.
On Fox News Radio:
The Fox News Rundown podcast: The fight over immigration has reached a fever pitch in California. The Justice Department is suing the sanctuary state. Shannon Bream, host of "Fox News @Night," explains. White House chief economic adviser Gary Cohn is the latest departure from the Trump administration. Charles Gasparino, Fox Business Network senior correspondent, discusses the possible reasons behind Cohn's resignation. Plus, a commentary from Judge Andrew Napolitano.
Want the Fox News Rundown sent straight to your mobile device? Subscribe through Apple Podcasts, Google Play, and Stitcher.
The Brian Kilmeade Show, 9 a.m. ET: Allen West on North Korea's apparent willingness to negotiate on nukes; Rep. Steve King and Colo. Gov. John Hickenlooper on the showdown between the Trump administration and sanctuary state California; Gregory Zuckerman gives the inside story on his new book, "Rising Above: Inspiring Women in Sports."
#OnThisDay
1983: In a speech to the National Association of Evangelicals convention in Florida, President Ronald Reagan refers to the Soviet Union as an "evil empire."
1965:  The United States lands its first combat troops in South Vietnam as 3,500 Marines arrive to defend the U.S. air base at Da Nang.
1948: The Supreme Court, in McCollum v. Board of Education, strikes down voluntary religious education classes in Champaign, Ill., public schools, saying the program violates separation of church and state.
Fox News First is compiled by Fox News' Bryan Robinson. Thank you for joining us! Enjoy your day! We'll see you in your inbox first thing Friday morning.