FOX NEWS FIRST: Giuliani, Mueller duel over Trump interview; Reagan-era ban on abortion counseling returning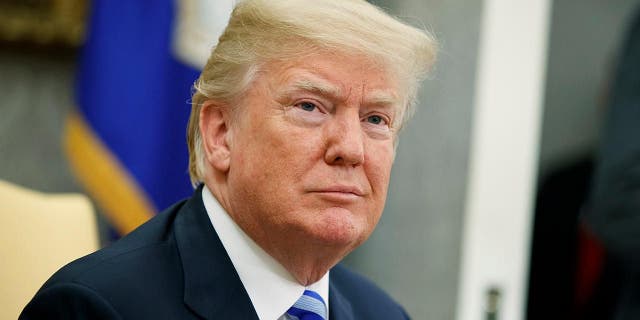 Welcome to Fox News First. Not signed up yet? Click here.
Developing now, Friday, May 18, 2018
In an interview with Fox News' Sean Hannity, Rudy Giuliani says he has 'hopeful communication' with Special Counsel Robert Mueller's team about the scope of a possible interview with President Trump
Trump downplays North Korea's threat to cancel next month's summit, offers 'protections' to Kim Jong Un if he denuclearizes
The Trump administration is reportedly set to resurrect a Reagan-era ban on abortion counseling at federally-funded family planning clinics
Gina Haspel makes history as she is confirmed as the new director of the CIA, becoming the first woman to lead the agency
Final preparations are taking place in London for Saturday's highly-anticipated royal wedding between Prince Harry and Meghan Markle
THE LEAD STORY - 'GOOD FAITH' TALKS ABOUT TRUMP-MUELLER INTERVIEW: President Trump's attorney, Rudy Giuliani, told Fox News' "Hannity" that he had a "hopeful communication" with Special Counsel Robert Mueller's team about the parameters for a possible presidential interview ... "I think it was a good-faith attempt to really narrow the focus quite dramatically of the questioning," Giuliani told host Sean Hannity. Giuliani, a former federal prosecutor and New York City mayor, said Mueller's investigators had responded to five information requests from the president's attorneys. Giuliani previously claimed that the lack of response had forced Trump's legal team to postpone a decision about an interview with the special counsel. "The president has a great desire to come forward and tell the truth if he gets a fair hearing," Giuliani said. "Our job is to make sure that he gets a fair hearing from Mueller. Now, we're not convinced that he will."
ASSURING NORTH KOREA: President Trump told reporters Thursday that the United States is dealing with North Korea "as though nothing happened" after the totalitarian nation threatened to cancel next month's planned summit if the U.S. raises the issue of denuclearization ... Trump is scheduled to meet with Kim Jong Un on June 12 in Singapore. North Korea has argued that it needs its nuclear weapons to preserve its security, and has expressed concerns about giving up its nuclear program. The North cites the example of former Libyan leader Muammar Qaddafi, who died at the hands of rebel forces amid a popular uprising in October 2011; he had given up his nuclear program in the 2000s.
National Security Adviser John Bolton explicitly cited "the Libya model of 2003-2004" as a basis for the North Korea talks last month, which drew personal rebuke from the North Korean government Wednesday. Trying to address the North Korean concerns, the president said if Kim were to agree to denuclearize, "he'll get protections that would be very strong."
ABORTION COUNSELING BAN RETURNING: Following pressure from pro-life Republicans in Congress ahead of the midterm elections, the Trump administration is reportedly planning to resurrect a Reagan-era rule banning federally-funded family planning clinics from discussing abortion with women ... The rule would also prohibit the clinics from sharing space with abortion providers, a senior White House official told the Associated Press Thursday. That practice, known as "co-location," was specifically decried by more than 150 House members and more than 40 senators earlier this month in letters to Department of Health and Human Services (HHS) Secretary Alex Azar. HHS will be announcing its proposal Friday, the official said on condition of anonymity.
HISTORY MADE AT THE CIA: Gina Haspel was confirmed Thursday as CIA director, becoming the first woman to lead the agency and overcoming initial Democratic opposition regarding her role in post-9/11 interrogation and detention practices ... The Senate voted 54-45 to confirm President Trump's nominee, with six Democrats supporting and two Republicans defecting. Haspel, whose nomination was endorsed by the Senate Intelligence Committee a day earlier, previously was deputy director and has spent her career with the agency.
Haspel earned emphatic support from GOP lawmakers as well as intelligence community members from both Democratic and Republican administrations.
WHEN HARRY MET MEGHAN: London is making final preparations for the royal wedding Saturday between Prince Harry and Meghan Markle in what will be one of the most-watched spectacles of 2018 ... The wedding has already been filled with drama, provided almost entirely by members of Markle's family. On Thursday she announced her father, Thomas Markle, will not attend the royal wedding following several days of controversy and indecision because of his poor health. Thomas Markle had heart surgery on Wednesday following days of speculation on whether or not he'd attend the royal wedding. However, there is no longer a mystery on who will walk Meghan Markle down the aisle: Prince Charles will give her away, Kensington Palace announced Friday.
AS SEEN ON FOX NEWS
SILENT TREATMENT: "Why isn't this all over the news? News isn't just what happens, it's what doesn't happen." – Greg Gutfeld, on "The Five," slamming the mainstream media for either not reporting on or not giving enough coverage to the story of a school resource officer preventing a potential mass shooting in Illinois this week. WATCH
LOST IN SPACE: "If the space aliens encounter Maxine Waters and think she's a typical Earthling, they'll have no plans to come anywhere near this planet." – Mark Steyn, on "Tucker Carlson Tonight," ridiculing TIME magazine for placing Rep. Maxine Waters on its annual "100 Most Influential People" list. WATCH
THE SWAMP
GOP fights over crucial farm bill as lawmakers demand immigration vote first.
White House cancels daily morning communications meetings after Sadler's McCain comments.
Pennsylvania Democrat resigns as mayor after allegedly soliciting 'police informant' for sex.
ACROSS THE NATION
Hawaii volcano's 'explosive' eruption sends ash plume soaring, prompts warning.
Chicago OKs controversial plan for Obama Presidential Center.
ICE arrests 78 in five-state immigration sweep in Midwest.
Professor rebuked after vowing to boost female students' grades to offset gender imbalances.
#ProudAmerican: Marine raises thousands of dollars for vet he just met.
MINDING YOUR BUSINESS
Elon Musk details plans for LA's LOOP.
NAFTA talks down to 'last conversations': Justin Trudeau.
Trump's Iran deal withdrawal sparks corporate exodus.
Walmart's Lord & Taylor deal step towards brand domination.
Floyd Mayweather-backed cryptocurrency firm's co-founders accused of fraud.
FOX NEWS OPINION
Sarah MacCarthy: The royal wedding's bouquet to public health.
Spotify's new hate speech policies should trouble artists and music fans.
Tim Graham: CNN + Michael Avenatti = L-O-V-E: Mainstream media's incredible, obsessive romance with Stormy's attorney.
HOLLYWOOD SQUARED
'Solo: A Star Wars Story' writers reveal Lando Calrissian is pansexual.
Detroit street to be named in Michael Jackson's honor.
'Catwoman' files for bankruptcy after lavish lifestyle.
DID YOU HEAR ABOUT THIS?
Moon dust could give astronauts permanent DNA damage, study finds.
Lost city mystery solved as archaeologists decipher ancient stone tablets.
Mother changes son's name after botched tattoo spells it wrong.
STAY TUNED
On Fox News:
Fox & Friends, 6 a.m. ET: Guests include: Meet the 8-year-old girl traveling the country on a mission to hug police officers. Ainsley Earhardt shares a look at how Princess Diana will be represented at the royal wedding of son Prince Harry and Meghan Markle. Sen. Cory Gardner talks bill that would provide cops with better body armor. Other guests include: Homeland Security Secretary Kirstjen Nielson, Geraldo Rivera, and Judge Jeanine Pirro.
On Fox Business:
Mornings with Maria, 6 a.m. ET: Guests include: Ken Langone, Home Depot co-founder; Sen. Rand Paul; Matt Braynard, GOP strategist; Adrienne Elrod, Democratic strategist; Rep. Ron DeSantis; Mark Penn, former Clinton senior adviser; Rep. Roger Williams.
Varney & Co., 9 a.m. ET: Rep. Andy Biggs; Rep. Greg Walden; Steve Hilton, host of "The Next Revolution"; Jimmy Vacarro, sports book director for South Point Casino.
Cavuto: Coast to Coast, Noon ET: Katrina Campins, Campins Group CEO.
The Intelligence Report, 2 p.m. ET: Rep. Cathy McMorris Rodgers; John Lonski, Moody's chief economist.
On Fox News Radio:
Benson & Harf, 6 p.m. ET: Don't miss the new show hosted by Guy Benson, political editor at Townhall.com and Marie Harf, former senior adviser of strategic communications at the State Department.
The Fox News Rundown podcast: Congress has been arguing over revisions to the 2014 farm bill this week. The potential changes to provisions on the table included everything from food stamps to sugar. Fox News' Jared Halpern has been watching the debate closely from Washington and will explain. On Saturday, American actress Meghan Markle will take on her biggest role yet when she marries Prince Harry. David Pogson, who spent 25 years working in the royal household and was a Buckingham Palace spokesman, describes all the pomp and circumstance of a royal wedding. Plus, commentary from Judge Andrew Napolitano.
Want the Fox News Rundown sent straight to your mobile device? Subscribe through Apple Podcasts, Google Play, and Stitcher.
The Tom Shillue Show, 3 p.m. ET: Guests include: Sen. Rand Paul on Gina Haspel's confirmation as CIA director and the latest on the Mueller investigation. Plus, Home Depot co-founder Ken Langone on the Trump economy.
On Fox News Weekend:
The Royal Wedding, Saturday: Ainsley Earhardt will co-host Fox & Friends Weekend live from Windsor, England beginning 5 a.m. ET. Coverage of the royal nuptials will be co-anchored by FNC's chief news anchor Shepard Smith and co-anchor of America's Newsroom's Sandra Smith from outside St George's Chapel at Windsor Castle beginning at 6 a.m. ET
Cavuto Live, Saturday, 10 a.m. ET: Princess Diana's private secretary, Patrick Jepshon. on the royal wedding; Rep. Lou Barletta, who just won the GOP primary for the Senate race in Pennsylvania, on pro-Trump candidates winning primaries for the 2018 midterm elections; San Diego County Board of Supervisors - and congressional candidate - Kristin Gaspar on the mainstream media taking President Trump's MS-13 gang members are "animals" comment out of context.
Fox News Sunday, Sunday, 2 p.m. and 7 p.m. ET: Don't miss Chris Wallace's interview with Sen. Lindsey Graham.
Legends & Lies: The Civil War, Sunday, 8 p.m. ET: "Abraham Lincoln: The Campaign" - General-turned-candidate George McClellan poses a tough challenge to Lincoln's re-election, while Ulysses S Grant and Robert E. Lee finally clash on the battlefield..
Life, Liberty & Levin, Sunday, 10 p.m. ET: This week, host Mark Levin and special guest Gordon Chang delve into North Korea and China, their nuclear weapons, ongoing cyber warfare and stolen U.S. technology.
#OnThisDay
1998: The U.S. government files an antitrust case against Microsoft, saying the powerful software company has a "choke hold" on competitors that was denying consumers important choices about how they bought and used computers. (The Justice Department and Microsoft would reach a settlement in 2001.)
1980: Mount St. Helens volcano in Washington State explodes, leaving 57 people dead or missing.
1953: Jacqueline Cochran becomes the first woman to break the sound barrier as she pilots a Canadair F-86 Sabre jet over Rogers Dry Lake, Calif.
Fox News First is compiled by Fox News' Bryan Robinson. Thank you for joining us! Enjoy your Friday and weekend! We'll see you in your inbox first thing Monday morning.