FOX NEWS FIRST: Exclusive leaked memo shows Iranian regime in panic after deadly protests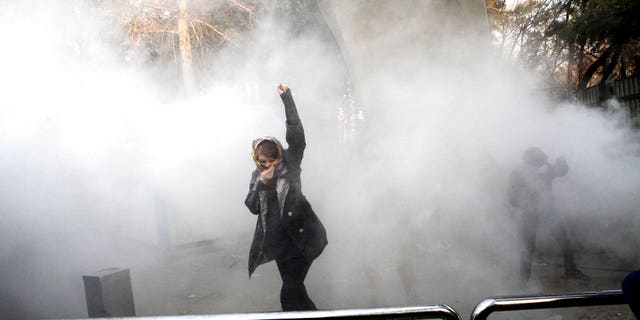 Happy New Year! Welcome to Fox News First. Not signed up yet? Click here.
Developing now, Tuesday, Jan. 2, 2018:
Exclusive: A leaked memo shows how the Iranian regime considered stopping recent deadly protests
President Trump returns to the White House after holiday break, prepares to tackle new year's challenges
California officially becomes a "sanctuary state" as new law takes effect
U.S. Customs system outage stalls travelers in airports for hours across the country on New Year's Day
Florida family and college basketball standout among the newly identified victims of New Year's Eve crash in Costa Rica
THE LEAD STORY: Leaked meeting notes provided exclusively to Fox News shows how Iran's Supreme Leader Ayatollah Ali Khamenei met with political leaders and heads of the country's security forces to discuss how to tamp down on deadly nationwide protests ... The memo covered several meetings up to Dec. 31 and was given to the National Council of Resistance of Iran (NCRI) by high-level sources from within the regime. It said the unrest has hurt every sector of the country's economy and "threatens the regime's security. The first step, therefore, is to find a way out of this situation." The notes added, "Religious leaders and the leadership must come to the scene as soon as possible and prevent the situation (from) deteriorating further ... God help us, this is a very complex situation and is different from previous occasions."
BACK TO WORK: President Trump has returned to the White House after a holiday break looking to capitalize on his victories at the end of 2017 ... Trump plans to host Senate Majority Leader Mitch McConnell and House Speaker Paul Ryan at Camp David next weekend to map out the 2018 legislative agenda. The president is hoping capitalize on his pre-Christmas success on tax cuts and make more legislative achievements. Republicans are eager to make progress before attention shifts to the midterm elections. The GOP wants to hold House and Senate majorities in 2018, but must contend with Trump's unpopularity, some recent Democratic election wins and potential voter anxiety over tax reform.
Congress also has to deal with a backlog from 2017: It must agree on a spending bill by Jan. 19 to avert a partial government shutdown; unfinished business on additional aid to for hurricane victims; lifting the debt ceiling; extending a children's health insurance program and extending protections for immigrants brought to the U.S. illegally as children. Trump has said he wants money for a border wall in exchange for protecting those immigrants.
INEVITABLE SANCTUARY STATE SHOWDOWN?: California became a "sanctuary state" Monday, as a bill that Democratic Gov. Jerry Brown signed into law in October officially took effect ... The law bars police in the nation's most populous state from asking people about their immigration status or participating in federal immigration enforcement activities in most cases. The Golden State is home to an estimated 2.3 million illegal immigrants.
NEW YEAR'S DAY TRAVEL NIGHTMARE: A U.S. Customs system outage affecting airports across the country stalled fliers for hours, triggering headaches for many people just trying to get home on New Year's Day ... Customs and Border Patrol officials confirmed that processing systems were back online after "a temporary outage," adding that the failure was not "malicious in nature." In a statement to Fox News, CBP said the disruption began at 7:30 p.m. and lasted for roughly two hours. Additionally, "CBP officers continued to process international travelers using alternative procedures at affected airports," they said.
MORE AMERICAN VICTIMS ID'D IN COSTA RICA TRAGEDY: The identities of more victims of a New Year's Eve plane crash in Costa Rica emerged Monday, with a second vacationing family and a college basketball standout listed among the 12 people killed ... The small charter aircraft carrying 10 American tourists, including families from New York and Florida, and two local crew members crashed and burst into flames midday Sunday in a wooded area in Guanacaste, northwest Costa Rica on the Pacific coast, the government reported. There were no survivors. Two families, from the New York City suburb of Scarsdale, N.Y., and from Belleair, Fla., accounted for nine of the dead. Their American guide, from Wisconsin, was the 10th U.S. victim. The family from Florida included Drs. Mitchell Weiss, a vascular and interventional radiologist, Leslie Weiss, a pediatrician, and their two children.
AS SEEN ON FOX NEWS
TRUMP PRIORITIES, IN ONE WORD: "President Trump, until the end of his first term, has one infrastructure priority: the wall, the wall, the wall." – Commentator Michelle Malkin, on "Fox & Friends," sounding off on what she would like President Trump to accomplish in 2018. WATCH
IRAN EMBOLDENED UNDER OBAMA: "President Obama made it clear that he was going to stand behind the Iranian regime. He was going to send them lots and lots of money. Of course some of it was their own money, but still they used it to foment terrorism, to export terrorism around the world." – Alan Dershowitz, Harvard Law professor emeritus on "Fox & Friends," dissecting former President Obama's strategy on Iran. WATCH
ACROSS THE NATION
Brother of teen accused of slaughtering New Jersey family pens tribute to parents, sister.
Newsweek slammed by Martin Luther King's daughter for tweeting casket photo of civil rights icon.
Georgia beats Oklahoma in dramatic, record-breaking Rose Bowl, will play Alabama for NCAA title.
MINDING YOUR BUSINESS
Top eight money mistakes to avoid in 2018.
Tax planning for the year ahead | U.S. medical device tax back in effect.
Minimum wage increases expected in 18 states in January.
NEW IN FOX NEWS OPINION
Why is the NY Times suddenly so interested in Trump staffer Papadopoulos rather than the Russia dossier?
Women are leading in Iran. Where is their voice of support from the left?
Want to get more family-friendly entertainment on TV and in the movies? Here's how.
HOLLYWOOD SQUARED
Anti-harassment group 'Time's Up' launched by Hollywood insiders to support victims.
NBC star Debra Messing praises 13-year-old son's national anthem protest.
CNN revels in pot smoke during New Year's Eve report from Denver.
DID YOU HEAR ABOUT THIS?
Rogue Chinese space station expected to hurtle toward Earth in 2018, researchers say.
Video catches alleged cookie-snatching squirrel taunt police as they retreat in hysterics.
Rare, 2,700-year-old clay seal discovered in Jerusalem.
STAY TUNED
On Fox News:
Fox & Friends, 6 a.m. ET: President Trump blasts Pakistan on Twitter; is this another example of the Trump Doctrine in action? Plus, Trump ramps up border patrol recruitment. What does that mean for the agents on the ground? And actress Marilu Henner reveals her unique approach to New Year's resolutions and how to stick to them.
Tucker Carlson Tonight, 8 p.m. ET: A professor argues that the princes in "Snow White" and "Sleeping Beauty" are sex offenders. Tucker takes on this latest example of "Campus Craziness."
On Fox Business:
Mornings with Maria, 6 a.m. ET: Rep. Ron DeSantis on latest in the Russia investigation and the Trump dossier; Grover Norquist, Americans for Tax Reform president, on how Trump and the GOP should sell Americans on the new tax reform law; and Mack McLarty, former White House chief of staff under Bill Clinton, on the year ahead for Trump.
Varney & Company, 9 a.m. ET: Jay Timmons, president and CEO of the National Association of Manufacturers, on tax reform's impact and former White House press secretary Ari Fleischer on Trump and the GOP's legislative challenges in 2018.
Cavuto: Coast to Coast, Noon ET - Andy Puzder, former CKE Restaurants CEO, on why the new tax reform law could be a boon for the economy.
On Fox News Radio:
The Fox News Rundown podcast: After his big victory on tax reform, President Trump is making plans to fast-track his agenda ahead of the midterm elections. Fox News' Jessica Rosenthal speaks with Fox News contributor Tammy Bruce about the president's 2018 agenda. Plus, commentary from Trish Regan.
Want the Fox News Rundown sent straight to your mobile device? Subscribe through Apple Podcasts, Google Play, and Stitcher.
The Brian Kilmeade Show, 9 a.m. ET to Noon ET: Tom Bevan, co-founder and publisher of RealClearPolitics, on what Trump needs to do this month; plus Allen West sounds off on the unrest in Iran and the latest threat from North Korea.
#OnThisDay
1967: Ronald Reagan takes the oath of office as the new governor of California.
1921: Religious services are broadcast on radio for the first time as KDKA in Pittsburgh airs the regular Sunday service of the city's Calvary Episcopal Church.
1893: The U.S. Postal Service issues its first-ever set of commemorative stamps to honor the upcoming World's Columbian Exposition in Chicago as well as the quadricentennial of Christopher Columbus' voyage.
Thank you for joining us on Fox News First! Enjoy your day, and we'll see you in your inbox first thing Wednesday morning.