FOX NEWS FIRST: Congress urged to look into alleged Obama administration-Hezbollah scandal; Derailed Amtrak train was speeding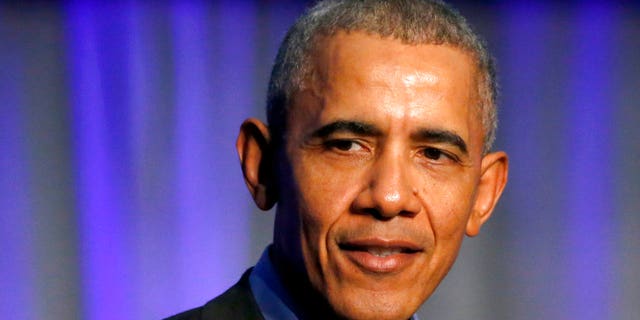 Welcome to Fox News First. Not signed up yet? Click here.
Developing now, Tuesday, Dec. 19, 2017:
GOP lawmaker urges Congress to look into allegations that Obama administration blocked a Hezbollah drug trafficking probe to ensure the Iran nuke deal
FBI's Andrew McCabe to testify on alleged bias in the Clinton email investigation and Mueller's Russia probe
Two Republican holdouts say they support the GOP tax reform bill, likely guaranteeing the legislation's passage
An Amtrak train that derailed in Washington state, killing at least three people, was reportedly going 50 mph above its speed limit
Tavis Smiley tells Fox News he still doesn't know why PBS suspended him as he fights sexual misconduct allegations
THE LEAD STORY: A Republican congressman has urged the House to look into a report that the Obama administration held up a Drug Enforcement Administration task force's investigation into Hezbollah's drug-trafficking and money-laundering operations, all to ensure the Iran nuclear deal remained on track ... Rep. Robert Pittenger, R-N.C., made the request to House Oversight Committee Chairman Trey Gowdy after Politico reported Sunday that Obama administration officials roadblocked the task force effort to curtail the Lebanese militant group's criminal activities. Politico reported that the red tape against Project Cassandra allowed Hezbollah to evolve into a major global security threat.
BIAS AT THE BUREAU?: FBI Deputy Director Andrew McCabe faces a grilling behind closed doors today on allegations of political bias in the Hillary Clinton email investigation and Special Counsel Mueller's Russia collusion probe ... McCabe is set to face questions from the House Intelligence Committee about FBI official Peter Strzok's role in the two investigations. Strzok was removed from Mueller's team after anti-Trump texts he had exchanged with a colleague came to light. Lawmakers will also want to know whether McCabe had a role in these communications, as one text exchange referred to an "Andy" and an "insurance policy" against a Trump presidency.
Before he was part of Mueller's team, Strzok, a former deputy to the assistant director for counterintelligence at the FBI, played a key role in the Clinton email case. He was the person who changed the language from "grossly negligent" to "extremely careless" in then-FBI Director James Comey's draft statement on the email probe, appearing to water down the bureau's findings.
NO MORE HOLDOUTS: GOP Sens. Susan Collins of Maine and Mike Lee of Utah now say they will support President Trump's tax overhaul, leaving only one Republican undecided as the bill nears its final vote ... The yes votes likely guarantee the bill will pass the upper chamber and lead Trump to his first significant legislative win. The only Republican not yet on board is Sen. Jeff Flake. When asked whether he supports the tax bill, he told Fox News, "Well, we're still looking at the bill, still reading the bill, still working on some other issues."
WHAT CAUSED DERAILMENT?: An Amtrak train that derailed during its inaugural ride on a new line in Washington state was supposed to slow down significantly before its fatal crash, according to a report ... The Amtrak derailment left at least three dead and 100 people injured Monday. Transportation Department spokeswoman Barbara LaBoe said the curve where the train derailed has a speed limit of 30 mph, the Seattle Times reported. The train was going 81.1 mph moments before derailing and plummeting to Interstate 5. In addition, Amtrak President Richard Anderson told reporters in a conference call that Positive Train Control – the technology that can slow or stop a speeding train – wasn't in use on the stretch of track where the derailment occurred.
SMILEY WANTS ANSWERS: Talk show host Tavis Smiley told Fox News he's not sure why PBS suspended him and that the network has refused to reveal the specific allegations of sexual misconduct that have been levied against him ... "PBS to this very moment has not told me specifically what I am being suspended for," Smiley said during an interview on "Tucker Carlson Tonight," adding that he did not even know an investigation had begun until co-workers contacted him. "PBS launched an investigation without telling me about it," he said. "I found out about it in the streets." PBS suspended distribution of Smiley's show last week, citing allegations that he had behaved inappropriately in the workplace. Smiley has denied the charges.
AS SEEN ON FOX NEWS
'INSIDER'S INSIDER': "[Robert] Mueller is the last guy on the planet who should be an independent counsel, because he's not independent in anything. He used to work for Paul Manafort's law firm. He's connected with everybody. Ever since he was appointed, for the last six months I have sat and watched FOX and I watched MSNBC, and watched CNN and all the others, and the endless parade of beltway insiders saying, well, I've known Bob Mueller since 1972 and you couldn't find a straighter arrow. He's an Eagle Scout. And that's exactly why, whether or not that's true, that's exactly why he shouldn't be independent counsel. He's not independent. He's the insiders' insider." – Mark Steyn, on "Tucker Carlson Tonight," arguing why Robert Mueller should have never been appointed as a special counsel. WATCH
TRUMP'S 'AMERICA FIRST' NATIONAL SECURITY: "We are a constitutional republic - the most prosperous country on Earth. Thumbs up for Donald Trump for celebrating America again." - Dan Bongino, on "Hannity," praising President Trump's national security plan, which was unveiled Monday. WATCH
ACROSS THE NATION
White House says North Korea was behind massive 'WannaCry' cyberattack in May.
Trump unveils national security strategy: 'America is going to win.'
Twitter begins purge of far-right accounts as new hate speech rules take effect.
MINDING YOUR BUSINESS
Bitcoin is a 'social experiment,' says 'Wolf of Wall Street' Jordan Belfort.
Carolina Panthers sale: What Jerry Richardson could earn amid allegations.
Buffett's latest milestone: Berkshire stock hits $300,000.
NEW IN FOX NEWS OPINION
Dr. Marc Siegel: The terrorist in the emergency room.
A former Navy SEAL's Christmas wish: Our homeless veterans need your help.
Juan Williams: The ground shifts on immigration.
HOLLYWOOD SQUARED
'The Office' revival reportedly in the works.
Harvey Weinstein downfall documentary already being produced by BBC.
'Star Wars' fans share divided reactions to 'The Last Jedi.'
DID YOU HEAR ABOUT THIS?
In 2018, we will see a black hole for the first time ever.
Seasonal affective disorder: It's more than the winter blues
This Pepsi parenting hack may help during flu season.
STAY TUNED
On Fox News:
Fox & Friends, 6 a.m. ET: Newt Gingrich and Fox News foreign policy analyst Kiron Skinner breaks down Trump's national security strategy; Judge Andrew Napolitano on whether Special Counsel Mueller improperly obtained Trump transition memos; Fox News contributor Kevin Jackson gives his take on a columnist who says the GOP tax plan is the worst thing since the Fugitive Slave Act.
The Ingraham Angle, 10 p.m. ET: Investigative reporter Sara Carter on FBI Deputy Director Andrew McCabe's grilling on Capitol Hill.
On Fox Business:
Tax reform and Congress's race against time to avoid a government shutdown will be among the hot topics. Get all the latest news and analysis from the guests below!
Mornings with Maria, 6 a.m. ET: Sen. Mike Rounds; Rep. Roger Williams; Former CKE Restaurants CEO Andy Puzder; Jay Walker, Priceline Founder, on holiday travel; legal scholar Alan Dershowitz on the problems facing Mueller's Russia probe.
Varney & Co., 9 a.m. ET: RNC Chair Ronna Romney McDaniel; Sen. Steve Daines on Trump's national security plan; Rep. Jim Jordan and James Kallstrom on questions surrounding the FBI's handling of the Clinton email and Russia investigations.
Cavuto: Coast to Coast, Noon ET: Former Sen. Joe Lieberman; Rep. Mike Kelly.
On Fox News Radio:
The Brian Kilmeade Show, 9 a.m. to Noon ET: House Judiciary Committee Chairman Bob Goodlatte on FBI Deputy Director Andrew McCabe's anticipated testimony on alleged agency bias in the Clinton email and Mueller probes.
The Fox News Rundown podcast: A tragic train derailment in Tacoma, Wash. has caused some to question the nation's infrastructure. Former rail investigator with the National Transportation Safety Board Russ Quimby sheds light on the status of America's railways.
He was only there for a total of 11 days, but former White House Communications Director Anthony Scaramucci made sure he made the most of his time in the White House. Scaramucci discusses his goal to expose White House leakers, serving the President's agenda and rumored friction between staffers. Plus, commentary by "The Five" co-host Juan Williams.
Want the Fox News Rundown sent straight to your mobile device? Subscribe through Apple Podcasts, Google Play, and Stitcher.
#OnThisDay
2016: A driver plows into a Christmas market in Berlin, killing 12 people and injuring 56 others.
2012: Four State Department officials resign under pressure, less than a day after a damning report blamed management failures for a lack of security at the U.S. diplomatic mission in Benghazi, Libya, where militants killed the U.S. ambassador and three other Americans.
1998: President Bill Clinton is impeached by the Republican-controlled House for perjury and obstruction of justice. (He was subsequently acquitted by the Senate.)
1843: "A Christmas Carol," by Charles Dickens, is first published in England.
Thank you for joining us on Fox News First! Enjoy your day, and we'll see you in your inbox first thing Wednesday morning.